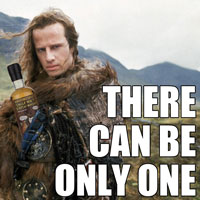 After poring over the entries from our recent caption competition, wherein the winner was promised a full bottle of Clynelish whisky from That Boutique-y Whisky Company, we were a bit stumped (or chimped).
We struggled to choose just one entry; there were so many outrageous images to choose from (some more so than others)! We finally caved and decided that though there can only be one champion, there were a few entries that deserved honourable mentions (and drams). Still, there can only be one, and there was one that was truly more evolved (wink!) than the rest.
So, without further ado…
Honourable Mentions
Each of our HMs will receive a dram of Clynelish from That Boutique-y Whisky Company for their efforts. Don't say we don't treat you well!
The first mention goes to Fraser Paterson, who was able to get a reference to alcohol, simians, and canines into a pithy, 9-word caption. Extra points for wordplay, Fraser! That's well worth a dram, indeed.
We like a good pun
Our second mention goes to Chris Perugini, who also managed to mention dogs, primates, and the whisky bottle, and managed to turn this crime again nature (chimpug?) into an expletive. Nicely done, sir.
We know how you feel, chimpug!
Our last mention goes to Rob Falconer, who technically did not follow the rules. For shame, Rob! But we enjoyed his entry so much, we decided he deserved a dram of Clynelish, and we even went the effort of creating the meme for him. You lucky dog, Rob. Or rather, you lucky…dape? Chog? Pugrilla?
Origin of the Species?
Please begin the drumroll, Malcolm…
The Champion (or chimpian?)
Last, but certainly not least is our champion, Michael Kravitz. Michael, you have taken meta memes to a whole new level. In 7 words. Punchy and self-referential (it works on so many levels!), this gem of an entry made us all sit back and say, "A-cha!"
A-cha! A-cha!
The Winning Caption
Meta…
So, Michael; I suppose we owe you a bottle of whisky. I suppose we do.
Congratulations, and thanks to everyone for your entries!