Diageo and HBO have announced The Game of Thrones Single Malt Scotch Whisky Collection, with more details to come over the coming months.
It's all a bit mysterious at the moment – like that bit in seasons five and six where Arya Stark spent what seemed like centuries in the Hall of Faces – but Diageo has released a short film on social media announcing a Game of Thrones single malt collection. It will feature eight whiskies: Lagavulin, Oban, Singleton, Talisker, Cardhu, Royal Lochnagar, Dalwhinnie and Clynelish.
Honor the great houses and the Night's Watch with the @GameofThrones Single Malt Scotch Whisky Collection, coming this fall. Eight single malt scotch whiskies by @lagavulinwhisky @obanmalt @singletonwhisky @taliskerwhisky #Cardhu #RoyalLochnagar #Dalwhinnie #Clynelish pic.twitter.com/ziOi6JIUsU

— Lagavulin (@LagavulinWhisky) July 19, 2018
We contacted Diageo for more information and received the following statement: "More Scotch is coming to the realm in the winter of 2018. HBO and Diageo have partnered to create the Game of Thrones Single Malt Scotch Whisky Collection. We look forward to sharing more details in the coming months." Not terribly enlightening!
This is not the first time that Diageo has teased us with Game of Thrones-related whiskies. In May it announced the launch of a special edition of Johnnie Walker called the White Walker, named after the terrifying undead creatures from beyond the Wall, with a similarly terse line: 'Scotch is coming to the realm this Fall – White Walker by Johnnie Walker.' We're waiting…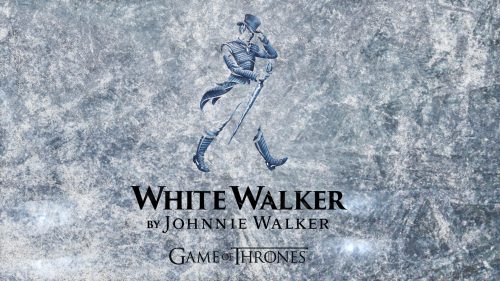 White Walker by Johnnie Walker, also coming soon…
The series based on the books by George R. R. Martin have proved a boon to drinks manufactures. Ommegang brewery in upstate New York produces a series of of Game of Thrones beers including a blend of smoked porter and Belgian kriek called Mother of Dragons "representing the smoke and fire that Daenerys has unleashed on her opponents", according to the brewery. You can buy a range of wines including a Californian Chardonnay, a Napa Valley Cabernet and a red blend from Paso Robles. Disappointingly none are labelled Dornish, the type of wine favoured by the series's most bibulous character Tyrion Lannister – aka the Imp. And Icelandic Mountain Spirits have cast member Hafþór Júlíus Björnsson – aka The Mountain that Rides – as brand spokesman and part owner.
Game of Thrones-loving whisky drinkers will have to wait until later in the year to find out more, but not as long as they have to wait for the new series. 2019! Come on George, get scribbling.