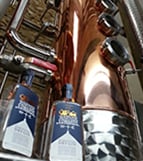 This week, through thick snow and in the picturesque undulations of Northamptonshire, the Warner Edwards team has been busily bottling up their brand new Harrington Dry Gin – a debut spirit from old Uni pals Sion Edwards and Tom Warner. We're going to give the gin a road-test shortly, but first some history and background…
Sion and Tom met at university and became good friends from the very beginning, bonding over a love of rugby and the fact they both came from family farms. After graduating, they took on steady jobs and a few years later, feeling slightly bored, decided it was time to embark on a project together, utilising their farming backgrounds.
"Let's produce essential oils!" One of them said.
"Yes, I'm in constant need of those," said the other.*
(*conversation wholly inferred by blogger. Might not have taken place.) Personally, if deciding on a farm-based business, I'd make a hybrid animal based on pigs and cows, specially bred in order to make a meat like beef, with the crackling of pork… It would be called bork. That's just what I'd personally do. Sion and Tom went for essential oils. You decide which is the better idea…
They planned on growing fragrant herbs such as lavender and, using a still, they would extract the oils from the botanicals and that's when it hit them: stills can also be used to make delicious booze.
Production
The still is a bespoke copper contraption made by Albert Holstein in Markdorf, Germany, boasting a 500 litre capacity, eight bubble plates, a deflegmator and a patented catalyser.
The catalyser has the enviable effect of increasing the contact time between spirit and copper, and this in turn results in fewer acids, cyanides and carbomates, and a smoother, more rounded spirit. I know what none of those things mean but I sound both convincing and technical.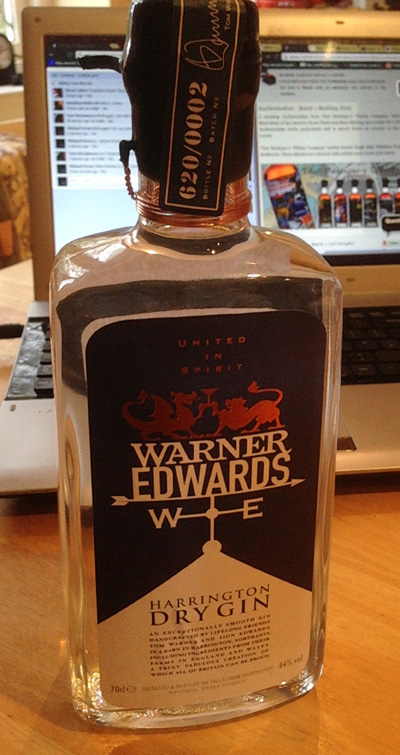 Oh and the still is nicknamed "Curiosity" because after installation, cat-like prints were seen on the newly laid concrete floor (and presumably there was a tail protruding from beneath the still's 1100kg bulk).
Top quality barley spirit is measured out with a selection of eleven botanicals sourced from farms in England and Wales – these include juniper, "home-grown" elderflower and coriander – and distillation takes place over a period of seven hours…
After distillation, the spirit is brought down to a bottling strength of 44%abv using pure spring water from the farm. In fact, 56% of the final product is made up of this delicious water – made all the better thanks to its natural filtration through limestone and iron-rich soils.
Warner Edwards Harrington Dry Gin Tasting Notes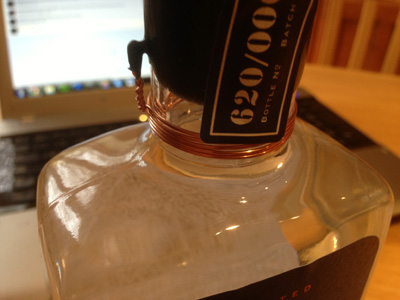 Note: Copper wire detailing on the bottle neck…
Nose: Wonderfully aromatic nose with an incredibly intense Eastern spice note. Notes of royal jelly, lavender and elderberries too, and perhaps just a hint of kola. After some time in the glass it gives up just the faintest wisp of something vaguely medicinal – almost like sticking plasters.
Palate: A hint of malt kicks this off with an almost Jenever-style, followed quickly by a perfume-like delivery of acacia blossom and sweet, creamy juniper notes. All very oily and thick. Late palate there is just a dusting of turmeric and sherbet lemon.
Finish: Stem ginger in syrup builds on the finish, providing a beautiful warmth alongside candied lemon peel. Sparkling… And just a faint suggestion of saffron.
Purporting to be a Dry Gin, there is a gorgeous level of sweetness to be found here. It's faintly reminiscent of Old Raj gin too, thanks to its marvellously spicy, fragrant core. It even has that same sweet saffron flavour on the finish and I can see this working particularly well in a Martini with just the faintest hint of vermouth – any more would mask some of the subtler flavours this particular gin has to offer.
Using a small four-valve bottling machine (usually manned by Sion) the bottles are filled before being corked and stacked by Tom. The copper wire is hand-wrapped around the bottle necks before wax dipping and labelling. The result, as I'm sure you'll agree, is a great-looking, great-tasting and quintessentially English gin…
Bork, however, is sadly still unavailable.
You can buy a bottle of Warner Edwards Harrington Dry Gin for £31.95…
Mike.