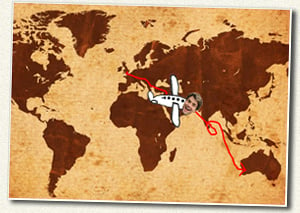 Note how careful I was with the punctuation there. It's not that our online editor is wanted, but rather that we want an online editor.
If Mike – our current online editor- was wanted, it might at least go some way towards explaining his decision to move from the sunny, safe, really rather delightful climes of Royal Tunbridge Wells, to Perth. Nope, not that Perth (the sensible Perth, the Perth that's within just a few miles of a load of great distilleries), the other Perth. The one in Australia.
So – after initially being a bit sad, then more than a bit excited on Mike's behalf, then (literally) about 5 minutes of looking incredulously at each other, and repeating over and over "Australia?!?", we've decided that we'd better start the task of looking for a replacement online editor.
It's a pretty cool job all told. I won't go too much into the day-to-day of it (I'll leave this for Mike, who'll tell you all about it shortly), but I will say a little about what the company is all about, where we're heading, and what will be required of the successful applicant.
About us – Master of Malt
Although Master of Malt has been around for over 25 years as a business, there was a step-change about 4 Years ago, when a significant investment in both cash and people was put into the business. We developed a completely new and bespoke website, started to acquire stock like it was going out of fashion, and brought in 3 directors with significant levels of relevant industry experience, namely Marketing Intelligence, Media Sales Management, and Theoretical Physics (Those are what you need to run a whisky business, right?) and started on our merry way.
The last few years have been pretty epic. We've grown the company twenty-fold in terms of scale, and from a staff of 3 (one of whom was part-time) to a peak of about 45-ish. We've also done quite a lot of pretty 'cool' stuff. I won't re-hash all that here, if you want more – have a look at our review of 2011 post.
We like to think we're a reasonably forward-thinking bunch, and are always happy to listen to ideas. We'll 'do' the cool ones, and ignore, or occasionally punish the bad ones.
Over the next few years, we're going to continue to grow, significantly, both in terms of scale, and scope. The new member of our team will have an opportunity to be part of this, and will contribute significantly to it.
About you – our new online editor
Needless to say this is a BIG opportunity. You will be the online face of Master of Malt, ultimately responsible for shaping the direction and tone of the entire website. You'll receive direction and assistance of course, but ultimately the words, the voice of Master of Malt, will be completely under your control.
Chances are there are quite a few people out there who are going to be very interested in this role. It's a pretty cool thing, as you'll see from Mike's bit below, but there are going to be some requirements from your side:
The job is based (Full Time) in Royal Tunbridge Wells, Kent. For those of you who wish to Google-Map it (is that really a verb? scary.) the postcode of the office is TN1 1DA.
You will need to have an absolutely impeccable grasp of the English Language; faultless Grammar, Spelling and Punctuation are essential. The following clip is genuinely nothing compared to those people who confuse Less and Fewer in the presence of either Justin, me or Tom.
You will need to be a fast, concise, and dare we say it 'funny' writer. For every word of a blog post you have to write about a 60 year old whisky that you tasted in salubrious surroundings, there are 200 words that need to be written about yet another bloody Absinthe, and it all needs to sound good.
You'll need a very-good-to-excellent knowledge of whisky, and all other spirits, and a good-to-very-good knowledge of all other aspects of booze, especially wine and Champagne. Extensive knowledge of Cachaça is positively frowned upon.
You'll need a high level of competence in all Microsoft Office products (especially Excel), a good knowledge of HTML & CSS, and very good skills in all products in the Adobe Creative Suite.
You'll need to be the kind of person who actively takes responsibility for delivering results. We're not slave-drivers, and definitely aren't into regular 12-hour days here, but if something needs to be finished, it needs to be finished – but why am I telling you this – you already understand, because that's the kind of person you are.
The hours are Monday-Friday 09:00 – 17:30, the salary is highly competitive (variable dependent on relevant experience), and you'll get a 'tasting allowance' every month. We can understand why 'Dramming the men' & 'The Daily Tot' were abolished at both distilleries and on navy vessels respectively, but we're keen to redress the balance, and there's not much operation of heavy machinery in your job role.
"An Online Editor's Tale" – written by Mike
To describe my role in short will certainly be one of the harder challenges I've had to face; my time at Master of Malt has been the most varied, interesting and challenging three years of my life, but I'll do my best to boil it down to its key ingredients.
We, as a company, have a firm belief in providing as much information and knowledge as we possibly can to our customers. Our dream has always been to create a site which people will visit not only for shopping, but as a resource on all things whisky (and other fine spirits), so I would say a great deal of what I do centres on writing.
Day to day tasks might include such things as creating press releases; writing blog posts (with as many Alan Partridge references as possible); coming up with products and content for email newsletters; writing detailed info and tasting notes for new products and creating and updating content about brands, distilleries, regions, spirits and their styles. That sounds like a lot. It's a lot more than a lot. To give you an idea, when I was first offered the job, my initial challenge was writing the half million odd words that we'd use to launch what is now our website. Half a million words. In three months. If you're even considering this job you must be the kind of pedantic twit who uses semi colons in text messages, and the sort of intolerable nitwit who corrects people on their grammar, like this. I've noticed both Ben and I independently chose to use that clip when writing this post. That speaks volumes…
Another key aspect of my "work" is a love and reasonably competent knowledge of spirits (and booze in general). I have this knowledge, and I learnt it the hard way (you don't wake up a Mexican brothel with no knowledge of how you got there and one of your hands missing unless you get to know a little Tequila first). When I began working here I already had a decent understanding of single malt whisky, but by crivvens did I have to cram. I bought a stack of books and spent my life reading great blogs like CaskStrength, WhatDoesJohnKnow? and Edinburgh Whisky Blog. Of course, I picked up even more during the many distillery visits and tastings we attend. This is one of the many perks of working at MoM, and very few people can say they've tasted whisky straight from the barrel at the Laphroaig warehouses with the distillery manager (in dramatic near-darkness no less)! Highlights of events I've been to include several Laphroaig tastings; the Ardbeg 10th Anniversary shindig (at which I told Dr Bill Lumsden what I really thought of Rollercoaster…); a stupendously good Rip Van Winkle tasting; a wonderful absinthe tasting in which we had to clamber through a wardrobe to get to a secret bar; and many, many more.
An extension of this has been representing the company, and this brings me to what was certainly my most nerve-wracking endeavour… During December 2009 I was asked to promote our personalised whisky and Champagne on the QVC shopping channel. It lasted for twelve electrifying minutes, but I loved every one of them. I've also spent a full weekend standing next to the world's most famous (and beloved) pornstar Ron Jeremy, promoting his rum at RumFest in London. This also led to a blog post with, if I do say so myself, the greatest opening line in retail blogging history.
Two big dicks…
The Whisky Picnic in Edinburgh was another standout experience, in which Ben and I manned the Movember bar, before drunkenly yelling at the DJ to play some DMX. He dutifully obliged and we were as happy as two men can be. We spent the ride back to the hotel shouting the lyrics to Party Up (Up In Here) to the taxi driver, much to his indignation I'm sure.
My job, however, is online marketing, and this involves: Coming up with cool ideas for marketing campaigns and competitions (the brainstorming sessions are great fun); managing the company's social networking presence; doing some of that thar SEO; have a hand in product selection and promotion as well as helping with the development, branding and launch of new products. After the plans are made, I also get involved with project managing their completion.
I am responsible for the website looking good, maintaining the homepage with exciting new things, coming up with new, cool features, and generally being beaten up for the occasional typo (a repeated word is 10 lashes, a spelling mistake is an enforced coffee enema, and confusing "your" and "you're" is instant dismissal.
Other Key Skills:
– An ability to ingest vast quantities of chillies, regardless of the inherent dangers (once to prove my worth I chomped down on an entire Scotch Bonnet to impress Ben, and I recreated the moment the next day for the joy of the whole office, before drinking enough milk to kill a bear).
– An intricate knowledge of Alan Partridge (and other classic British comedies including Monty Python, Black Books, Spaced, The Thick of It, The Mitchell and Webb Look, Time Gentlemen Please, Withnail and I, and basically every other DVD in my living room).
"Stop saying that Withnail, of course he's the f*cking farmer"
– Being able to resist the temptation of getting involved in bets with Justin and Ben. When I was at the top of Ben Nevis at half eleven at night in a whiteout with a broken torch I realised it had all gone too far… This genuinely is not a joke.
– A devotion to Chappism and its rituals.
– An appetite that would put Man Vs Food to shame (oh dear lord, the Nandos).
– The ability, nay, the talent of having a cigar in one hand, a priceless glass of Hors D'Age Cognac in the other and a conversation about the merits of Leitmotif flowing (or the relative virtues of the cigar punch cutter against those of cigar scissors) whilst not feeling like a pretentious nit.
– A desire to drink Bourbon at all times. Once I had to consume (of my own volition #DrinkAware) almost an entire bottle of Blanton's Gold Label, and was forced into singing its praises to Neil and Joel from CaskStrength.net all night. It is marvellous stuff doncha know…
– Having a vague idea of "where that fine line is", but crossing it nonetheless – I will not list examples here.
– Forgetting what I definitely didn't see when the fuzz come a-knockin' and start asking questions about what happened that night that wasn't in the place that doesn't exist with the people you never met.
– Putting up with 8 hours of mind-numbing heavy metal in the car up to Scotland with Ben. If I hear any more Iron Lady (or "Iron Maiden", or "Thatcher", who knows) I will top myself.
– Some other stuff we can't talk about here.
I had no idea she was so popular…
As a little sign off it's worth mentioning that in the entire company there is not a single person with whom I wouldn't gladly spend an evening at the pub. Master of Malt is made up of a superb bunch of top chaps and chapettes, all of whom I will miss a great deal when I'm fending off rabid dingoes, "salties" and everyone's favourite siphonophore, the Portuguese man o' war.
I extend my heartfelt gratitude to Ben and the other directors for three exciting, varied and interesting years and wish them and Master of Malt the best of luck for the future (not that they'll need it of course!).
Mike.
(Back to Ben)

I'd like to take this opportunity to thank Mike for his incredibly hard work over the last 3 years, and wish him all the best in his new life down-under. We can only hope that he's one of the lucky ones when he's inevitably bitten by a spider.
One of the lucky ones…
All applications will be treated with the strictest confidence. If you'd like to apply, please send me a CV, a covering letter, and possibly some kind of delicious home-baked good. My e-mail address is ben at master of malt dot com. Please note that any attempt to e-mail baked goods will result in automatic disqualification from the process, and may knacker one or more of your USB ports.
Ben.