Jameson has reopened its Bow St. brand home in Dublin – formerly known as The Old Jameson Distillery – following an €11m redevelopment. We sent Jake over to Ireland for the lowdown on the new multi-sensory experience and masterclasses.

First covered here on the blog during our interview with Irish Distillers Master Blender Billy Leighton a month ago, Jameson's Bow St. brand home in Smithfield, Dublin has recently reopened following an ambitious €11m redevelopment. Now fully up and running, I paid them a visit last week.

Located on the site of John Jameson's original 1780 Irish whisky distillery, a Jameson visitor centre in Dublin was first opened back in 1997. By the summer of 2016 a significant refurb was required to bring the experience up to date and handle greater numbers of visitors (over-subscription and delays had become a real problem, by their own admission), but what they've achieved since September is pretty damn impressive.


Right from the new and more welcoming entrance, complete with a couple of smart new central bars, this is something fresh and exciting. The biggest feature, however, is still the large timber trusswork that spans right across above you. Part of the 19th century distillery, some of these beams show evidence of fire damage from the 1970s (after the distilling operation had moved to Cork), which Irish Distillers Archivist Carol Quinn assures me actually helped preserve them! It's this marriage of clean, modern design and authentic, historical detail that sets the tone for what's ahead.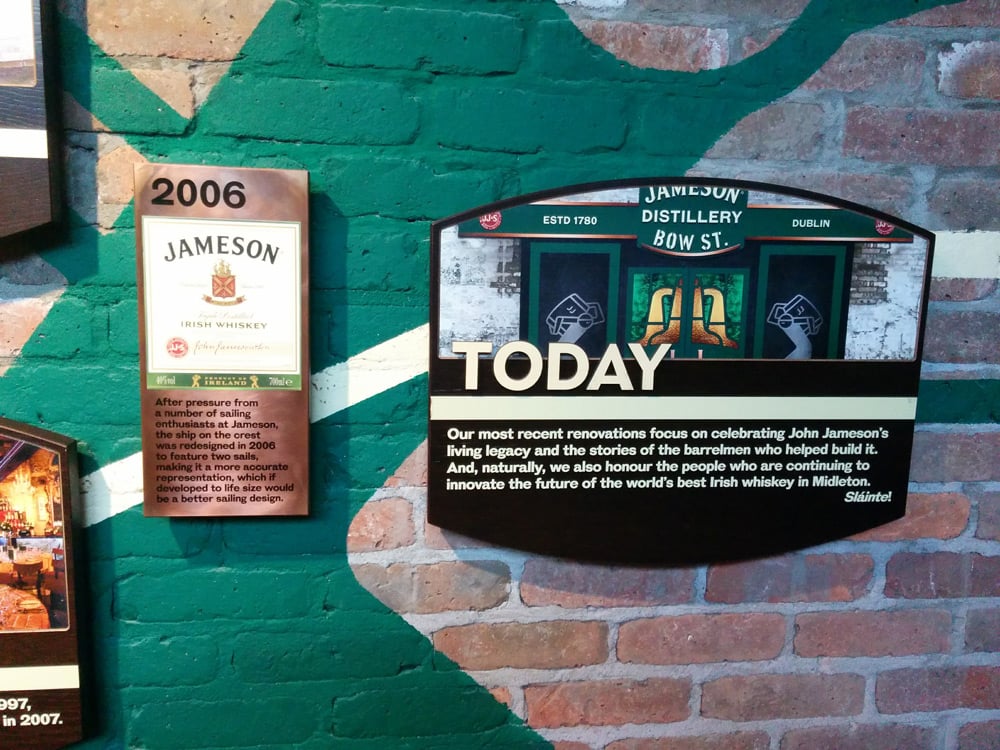 "Our most recent renovations focus on celebrating John Jameson's living legacy and the stories of the barrelmen who helped build it."
The main 'experience' on offer is the aptly named Bow St. Experience, which takes around 40 minutes and costs €18 (including drinks). This guided tour takes in the whiskey's history from the boom town of Dublin where John Jameson chose to build his distillery in 1780, through three more generations of chaps called John Jameson and on to the present day! It's also the history of the small urban army of distillers, coopers, carpenters, blacksmiths, ostlers, doctors, gatekeepers and more that made it all possible. Many of the surnames of these individuals now proudly adorn the new bar(s), taken from over a hundred years of ledgers and employee records.
As Carol Quinn explained to me, "One of the things that I'm really pleased about in the redevelopment here is that it's highlighted for the first time the part that all the employees played here over the generations… to see those names come to life again… We remember where we came from and we remember who helped us get where we are today."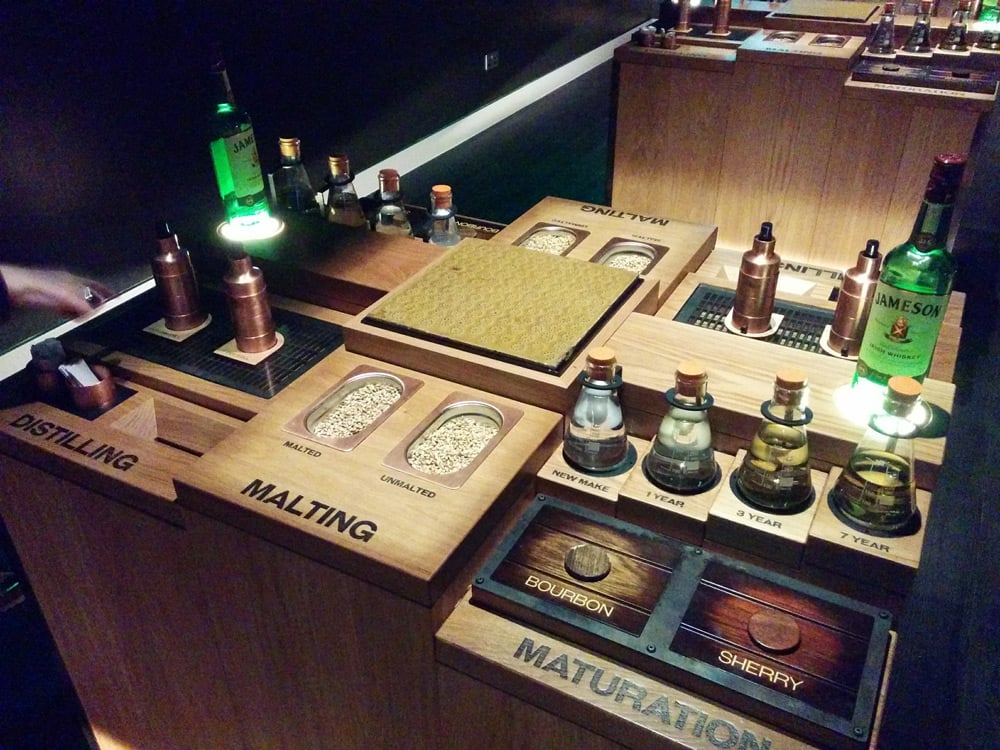 Learn about Jameson with the help of atomisers, barley, conical flasks and bung holes!
The resurgence of the Irish whiskey category has helped free them up to concentrate on the Jameson story a little more. After being guided along the timeline story wall, the next room contains a little 21st century magic as a video is projected onto a piece of parchment in the centre of the room. The effect is like the Marauder's Map (or as Brian Nation said, 'that' groundbreaking A-ha video) and is extremely pleasing! Then, it's on to a multi-sensory class on how Jameson is produced, from raw materials through to bottling. This is something that Irish Distillers are extremely good at, of course, as we've seen before with their world-class Irish Whiskey Academy in Cork. Although the explanations here are aimed at a more mainstream tourist audience, it's still an extremely worthwhile, highly-engaging educational experience for any enthusiast.
The Bow St. Experience ends with a comparative tasting of a trio of leading whiskies: triple distilled Jameson; a peaty, double distilled Scotch blend and a single distilled American whiskey. A Jameson signature drink back at the bar is also included.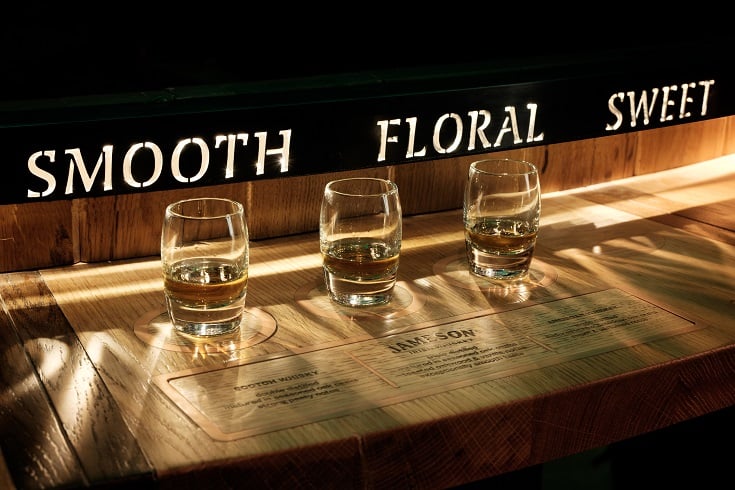 Taste Jameson alongside leading Scotch and American whiskies.
More involved 90 minute Whiskey Makers and Whiskey Shakers masterclasses are also available for €55. I jumped at the chance to join the Whiskey Makers class, hosted (as it may well be if/when you visit) by Christopher who's been with Jameson for 11 years and is one of the ambassadors that helped put the masterclass together. Another multi-sensory experience, there's an opportunity to go into more detail here as you're taken through an excellent tasting of the Jamesons Makers Series: Brian Nation's Distiller's Safe, Ger Buckley's Cooper's Croze and Billy Leighton's Blender's Dog.
Christopher took us through the thought process and composition of each release (admirably in the case of Distiller's Safe as Master Distiller Brian Nation was part of our class!), the basics of whiskey tasting and also some of the nuance. He covered the personal way we all experience whiskeys differently in particularly lucid fashion. Top stuff.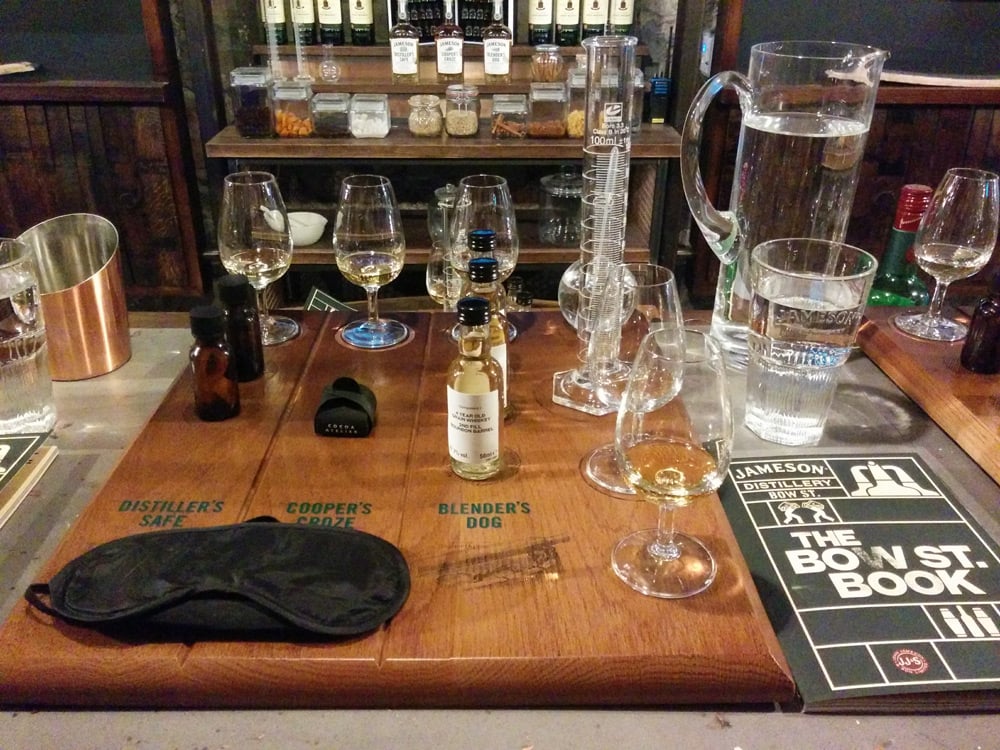 The Whiskey Makers masterclass – taste and learn about the Jameson Makers Series and blend your own!
The masterclass also includes the opportunity to blend your own whiskey to take home with you in a little 5cl bottle (small enough for carry on luggage, which is handy). Over at the Shakers masterclass, meanwhile, you get to make and enjoy a Jameson and ginger, a whiskey sour (with the excellent Black Barrel), an old fashioned (with Crested) and some tasty punch. Both masterclasses then end in Jameson's new Bow St. warehouse. That's right, after a gap of 42 years Jameson is once again maturing spirit in Dublin…
With around 100 casks the warehouse may seem tiny, which it absolutely is! There are around 1.5 million casks down in Cork! Even back in the 19th or early 20th centuries, however, when Jameson is said to have had around a million casks maturing in Dublin, there would have been very few actually maturing at the Bow St. distillery. Amusingly, those that were stored at the distillery were held in high regard partly because of Bow St.'s supposed preservative qualities… It was a reputation based on the mummies you can still visit at St. Michan's church just around the corner. Indeed, when Alfred Barnard visited Jameson in 1886 he started by visiting the mummies*!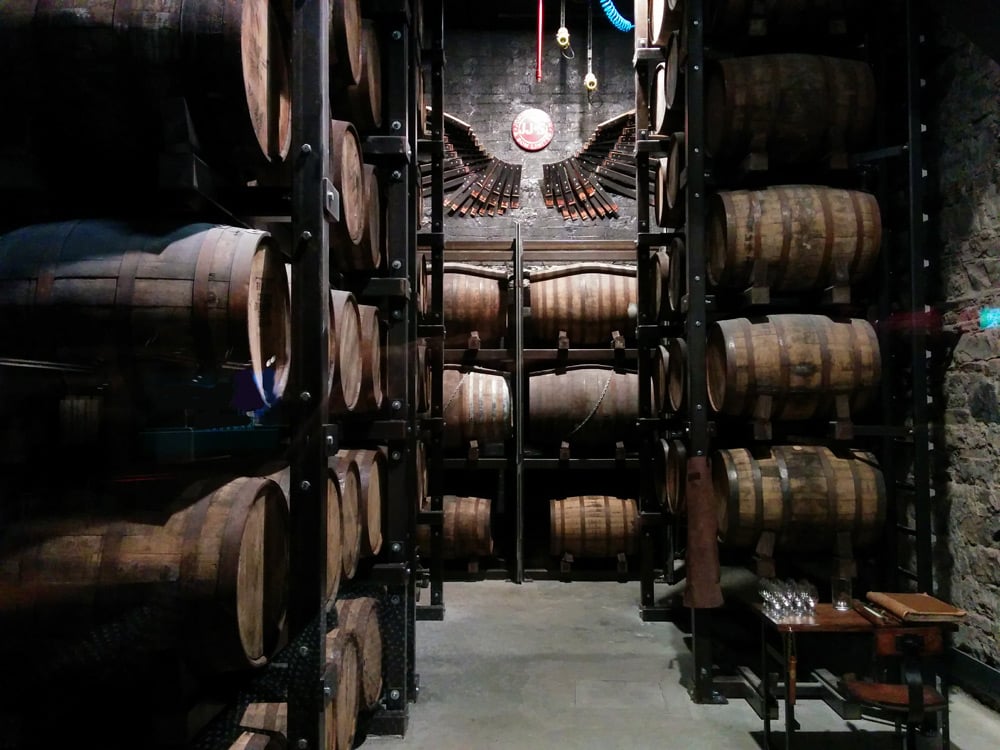 Jameson's new Dublin warehouse!
It was time to sample straight from the cask, something you can do too if you take one of the masterclasses. On the day we tasted single pot still from a second-fill bourbon cask filled in 2003 or, as Stuart Irvine off of Whisky Belfast stated after taking a sip, "single pot at its best!"
The whole redevelopment at Bow St. is top notch – "epic" in the words of Greg off of Great Drams – and well worth a visit even if you've been previously. It was great to see the understandable pride of all those involved with Brian explaining how he found the opening and his first tour on St. Patrick's Day really "quite emotional". Carol, meanwhile, spoke brightly about just how brilliant it's been already "to see people react to it, and understand it, and see them ask questions and want to find out a little bit more…"
Brian's toast feels like the very best way to bring this post to an end:
"May the roof above never fall down and the friends below never fall out!"

Jake


* The mummies, which are falling out of their coffins, were also visited by Bram Stoker who grew up in Dublin…