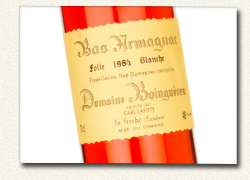 Today we were greeted with a very exciting little parcel, containing a selection of samples of vintage Armagnacs from Domaine Boingnères.
Before we begin the tasting, here's some brief history…
Founded by Jean Boingnères in 1807, the company is now run by the family's sixth generation. In 1953, the house style changed when Léon Lafitte took the helm. Mr Lafitte enlarged the vineyards, and he began to sell the company's Armagnac to some of France's top restaurants, a move which increased Boingnères' popularity massively.
Domaine Boingnères pride themselves on the quality of their single vintage brandies, and tasting a flight of four was a tremendous pleasure. We began with the 1985 vintage…

Domaine Boingnères 1985 Cépages Nobles
Nose: Classic old Armagnac nose, just what we love! This is rich stuff indeed, with mellow prunes, hints of very subtle rancio – just a touch of forest floor, parmaviolets, rose petals and oak.
Palate: Big and bold. Spices and dates. A touch of lemon zest, with a rich medley of oak and potpourri. Hints of stewed apples and musty woodsheds appear after a time.
Finish: Gentle tannins help draw the finish out, which is very fruity, with a mixture of plums, apple pie and deep spices.

Domaine Boingnères 1984 Folle Blanche
Distilled from just the Folle Blanche grape, we're expecting a spicy, aromatic brandy…
Nose: And spicy and aromatic it is! Hints of marmalade, pepper and nutmeg, with an elegant and stylish touch of lime, parmaviolets and oak. Soft and mouthwatering.
Palate: Soft and juicy with notes of candied peels, plum wine, rose water and toffee apple.
Finish: Spicy and long. Notes of plumwood and vanilla.

Domaine Boingnères 1972 Cépages Nobles
We don't always do this, but in this case we feel obliged to mention the absolutely dazzling colour of this Armagnac: ruby red with a little tawniness at the edges.
Nose: Spicy and full, it beings on potpourri and coffee beans, and develops with stewed fruits, prunes, walnut loaf and ginger.
Palate: Big bodied, fruity and fragrant. Oily espresso and a touch of dark chocolate crumbling away into a gorgeously tangy plum note, it's like biting into a plum in fact! Spiced, oaky, warming and utterly sublime.
Finish: A very long finish, with rose petals, spices and overripe grapes, we love it!

Domaine Boingnères 1968 Quatre Cépages
Nose: An astonishing bouquet of various fragrant woods. We get oak upfront, with hints of cigar humidors (a mix of sweet tobacco leaves and cedar wood). This develops, and hints of freshly ground black pepper appear, alongside vanilla sweetness and dark berry conserves.
Palate: Thick and syrupy, this has a profound flavour profile. There's a hint of leafy, almost menthol freshness, which belies this brandy's age, but all the time there's a tremendous mix of rich, jammy plums, dates and rancio that you'd expect.
Finish: Long! A long finish, with plenty of oaky grip, and a touch of old fashioned cola, pepper, prunes and spices.
Of course you can buy 3cl samples of all of the Armagnacs mentioned in this post…
– The Chaps at Master of Malt –