During the lull between Christmas and New Year celebrations, so why not put any half-opened bottles of booze to good use with spot of baking? From rum-spiked cinnamon swirls to a classic tiramisu, we've pulled together three show-stopping recipes to try…
When you think about boozy desserts, your first thought probably jumps to a Christmas pudding drenched in brandy. But there's more to spirited baking than merely setting foodstuffs alight for a photo opp. In fact, adding a splash of booze to your favourite bakes can take the flavour of the dish to a whole new level. You just need to know when to add them, and how much to add.
To help boost your dessert-assembling credentials, we've pulled together three decadent recipes to try out ahead of your New Year's celebrations – tis' still the season, after all – spiked with delicious booze. There's even Baileys dish in there, because seriously who doesn't love Baileys?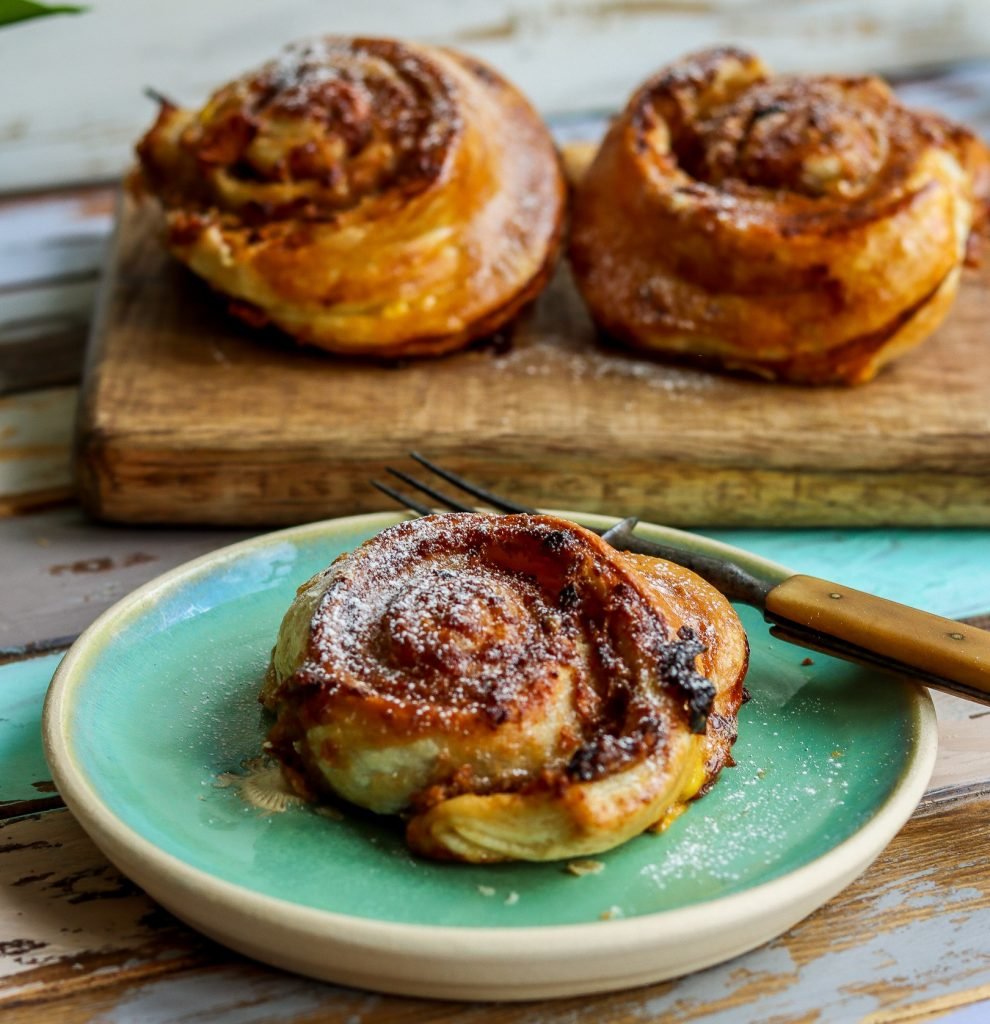 1. Dark and Stormy Swirls
Recipe from Goslings Black Seal Rum. Makes six cinnamon swirl pastries.
INGREDIENTS: 
1 rolled sheet of puff pastry, 2 tbsp Goslings Black Seal Rum, 2 sweet apples diced into small cubes, ½ tsp cinnamon, 1 small thumb of ginger peeled and crushed, 1 lime (juice and rind), 50g raisins (soak in rum overnight if you have the time), 50g brown sugar, 50g butter, 1 egg wash
METHOD:
1) Place apples, sugar, butter, ginger, lime juice and cinnamon in a saucepan and gently cook down. Then add the rum and raisins and cook on a low heat for 30 mins.
2) Take the puff pastry sheet and place horizontally in front of you, and brush with the rummy applesauce – be generous.
3) Once coated, roll it up in a tight cylinder. Slice into six and place on baking paper on an oven tray. Coat with egg-wash and grate lime zest over the top.
4) Cook in a preheated oven at 180°C for 25 to 30 mins, remove and allow to cool on a wire rack – or serve warm. 

2. Tiramisu
Recipe from Quick Brown Fox.
INGREDIENTS: 
6 free-range egg yolks, 200g sugar, 450g mascarpone, 350ml cream, 1tsp vanilla extract, 100ml Quick Brown Fox coffee liqueur, 1 packet of Savoiardi sponge fingers, orange zest to garnish
METHOD:
1) First, you'll need to make your sabayon layer. Combine the egg yolks with 130g of the sugar. Put the bowl over a pot of boiling water and whisk until the sugar is dissolved and the sabayon has increased in volume. 
2) Next, make the mascarpone layer – for this, whisk the mascarpone, cream and 70g of sugar in a bowl. 
3) Now quickly dip the Savoiardi biscuits into a shallow bowl of Quick Brown Fox coffee liqueur (don't let it soak too much). 
4) All you have to do now is assemble into glasses in layers. First, the soaked Savoirdi biscuits, then the sabayon, then the mascarpone layer, and repeat. 
5) Sprinkle with cocoa and let it set for six hours in the fridge. Garnish with a grating of fresh orange zest.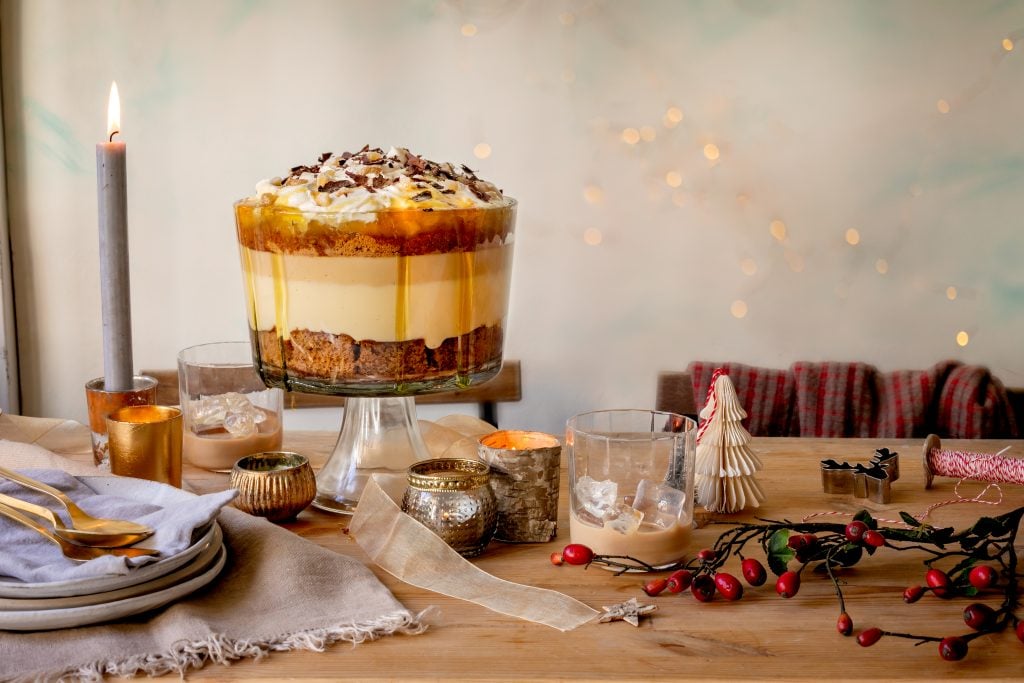 3. Gingerbread Trifle
Recipe Benjamina Ebuehi of Great British Bake Off fame for Baileys Original Irish Cream.
INGREDIENTS:
250g unsalted butter, 200g light brown muscovado sugar, 50g black treacle, 100g golden syrup, 3 eggs, 400ml milk, 300g plain flour, ½ bicarbonate of soda, 2 tsp baking powder, 1 tbsp ground ginger, 1 tsp mixed spice, ¼ tsp ground cloves, 900ml double cream, 2 tsp vanilla bean paste, 6 egg yolks, 2½  tbsp cornflour, 65g caster sugar, 2 tbsp biscuit spread, 80ml Baileys Original Irish Cream, 100ml strong brewed coffee, 2 crushed gingernut biscuits, grated milk chocolate, edible glitter
METHOD:
1) Start by making the ginger cake. Preheat the oven to 180°C. Grease and line a 9 x 13 inch cake tin. Gently heat the unsalted butter, golden syrup and treacle in a small saucepan until the butter is completely melted. Remove from the heat and let it cool for a few minutes before stirring in the sugar. In a small jug, whisk together the 3 eggs and 100ml milk and set aside.
2) In a large bowl, sift together the plain flour, baking powder, bicarbonate of soda, spices and a pinch of salt. Make a well in the centre and pour in the syrup mixture, milk and eggs. Mix the batter until smooth and pour into the tin. Bake for 35 to 40 minutes or until a skewer inserted in the centre comes out clean. Set aside to cool completely.
3) To make the custard, whisk the 6 egg yolks, caster sugar and cornflour in a large bowl until smooth and pale. Set aside. Heat 300ml milk, 600ml double cream and vanilla bean paste in a saucepan over medium heat until just before boiling. Pour a quarter of the hot milk onto the eggs and whisk thoroughly. Add the rest of milk a bit at a time, whisking well after each addition. 
4) Pour the mixture back into the pan over a medium heat and stir continuously until the custard is nicely thickened. Remove from the heat and spilt the custard evenly into two bowls. Stir the biscuit spread into one of the bowls until fully combined. Cover both sets of custard with a layer of cling film directly touching the surface. Let it cool to room temperature before chilling in the fridge. 
5) Then, mix the Baileys Original Irish Cream with 300ml double cream in a large bowl and whip until you have soft peaks. 
6) To assemble the trifle, cut up the ginger cake into small squares and place them in your trifle dish. Spoon the coffee onto the cake layer followed by a layer of vanilla custard and biscuit-flavoured custard. Sprinkle on a layer of crushed gingernut biscuits and then spoon the Baileys Original Irish Cream layer on top. Decorate with more gingernut crumbs, grated milk chocolate, a sprinkle of edible glitter and drizzle with extra golden syrup if you'd like.