Forget 'bed and breakfast', this summer it's all about the 'bed and beverage'. Dream of sleeping in a giant wooden Tequila barrel? Fancy a 5-star stay with a built-in rickhouse? We've picked out the most alluring spirits-themed hotels across the globe…
It's no secret that hotel bars have been stealing the show over the last few years. Of the '50 Best Bars Of 2017' list, the top four (in the world!) can be found in 5-star lodgings. Now, this spirited excellence is transcending the ground floor and weaving its way into hotel rooms.
Say 'bon voyage' to lacklustre minibars and order bev-room service with style at our pick of booze-themed stays. Some people lust after drinks trolleys and personal mixologists; others seek out distillery digs and blending experiences. No matter what your preference, the hotels that follow are a drinks-lovers dream. Fair warning: you might not get much sightseeing done…
The Distillery – where gin happens
The Distillery, London, UK
186 Portobello Rd, London W11 1LA
Gin-themed hotel The Distillery – home to Portobello Road Gin – is a juniper fan's paradise. Sip barrel-aged gin cocktails in the appropriately-named basement bar, The Resting Room; dine in the Spanish-inspired GinTonica restaurant, and blend your own creation in The Ginstitute, which also houses a museum that charts the last 300 years of gin history. When sun goes down, head upstairs to one of three boutique bedrooms and sip Martinis between the sheets. Bliss.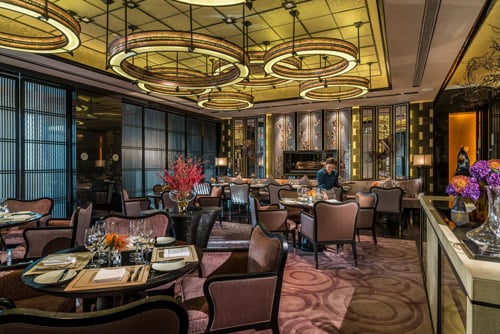 Well worth the trip
Regent Singapore, Singapore
1 Cuscaden Rd, Singapore 249715
Not only does Regent Singapore house one of the world's buzziest cocktail bars – called Manhattan – it also boasts the world's first in-hotel rickhouse, which contains more than 100 American oak barrels sourced from a small cooperage in Minnesota. After you've tasted your way around the rickhouse, make a beeline for the Ingredient Room. It's packed with row upon row of dried, dehydrated and pickled delights, patiently waiting to be selected, shaken and stirred into drinks by house bartenders. Be sure to sample Regent's house-made whiskey in the bar's signature Negroni serve. Delightful.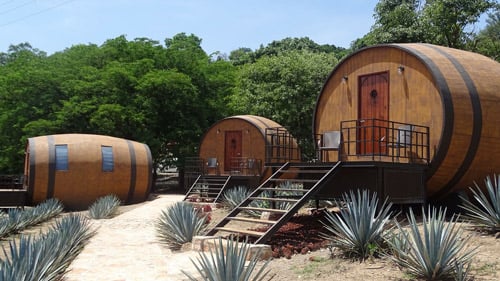 Sleep like Tequila sleeps
Matices Hotel de Barricas, Jalisco, Mexico
La Cofradía 1297, La Cofradía, 46400 Tequila, Jal., Mexico
Ever wondered what it feels like to be an ageing spirit? Now you can rest your head in a luxury human-sized barrel located in the agave fields of Casa Cofradia. The estate belongs to La Cofradia distillery – maker of brands like Casa Noble, Agave Loco, and Astral – which produces around 15,000 litres every day. When you're not busy channelling your inner 'new make', tour the warehouses, harvest agave and sip Tequila cocktails in a traditional subterranean tavern that lies four and a half metres below ground.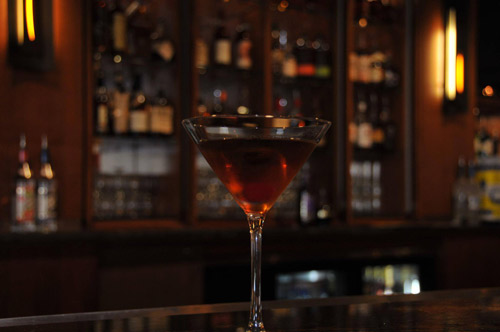 The official hotel of the Kentucky Bourbon Trail
Marriott Louisville East, Kentucky, US
1903 Embassy Square Blvd, Louisville, KY 40299, USA
Where better to sip Kentucky's signature spirit than the world's first bourbon-themed hotel? If the lobby seems familiar, it's because the design is based on Maker's Mark's synonymous wax-dipped bottle. Bourbon barrels and limestone design elements continue in the hotel's restaurant, Charr'd, which stocks more than 200 varieties of the brown spirit and a host of signature Kentucky dishes. As the official hotel of the Kentucky Bourbon Trail, Marriott Louisville East makes an ideal Bourbon County base.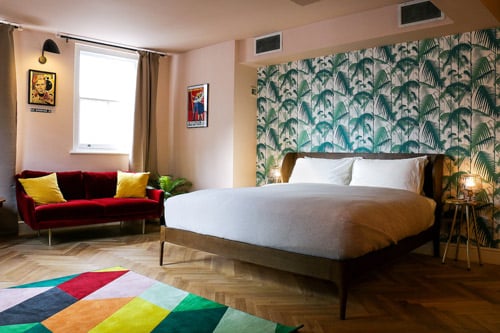 Bicorne not included
The Napoleon, London, UK
9 Christopher St, London EC2A 2BS
London's smallest grand hotel has three times as many bars as it has rooms. That's to say, three bars – classic cocktail specialist Devil's Darling, sherry-driven haunt Sack, and whisky bolt hole Black Rock – paired with one plush crash-pad. The room is kitted out with a lounge area, a drinks trolley stocked with bottles of gorgeous pre-mixed cocktails, and a fully functional in-room service elevator connected to all three bars, in case you don't fancy schlepping downstairs. The Napoleon brings a whole new meaning to the concept of a bar crawl.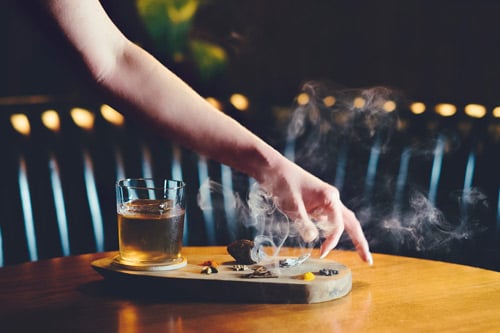 From the folks behind Death & Company…
The Rooms at The Walker Inn, Los Angeles, US
3612 W 6th St, Los Angeles, CA 90005, USA
When the folks behind New York cult speakeasy Death & Company decide to open a B&B-slash-bar in LA, you know it's going to be epic. Much like the cocktails that grace the list downstairs at the award-winning reservation-only bar, each of the 10 rooms has its own character, identity, and allure – as well as its very own cocktail bar, kitted out with everything you need to make a Walker-worthy cocktail: top-shelf spirits, fresh seasonal ingredients, and mixers galore. There are also pre-batched tipples, for the less experienced bartender. After 9pm, order 'The Closer' at the bar to bag a room.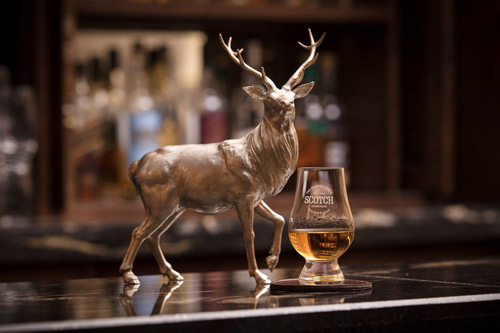 It's protecting the whisky with its tiny horns
The Balmoral, Edinburgh, Scotland
1 Princes St, Edinburgh EH2 2EQ
Perch on a stool at The Balmoral's bar, Scotch, for a whisky journey like no other. In-house whisky ambassadors are on-hand to guide you through tasting flights split by regions, age, and 'rare and old'. It's home to Edinburgh's largest whisky collection – with more than 400 bottles to admire – and the bar team aren't shy about whipping up a cracking cocktail with them. Be sure to use its 'whisky turn-down' service. When you return to your room, glassware, a tumbler of whisky, water, and a bucket of ice with tongs will be waiting for you, so you can toast a day spent exploring the city.