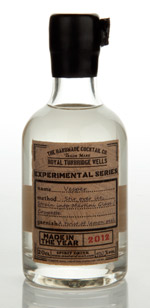 Published today – an open letter from Tunbridge-Wells-Based manufacturer, The Handmade Cocktail Company to Commander Bond.
The letter reads:
Dear Commander Bond,
I write to you today in the gravest of circumstances.
It has been brought to my attention that you have been seen – in public no less – consuming that most un-gentlemanly of concoctions. Lager-beer.
The exact circumstances of this sighting I have been unable to ascertain – the employee in question ran into my office quite incoherent before crouching in the corner, and having to be chemically 'calmed' by our nurse. Contained within his ramblings however, there was definitely something about a train, a bar, and some arms made of ice?
Once the employee had been removed, an emergency board-meeting was duly called and it was agreed that the only reason for such a grievous oversight on your part could be the lack of proper facilities for mixing a decent cocktail 'on-the-go'
To address this most pressing issue, I immediately commissioned our R&D department (akin to your very own 'Q', although somewhat more 'shouty') to develop our own version of your favoured Vesper cocktail. They used an exceptional Gin, a high-proof Vodka – made of course, from grain and not potatoes – and a blend of the finest Vermouths and aromatic cinchona wines to recreate the flavour of the (now sadly defunct) Kina Lillet in its production, and I have to say that I am most pleased with their efforts.
The Vesper joins the other handmade cocktails in our 20cl 'experimental series' (designed to fit perfectly in the breast-pocket of your Savile Row Suits), and of course, the full-sized 70cl bottles of such classics as the Manhattan, Old-Fashioned, Gin Martini, and the Negroni, all of which can be ordered through your usual channels, or direct from here.
I trust this will be an end to this most unsavoury business, and remain at your disposal for any questions.
Yours Sincerely,
Ben Ellefsen
The Handmade Cocktail Company
The Vesper Cocktail is available here priced at £12.95
Nose: The nose opens with a bouquet of heady juniper and zingy vodka with the floral dimension of the vermouth swiftly following.
Palate: The palate displays supreme elegance with the vodka laying a refreshing citrus quality on top of the delicate botanical balance of the gin, beneath this there is an underlying honeyed sweetness leading to drying notes of pine resin.
Finish: The finish retains floral juniper notes, with a hint of quinine bitterness, and lingers for a surprising long time with notes of juniper, cream and a slight herbaceousness.
Overall: The key to this cocktail is balance, the gin, vodka and vermouth play-off each other to create a sum greater than the total of their parts. It is easy to see why this cocktail is needed after a mission defending Queen and Country!