New product announcements! Hurrah!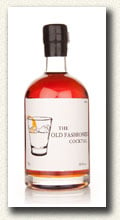 Yes, today we are announcing a terrific addition to the Handmade Cocktail Company's sterling range of ready-made bottled cocktails. Many of you cocktail enthusiasts have already been asking us for one particular cocktail – a classic that was left out of the original range. It's the ultimate zesty, spicy bourbon cocktail, and the favourite tipple of none other than Don Draper, Harry S Truman and Cole Porter. That's right… The Old Fashioned.
It was left out of the original line up because its preparation and ingredients were so hotly debated that those handsome fellows at the Handmade Cocktail Company couldn't quite make their minds up and finalise a recipe. Due to popular demand, however, (and after a lot of experimentation) a recipe was reached using the very finest ingredients known to mankind.
The recipe is based on 9 year old small batch bourbon with a very high rye content (for extra oomph) and a blend of cocktail bitters (a secret recipe known only to the master blender and the Domino's delivery man who saw the recipe that was accidentally left out on a desk), as well as orange peel and cane sugar. The ingredients were lovingly mixed and bottled, so now all you need to do to enjoy a perfect Old Fashioned is pour a large measure of this over ice, stir, and add a thick slice of orange peel. Mmm mmm.
The Old Fashioned Cocktail 38.4%
Nose: Big on buttery, spicy bourbon notes, with cardamom and black pepper. Hints of rum and raisin icecream develop in the glass, alongside potpourri, dried orange zest and juniper. Very intense and inviting!
Palate: Tremendously mouth-filling, it has a beautifully syrupy texture and offers up notes of clove-studded oranges, toffee, vanilla, lemon sherbet and charcoal. Buttery, sweet and well rounded, the palate develops with notes of freshly grated cinnamon, alongside nutmeg and crystallised ginger.
Finish: Very long, with an almost juicy cinnamon note clinging on like chewing on Big Red gum.  A hint of cough syrup on the tail too, it remains incredibly zesty for minutes on the tongue.
Overall:  Very spicy, buttery and intensely zesty. This is just what you want from an Old Fashioned!
You can buy The Old Fashioned Cocktail for £34.95.
The Chaps at Master of Malt.