Another week, another round-up of all the news that's fit to drink. Yes, it's the Nightcap! Or c'est le Nightcap as our cousins across la Manche might say. So pour yourself a snifter and have a nose around.
This week on the blog there can be little doubt that Christmas is coming. To get any more Christmassy, you'd need Noddy Holder to pop up and shout "it's Christmaaasssss!" We've been counting down the days in some style with our office Drinks by the Dram Whisky Advent Calendar. And what treats there have been: Day One was the Lost Distilleries Blend from the Blended Whisky Company, followed by Starward from Australia, something special from Dufftown, a French single malt, a BenRiach, and finally, the mighty Hudson Baby Bourbon. To get you in the mood, we brought you exclusive interviews with the people behind these very special drams!
If that's not Christmassy enough, Adam came up with some boozy gifts for guaranteed Yuletide satisfaction. Oh, and #WhiskySanta's Super Wish was something quite spectacular: a bottle of Talisker Bodega Series 40 Year Old, worth £2,750! Blimey.
But it wasn't all festive fun on the blog. On Monday, we had a closer look at the last Dram Club Tasting Sets of 2018. Annie delved into the mad world of spirits maverick Rebel Rabbet, maker of drinks that defy easy categorisation (and nothing to do with fluffy bunnies.) And Henry met with Cognac sniffer-outer extraordinaire David Baker and tried some brandies distilled during the Second World War.
Some quality booze writing there, and talking of booze and writing, here are the top drinks stories of the week. Bon weekend!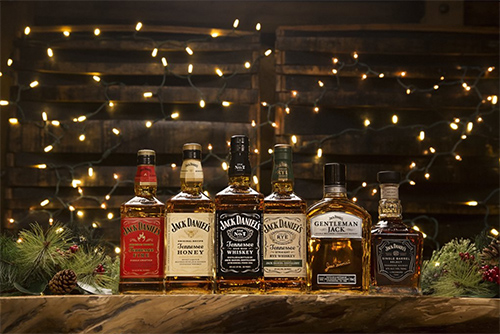 American whiskey gives Brown-Forman a boost
Emerging markets and whiskey give Brown-Forman H1 boost
It's financial results time again, gang! This week, Brown-Forman revealed its first-half sales results, and while things generally look "solid", tariffs (thanks, Trump vs EU) and the impact of exchange rates did peg proceedings back a tad. Despite the challenges, reported sales climbed 2%, mostly thanks to 10% gains in emerging markets, 19% uplift for its super-premium American whiskey brands, and a 15% increase for Herradura Tequila. It didn't all go Brown-Forman's way though. Finlandia vodka sales dropped by 8% as volumes fell in Russia and the US. "Our premium portfolio of American whiskey brands, led by Jack Daniel's and bolstered by Woodford Reserve, continued to deliver balanced geographic growth," said Lawson Whiting, Brown-Forman's chief operating officer and incoming CEO. "While we are largely absorbing the tariff costs during fiscal 2019, we are confident in the long-term growth potential for our brands as we continue to build awareness with new consumers and increase our global distribution."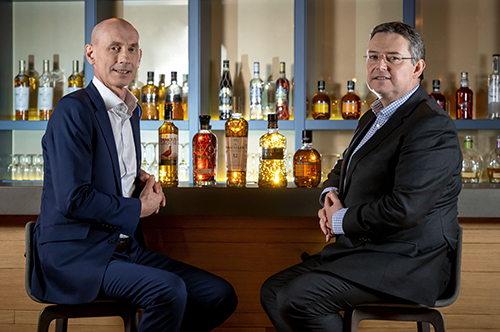 All change at Edrington: Ian Curle and Scott McCroskie
Edrington bids farewell to CEO Ian Curle
Big breaking news today! Edrington, the drinks company that owns The Macallan, Highland Park and The Famous Grouse, among others, announced today its chief exec Ian Curle is to retire after a whopping 15 years in the role. As well as working at subsidiary Lang Brothers, Curle has also served as the chairman at the North British Distillery, is a former chairman of the Scotch Whisky Association, and acts as an advisor to the UK Board of Trade. Busy chap! And who will fill his sizeable shoes? Scott McCroskie, current managing director of The Macallan, who will take the reins from 1 April 2019. "Ian has led Edrington to become one of the world's leading international premium spirit companies," said Crawford Gillies, Edrington chairman. "On behalf of the board of directors, I want to thank him for his 32 years of outstanding service, and particularly the 15 years in which he has been a wise and inspiring chief executive." Curle added: "It has been a privilege to have been part of a unique and genuinely leading organisation that contributes so much to the industry and so much to Scotland… Edrington's best days lie ahead, and through Scott's leadership it will continue to be an ambitious, dynamic business, and a cornerstone of the Scotch whisky industry that maintains and nurtures the ethos of giving more that has underpinned the company for 157 years." Cheers to you, Ian!
Mr Big and Ambhar Tequila
Chris Noth (AKA Mr. Big) brings Ambhar Tequila to London
Exciting times for those who love both Sex and the City and Tequila (the Venn diagram crossover is larger than you might think). This week, we hot-footed it over to Boisdale of Belgravia to check out the Ambhar Tequila range and meet Chris Noth himself. The range comprises Ambhar Plata, Reposado and Añejo, with all three intended for sipping and cocktails (it seems Big isn't keen on shots). "My involvement with Ambhar Tequila starts with this basic premise – I drink it," said Noth. "It's delicious and soul satisfying. I'm really excited about the opportunity to help reinvent the perception of Tequila and elevate the experience of enjoying this ultra-premium spirit the way it's supposed to be, one sip at a time." Bottles are expected to land in the UK in the New Year.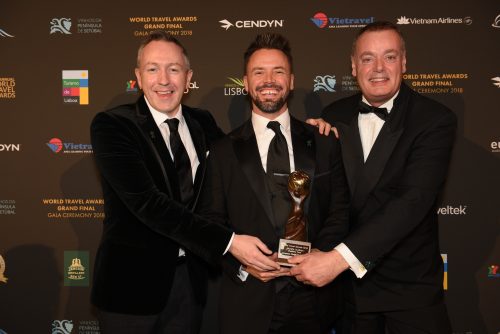 Irish Distillers' Greg Hughes, John Carroll and Ray Dempsey celebrate the prize
Jameson Distillery Bow Street named World's Leading Distillery Tour
Jameson had a night to remember at the World Travel Awards Gala Ceremony in Lisbon on 1 December, as the brand's Bow Street Distillery tour was named the World's Leading Distillery Tour! The Irish whiskey stalwart beat stiff competition from The Macallan, Hennessy, Jack Daniels and Jose Cuervo to claim the prize, which follows a similar victory at the European Travel Awards earlier this year then the team picked up the 'Europe's Leading Distillery Tour 2018' gong. "We are extremely humbled and honoured to be awarded this very special accolade," said Greg Hughes, managing director Jameson brand homes and education at Irish Distillers. "We are proud that an experience in the heart of Smithfield that champions all that is great about Ireland and Irish whiskey has been commended on the world stage. This award is a fantastic recognition for the amazing team at Bow Street who provide each and every person that visits us with an unforgettable experience." Jameson Distillery Bow St. reopened in March 2017 following an €11 million refurbishment and attracted more than 350,000 visitors in the first year, making it the most-visited whiskey experience in the world.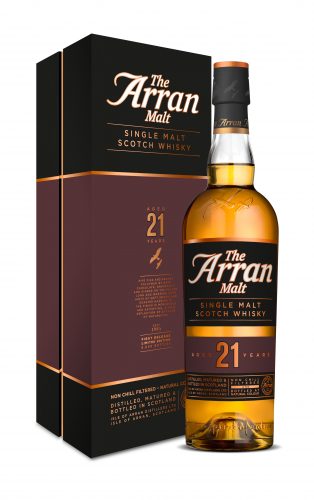 Isle of Arran Distillers' 21 Year Old
Isle of Arran Distillers releases first 21-year-old whisky
Isle of Arran Distillers has just launched the oldest whisky ever to join its core range of Arran Malts! The new 21-year-old expression finds itself in fine company alongside 10-year-old, 14-year-old and 18-year-old bottlings. However, there is only a finite batch of the 21-year-old liquid which is limited to just 9,000 bottles worldwide. The whisky is said to retain the distillery's traditional style as a rich and sweet dram with notes dark chocolate, grapefruit, ginger, soft spices and figs. It marks a stellar end to an exciting year for the brand, which is set to open its new, fully operational Lagg distillery in the south of the island in 2019. Long serving master distiller at Isle of Arran Distillers, James MacTaggart, commented: "We're extremely proud to have produced a dram that showcases our traditional Arran style, while the extended maturation process adds an extra elegance and complexity. It's an immensely exciting time for the company and the island, with the release of this 21 year-old bottle and looking forward to the completion of the new Lagg distillery next year."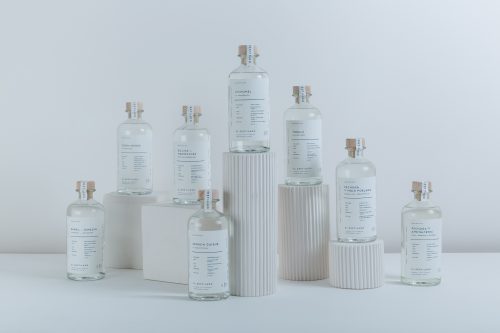 A selection from the brilliant new El Destilado range
Sager + Wilde and East London Liquor Company join forces for El Destilado
We were fortunate enough to attend the launch of independent spirits brand El Destilado this week. The brainchild of Michael Sager and Marcis Dzelzainis (Sager + Wilde) and Alex Wolpert (East London Liquor Company), El Destilado is an exploration of spirits from Latin America born out of the team's time spent travelling in the region and a shared desire to champion the terroir of the places and producers they encountered. The initial line-up features a diverse range of thirteen agave and two sugar cane distillates from Mexico, all of which were the result of working directly with small, independent producers. The agave distillates were all made outside the confines of Mexico's Mezcal Regulatory Council, using ancestral, artisanal techniques on a small scale. The producer-led approach is central to El Destilado, which is why there is a minimal focus on design. Creative director Charlie McKay simply created a clean, transparent vessel that doesn't distract from the provenance, people, places and processes involved. This inaugural El Destilado collection is priced between £35 and £120 per 500ml bottle, with batches range that from 70 to 420 bottles.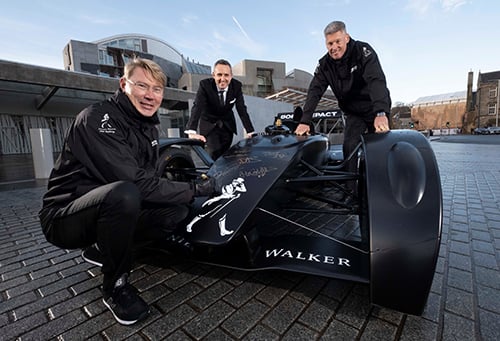 Will you #JoinThePact?
Mika Häkkinen champions #JoinThePact anti-drink-drive campaign
Formula 1 icon Mika Häkkinen travelled to Scotland this week to visit the Scottish Parliament as part of Diageo's #JoinThePact campaign that encourages people to pledge never to drink and drive. With more than seven million signatories already in 2018 alone, the initiative continues to gain momentum, and rightly so. Häkkinen joined the campaign as Johnnie Walker's responsible drinking ambassador, and met supporting MSPs of all parties. "I am delighted to be back in Scotland with the #JoinThePact campaign, particularly at this time of year, as people prepare for Christmas and New Year, which I know is a major celebration for Scots," he said. "We want everyone to enjoy the festive season safely and responsibly, and that means never drinking and driving. We want to reach as many drivers as we can in Scotland with the campaign." Alex Cole-Hamilton MSP, who supported the event as official MSP sponsor, added: "The anti-drink drive message is a crucial one all year round, but it is particularly important at this time of year as people prepare to celebrate the festive season. That's why I'm delighted to support the #JoinThePact campaign and to welcome Mika Häkkinen and Diageo to the Scottish Parliament to help encourage people in Scotland to never drink and drive." You can join Häkkinen and sign the pact right here.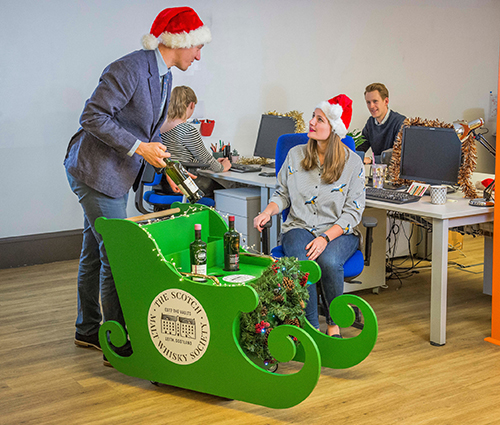 Office whisky tasting? Yes please.
SMWS pinches #WhiskySanta's sleigh for Christmas parties service
Lucky, lucky Edinburgh residents. Forget humdrum Christmas parties with soggy canapes and uninspiring tipples: the Scotch Malt Whisky Society has commandeered a sleigh loaded with single cask drams to tour office soirées and host tastings with bottles from across the 12 flavour profiles. It's not clear but we're pretty sure Santa hats are not obligatory, but encouraged. Up for it? Get in touch with the Society. And enjoy!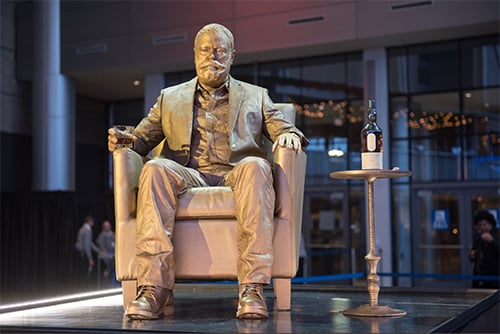 Well, that's ONE way to drink whisky…
Nick Offerman paints himself bronze and sits sipping Lagavulin
Parks and Rec fans the world over will know that Ron Swanson (AKA, Nick Offerman) is partial to a drop of Lagavulin 16. He loves it so much that he once spent 10 hours sipping it by a fire. This week, he once again teamed up with the Islay distillery to drink the whisky for an extended period of time. Except on this occasion he was painted bronze. And there was an audience. It all happened during a hockey match in the US, and he managed to keep up his characteristic scowl for the full 45 mins. We're not sure if the bronze would have helped or hindered, but we are slightly envious of taking that much time out of the day just to sit, sip and savour. That's some lunch break…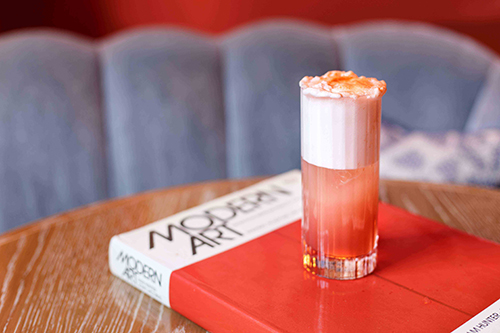 The Coral Room goes all country
The Coral Room brings the country to the city with new menu
Looking to escape the bustling streets of central London while doing some last-minute Christmas shopping? Well look no further! Distinctive peach-walled bar housed within The Bloomsbury hotel, aptly named The Coral Room, has launched a new city-meets-country inspired cocktail menu. The serves were created to mirror the decedent surroundings of The Bloomsbury Hotel, a Grade-II listed building on Great Russell Street, which itself provides a country-style escape without the need to leave the city. Cocktails such as Black Forest Crush, Apple Bobbing and Rose Blossom capture the essence of country, while The New Smoke, Gin Lane and *puts on best Micky Flanagan voice* Going Out Out (or aat aat, whatever floats your boat) play the city counterpart. Cocktails aren't your thing? No worries, as The Coral Room also boasts one of the largest English sparkling wine lists in Europe!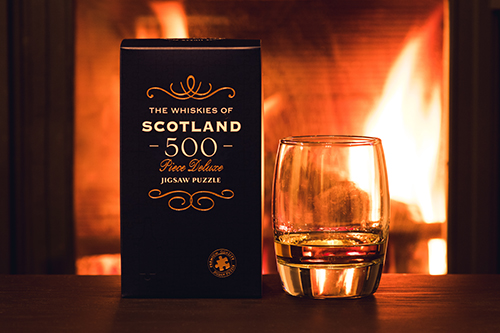 Christmas activity sorted.
And finally… anyone for a boozy jigsaw?
We've had some interesting boozy mash-ups on the blog recently: booze biscuits, booze candles, and now what we've all been waiting for: booze jigsaws. Produced by the excellently-named Bamboozled, the new jigsaws come in two flavours, the Wines of Bordeaux and the Whiskies of Scotland. Each jigsaw is a map of one of these celebrated places marked with famous châteaux and distilleries. Bamboozled is the brainchild of Rebecca Gibb, an actual Master of Wine, so you should learn something while you puzzle. Sounds like the perfect post-Christmas lunch activity to us, though you'll need to keep a clearish head when tackling them as they have 500 pieces. You don't want any to fall down the back of the sofa or get chewed by the dog/child/general relative pre-Christmas dinner. That would be a disaster.
Well, that's a wrap for the week! Except to say congratulations to the RIDICULOUSLY lucky winner of #WhiskySanta's incredible Talisker Bodega Series 40 Year Old Super Wish! And that person we're not insanely jealous of at all is… Mark Kane! MEGA congrats!