With news just in from the WSTA that the gin boom is showing no sign of abating, we have a look at some potential problems in the category and find out what the industry is planning to do about it.
A forthcoming report from the WSTA (Wine and Spirit Trade Association) outlines how the gin craze is crazier than ever. British gin sales (domestic and export) broke £2 billion this year, doubling in value in five years, and sales are up 38% on last year. Time to crack open the gin and celebrate responsibly? Not so fast! There are clouds on the horizon. Firstly, in his next budget, the Chancellor, Philip Hammond, is planning a rise in duty on spirits of 3.4% in line with inflation. Booo! The second problem is more existential – it's a debate as to the very nature of gin itself. So it's time to put on our thinking berets and ask, what is gin?
First, a bit of background
In April this year, Hayman's (producer of a classic London Dry Gin) launched a punchily-titled campaign called "Call Time on Fake Gin." Their beef was with gins that had the g-word on the label but didn't taste of juniper.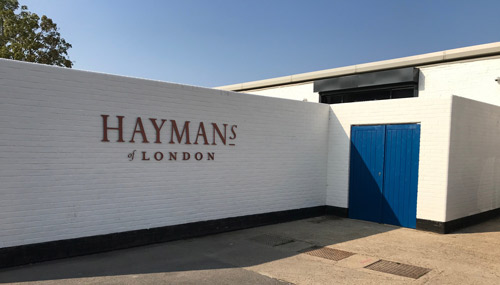 Hayman's – gauntlet throwers
A meeting of minds in Balham
Hayman's campaign led to a conference at their swanky new distillery in Balham, south London, earlier this month attended by great and good of the drinks world, and me. The panel was chaired by Edwin Atkinson, former head of the now-defunct Gin and Vodka Association, and featured Geraldine Coates (Gintime and drinks judge), Simon Difford (Difford's Guide), Olivier Ward (Gin Foundry), David T. Smith (That Boutique-y Gin Company and drink historian), and Eric Seed (Haus Alpenz, an American drink importer).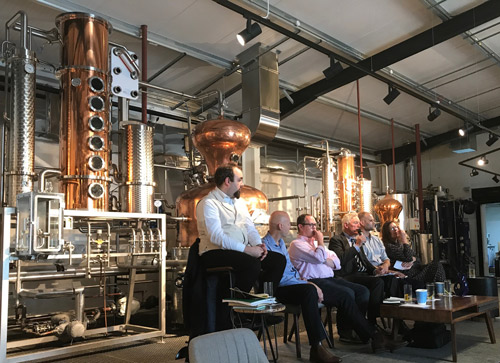 The panel debates under the watchful eye of Hayman's stills
What's the problem?
Gin is not strictly regulated like Scotch. There is no gin equivalent of the SWA (Scotch Whisky Association). It's much easier than it was to open a distillery these days and the EU definitions for gin are quite flexible. In some ways this is a great thing. Much of gin's success comes down to being so adaptable. Gin always is and always has been changing. But this sheer adaptability can be a problem. These were the main topics of discussion:
Gins that don't taste like gins. These products might say gin on the label but have barely any juniper character.
Some gins are very sweet, but you won't know it from looking at the label.
Categories such as Navy Strength Gin and Old Tom have no legal definition, so anyone can slap these words on the bottle.
Provenance: some gins claim to be from a certain place or small producer but are actually made by large contract distillers. These might be excellent products but they are potentially misleading the consumer.
Production methods aren't clear such as whether a gin is made traditionally by distillation or by adding flavourings to neutral alcohol.
Some new gin brands just aren't very good and some could be downright dangerous. One of the panel said that they have come across gins with dangerous levels of methanol in them (I should add that this is extremely rare).
Journalists and some companies (unofficially) are using the word 'gin' to describe non-alcoholic botanical drinks like Seedlip.
What is to be done?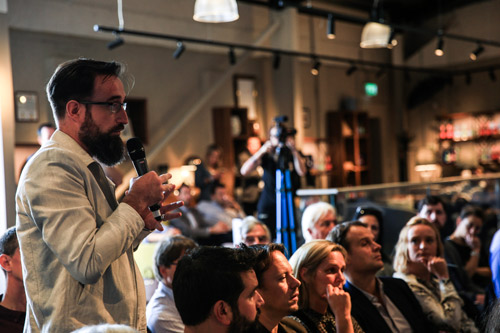 Many questions were raised – could these be the answers?
There was much disagreement about this from the panel. Some (I can't say who – Chatham House rule, darling) thought that gin's nebulous nature was an asset, whereas others wanted lobbying for strict regulation along the lines of bourbon or Scotch whisky. But here are some simple ways that gin might be made a little easier for the consumer to understand:
Education: on a most basic level this would take the form of information on retailer shelves explaining the difference between products as they do with wine, rather than just being confronted with a wall of gin. Tesco, Asda and Wetherspoon pubs have already made strides here.
Enforcement: producers should take the lead in reporting mislabelled, misleading or dangerous gins to Trading Standards.
Organisation: there was some debate as how this might work, but one suggestion was for leading producers to form a voluntary association with a code of practice like the Red Tractor scheme for food or Cask Marque for beer, so that consumers would know they are getting the real thing.
The future
At the end of the event, a working group was formed consisting of small and large distillers, as well as bartenders and other industry figures to come up with a coherent plan to protect gin's good name. And then we all had a lovely refreshing gin & tonic. Watch this space for more information.