It's been a tough two years for the hospitality industry so we wanted to show our appreciation by highlighting some of the places that we love here at Master of Malt. So we all chipped in with our suggestions of the best pubs and restaurants for a leisurely lunch. There's some great personal recommendations here.
If you think you've had a tough time of it in 2020/2021, spare a thought for people trying to run a pub or restaurant. First there was a lockdown, then a baffling tier system in which you were allowed to visit a pub but only if you had a Scotch egg, and didn't laugh. But not in Leicester. Then there were further lockdowns but it all looked like it was over with 'freedom day' in July (not in Scotland or Wales). Restaurants in London were celebrating full reservation books and looking forward to a lucrative Christmas when news came from South Africa of a new variant…
And that's before we get into staff shortages caused by the pandemic, pingdemic, and Brexit. Under such circumstances, it's not surprising that so many places, especially the kind of independent restaurants and pubs we love, have gone to the wall. Many are holding on by their fingernails. 
So, along with Dryish January, this year we want to do our best to encourage people to eat out and use your locals, because if you don't, they may well be gone. However, we do appreciate that some aren't ready to do this because of concerns about Covid. That's ok. But for everyone else, we've rounded up some of our favourite restaurants for a leisurely lunch. Yes, a lot of these places are near Tonbridge because that's the location of MoM Towers. These are the kind of places where you can linger all afternoon, ordering more food and drink, and watch the sun slowly set. Treasure them.
The best restaurants for a leisurely lunch
Dungeness Snack Shack, Dungeness – Alex Badescu, distillery assistant 
There's a thing in my family for sparse landscapes, peppered with huge industrial constructions – a sort of Mad Max aesthetic, probably something to do with childhoods spent on the beaches of Romania – and really good, fresh fish. We've been known to travel to great lengths seeking out both. In this sense, Dungeness Snack Shack ticks these very specific boxes at the same time. Setting up shop in the shadow of a nuclear power station gives you a surprising number of advantages. Planning permissions are few and far between to protect the shingle ecosystem that makes up Dungeness and its rare flora and fauna inhabitants. It also keeps neighbourly competition low, and Dungeness Snack Shack could easily offer out something mediocre to those who have made the trip. But how lucky that this blue shipping container by the sea chooses to rely on that winning formula for dishing up fish: seasonal, simple, fresh and flavourful. The chalkboards tell you what's on offer that day and gently remind you that all the fish are from their own boats so 'when it's gone, it's gone'. I'm yet to arrive early enough to catch their famous lobster rolls and scallops before they sell out. So I usually go for the fisherman's roll: white fish of the day (griddled or battered) and served with zingy salad and generous amounts of homemade tartare sauce. I'm a sucker for a crispy potato, which are on the menu here rather than chips, so do yourself a favour and order extra because these are as crunchy as they get. Prices vary but expect to be very well fed for between £6 – £12, and afterwards you can roll yourself down to the beach for a bit of seal spotting.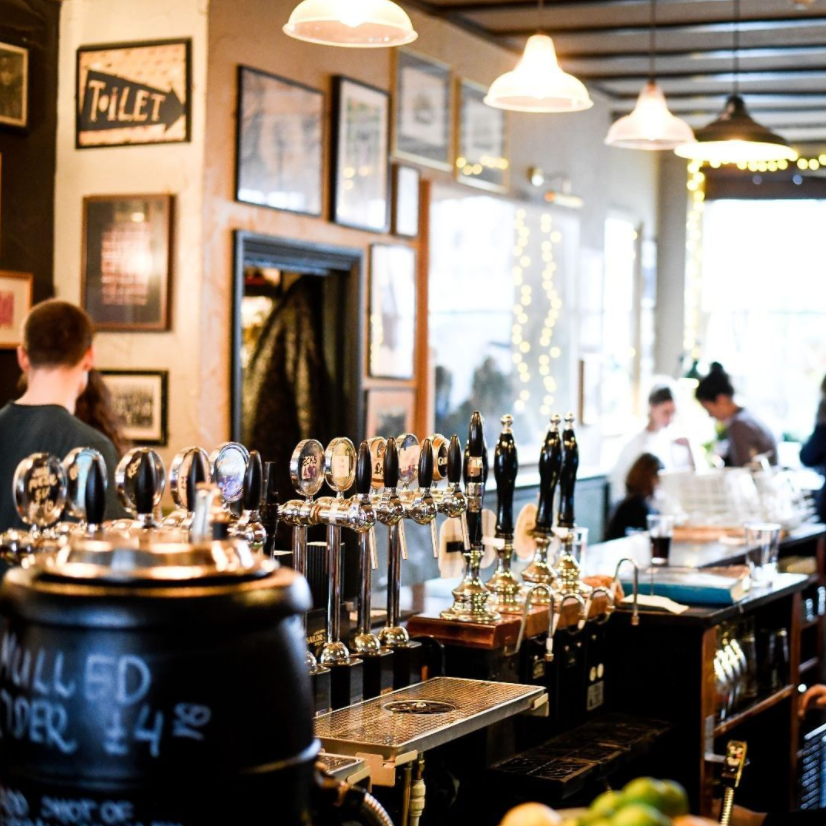 The Ragged Trousers, Tunbridge Wells – Emma Symons, content executive 
The Ragged Trousers and I have history. It opened around the same time that I reached legal drinking age, and it's probably endured the test of time better than me. It helps that the food is all made in-house by the same French chef who has been there since the start. I have to admit a personal connection here because whilst I was working behind the bar at the Ragged's sister pub, the Sussex Arms, that certain Frenchman fell for my Kronenberg pouring talents and we are now engaged. Forget Emily In Paris, it's Emma on the Pantiles. But even if I weren't getting hitched to the man behind the stove, I'd still come for his croque monsieur (ooh err!), moule or, best of all, his exquisite cassoulet. To drink there are plenty of guest beers, the staff get to pick the tunes and always get the mood right. The walls are packed with original artwork, much of it produced by talented staff past and present (artsy bar worker types – you know the sort, one of my favourite categories of human). What more can I say? Vive le pantalon déchiré!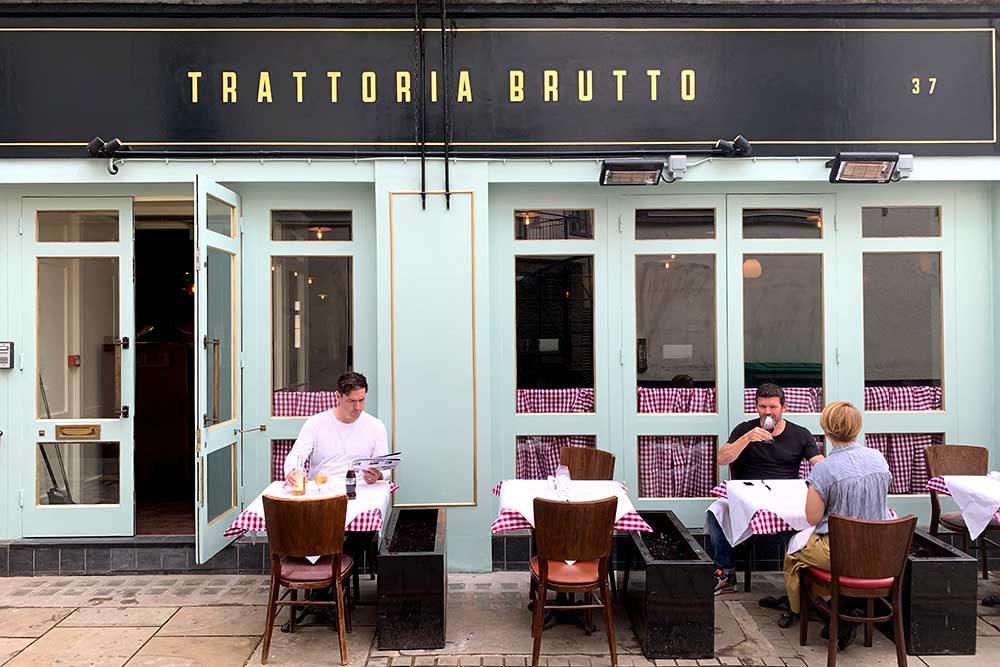 Brutto, London – Henry Jeffreys, features editor
A good restaurant is about so much more than just food as Russell Norman knows. He's the chap behind Polpo which, when it first opened in 2009 in Soho, felt like the most exciting place in the world. Sure, the food was good, but it was the atmosphere, the staff, and the little touches that brought people back again and again. Norman and Polpo, now a chain, went their separate ways, but now he's back with an ode to the food of Florence called Trattoria Brutto near Farringdon station. The name means ugly in Italian, because it's the sort of food that doesn't look so pretty, but tastes great. What I love about this place is you can have a blowout with Florentine steaks served very rare and Barolo. But you can also have pasta dishes, slow-cooked meats like beef shin, and best of all 'cuddles' – little deep fried cheese and ham doughnuts – all washed down with a bottle of Barbera, for a surprisingly reasonable price. Also a Negroni costs £5. Yes, really, £5 Negronis in Central London. More than the food, however, you get to sit in a restaurant that feels like the best place in town. It's like being part of a culinary cabaret with the cheerful, well-drilled waiting staff moving in time around you in a dance, and at the centre of it all, the maestro of ceremonies, Norman himself. Brutto has only been open since November but already feels like an institution.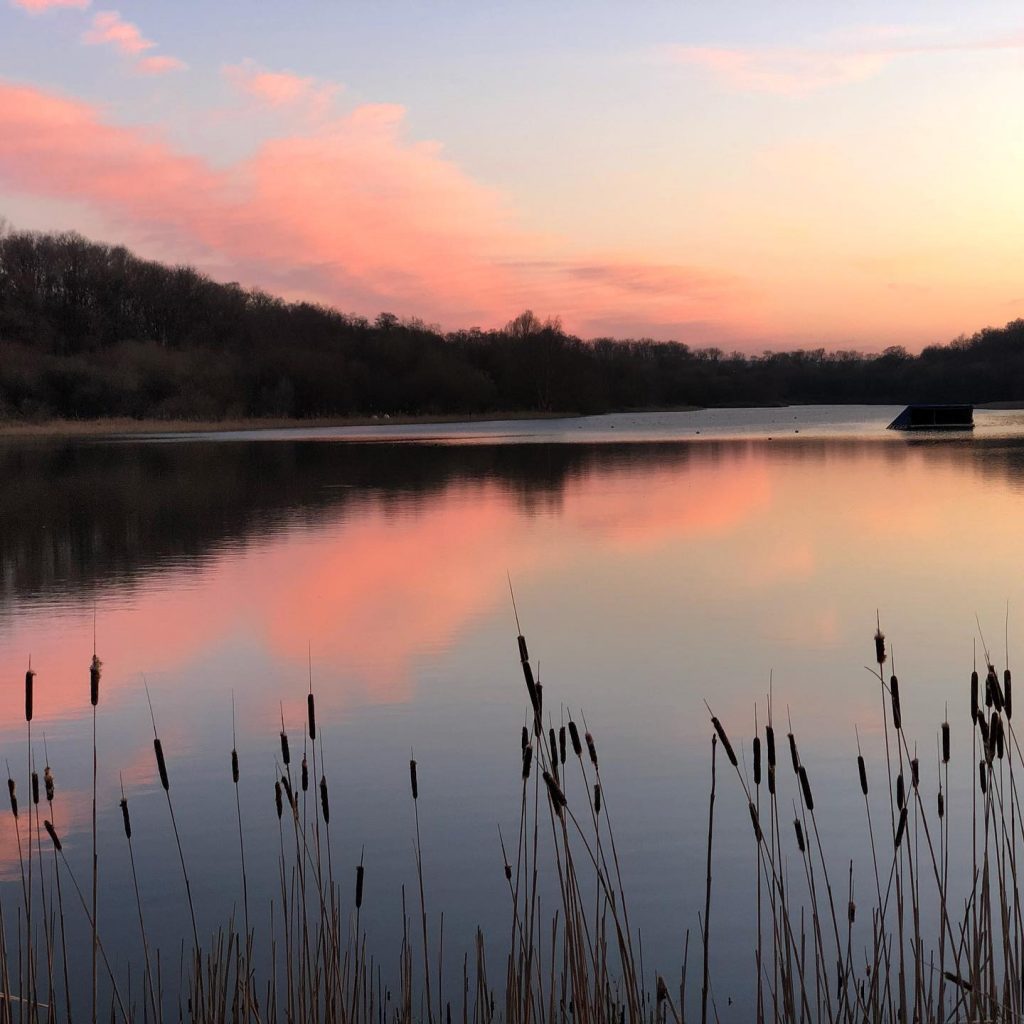 The Wiremill, East Grinstead – Gabriella Morrissey, design assistant  
The Wiremill has to be one of the most beautiful pubs in the country. It's housed in a converted 15th century mill near Ashdown Forest and looks out onto a lake. It's particularly stunning on a summer's evening watching the sun set over the water [see above]. But, thanks to the Covid measures, the terrace is now covered and heated so you can use it all year round. The food never disappoints. On my last visit, I had a delicious buttermilk chicken burger. Portion sizes are generous, so bring a large appetite, and the service is always prompt and friendly. Being in East Grinstead there's some good spots to go for a drink afterwards or why not go for a walk on the Ashdown Forest and enjoy some more country views.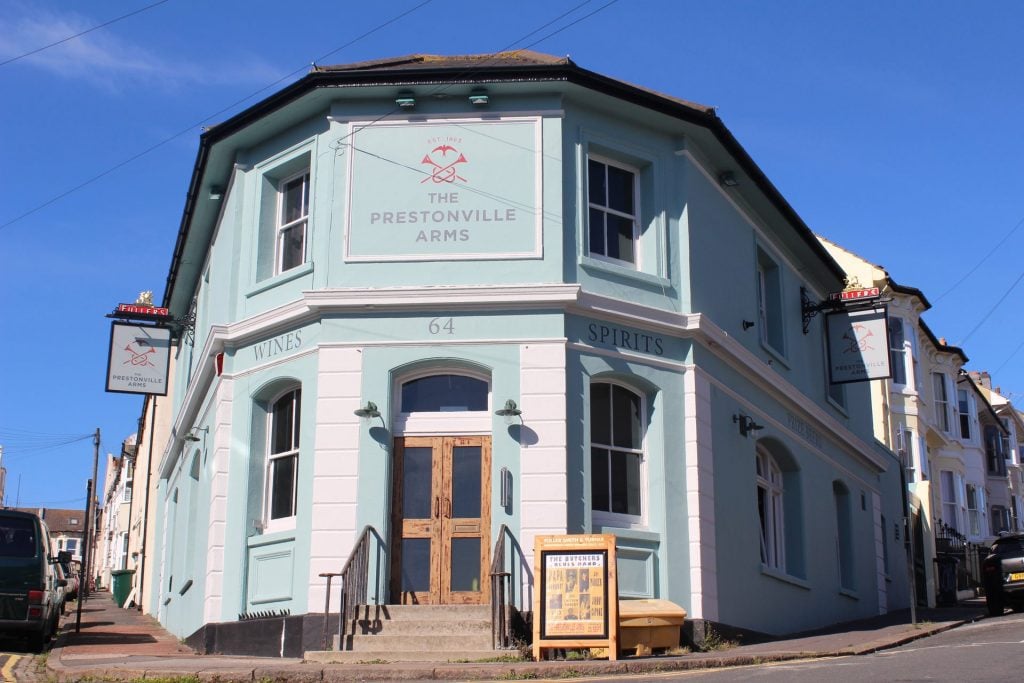 The Prestonville Arms, Brighton – Jess Williamson, content manager
The Prestonville Arms is pretty much everything you could want from a pub – an open fire, well-placed mismatched reclining armchairs in front of said fire, and Sunday roasts worth travelling for. That said, the food is very tasty all week with bangers and mash, pies, and burgers on the menu. You know the deal, all the usual stuff you expect from a good pub but done unusually well, plus an ever-changing list of specials. You'll find it just up the road from the main station away from the Lanes, so it's somewhat off the beaten track, and for when the weather finally perks up there's a cosy garden out the back. It's got a touch of that Brighton kookiness to it, with the whole of the back wall covered in shiny vinyl records, colourful furnishings, and board games strewn around the place. I can't speak highly enough of the staff (when we last went the chef even made us a special gravy to go with our roast – though we can't promise anything!), and if you stay long enough past lunch, you might even catch some live music. Oh, and the best part? It's dog friendly!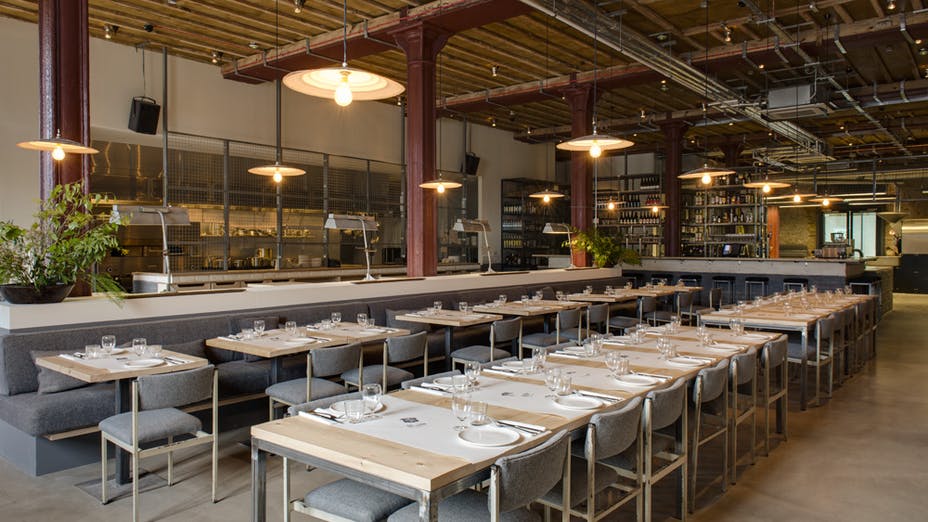 Caravan, Kings Cross, London – Jason Hockman, general manager
Caravan is so ubiquitous to Londoners that it's easy to forget what a revelation the first restaurant was when it opened in 2010 with its fresh flavours and laidback Australian attitude. There are now a few dotted around central London but my favourite is the Granary Square outpost behind King's Cross Station. It's one of those places where you can just keep ordering, you don't need to have a formal meal. I love the margarita sourdough pizza, jalapeno cornbread, chickpea dahl and lamb meatballs, and they even serve breakfast right throughout the day. There's lots of space with indoor and outdoor eating areas, and a very relaxed atmosphere which is particularly handy if you're eating with children. In the summer, they can play in the fountains outside while you have another cup of Caravan's excellent coffee.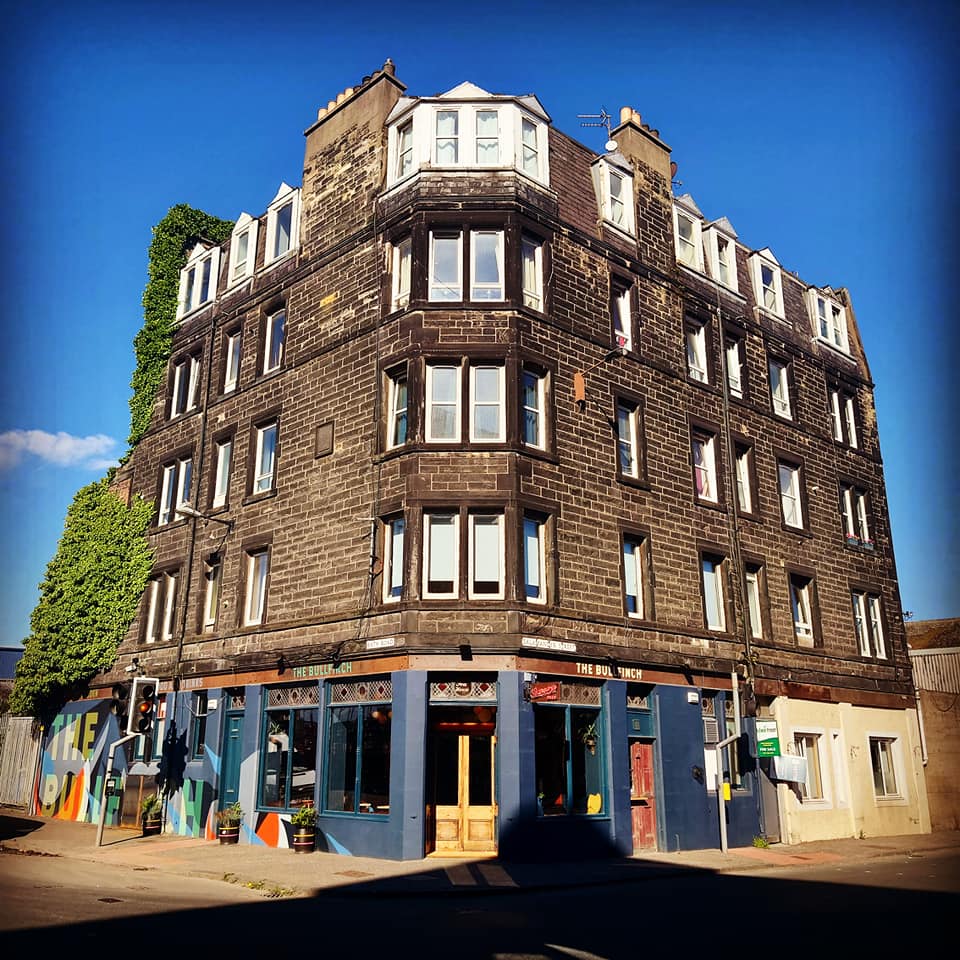 The Bullfinch, Leith – Gordon Baird, head of compliance
Tucked away on the corner of the entrance to the Port of Leith (not the pub that Trainspotting was reputedly created in, the actual port with ships) lives The Bullfinch. Following a refurb, it opened in 2021. Thankfully the bar has retained much of its original character. It specialises in local breweries such as Vault City, Campervan, Barneys, and Pilot with a short list of cocktails shaken by the rumbling of heavy trucks down the cobblestone streets. I like to imagine the wines are loaded straight from exotic ships coming into the port. The menu changes the whole time but on my last visit the kitchen was offering small plates like mac and cheese balls with a bacon mayonnaise, tempura calamari, and garlic and rosemary tear & share (sharing optional), or poke bowls if you want something a bit more substantial. You can order by app so you never have to face a human and explain that the seventh small dish you're about to order, is indeed, also for you. The outside seating area is fully covered with the heat lamps essential for 80% of the Scottish al fresco dining calendar. There's even a vent from the kitchen which, if you position yourself well, will allow you to smell what's cooking, as you suffer through your January promise that you will not class chips as a vegetable, and ketchup as a vegetable smoothie anymore.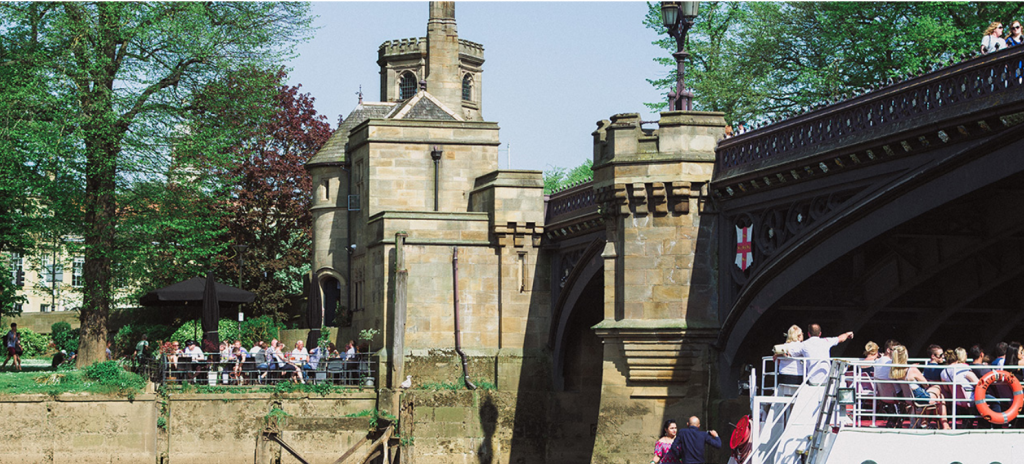 Dyls, York – Alex Blackall, sales support
York is a picture book city in miniature. Within those Roman walls you'll find cobbled streets, castle towers and the long shadow of York Minster. It can be jarring, however, to see all those modern chains like Costa, Greggs or Sports Direct. If you're looking for a place with a bit more character, I'd recommend ambling Ouseward from the centre, and you'll discover Dyls Café and Bar hidden within the old Motor House on Skeldergate Bridge. It's a family-run business with a menu built around locally-sourced food, and a great range of craft spirits, cocktails, coffee, cakes and of course, local beers. There's a heated terrace with views over the river Ouse and three quirky indoor rooms. The uppermost of which would feel like home for Rapunzel, the perfect spot to hide away for a catch up with friends. Just pity the poor waiting staff who had to clamber the spiral staircase all afternoon with our sharing boards, ales, and increasingly adventurous cocktail orders. Dyls has recently had to overcome flooding-related, as well as lockdown-enforced, closures. But it's once again open and I can't wait to return when I next visit God's Own County.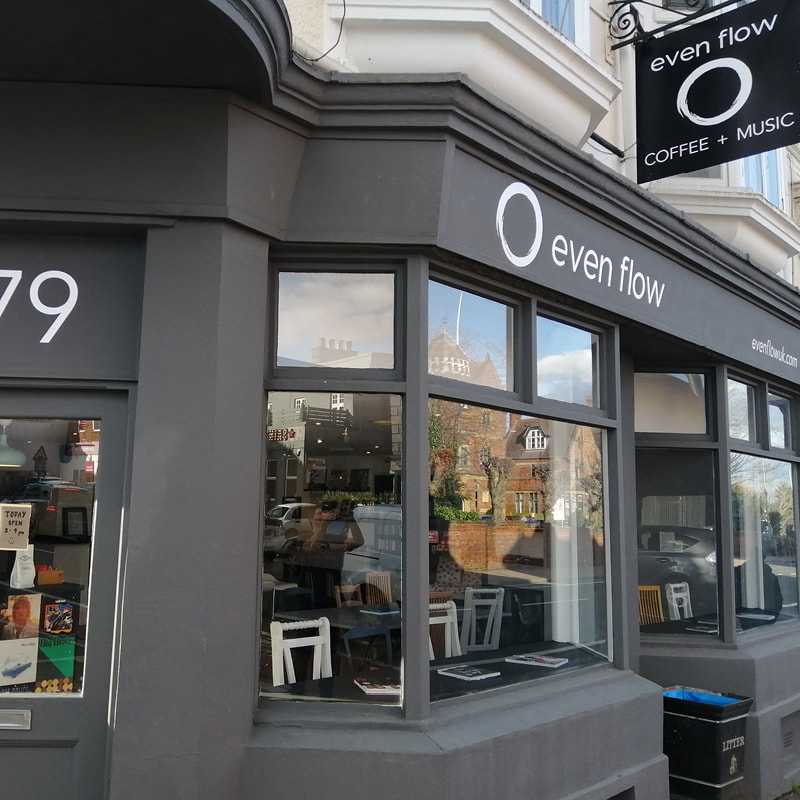 Even Flow, Tunbridge Wells – Cal McGuinness, trade relations supervisor
I have to start with a confession: my first true love is nothing booze-related. It's coffee (please don't tell anyone at MoM Towers!). Before joining Master of Malt I was a barista and I'm still an espresso aficionado. Each weekend you'll still find me, fully caffeinated, hopping from one fancy coffee shop to another. So when Even Flow opened its doors back in early 2020, specialising in coffee, lunchtime goodness, and vinyl records, I was excited. A place to pick up a piccolo and a copy of The Cure's Greatest Hits? I'm in. Perched just outside the town centre, on St Johns Road, it's been incredible to see this place go from strength to strength despite all the challenges of the last two years. Needless to say their coffee game is top tier, the whole team really knows their beans. However, their food options are just as impressive with an ever-changing menu so there'll always be something new to try. I'd particularly recommend their homemade sausage rolls and a mozzarella pesto panini. Then we need to talk about cake and here we reach my second confession, I've been known to fill a takeaway box with a variety for my 'friends back home' only to munch my way through the lot while listening to the new Cyndi Lauper record I picked up. If you're looking for a place for a leisurely lunch with a fantastic variety of lunch options and a great atmosphere definitely drop by!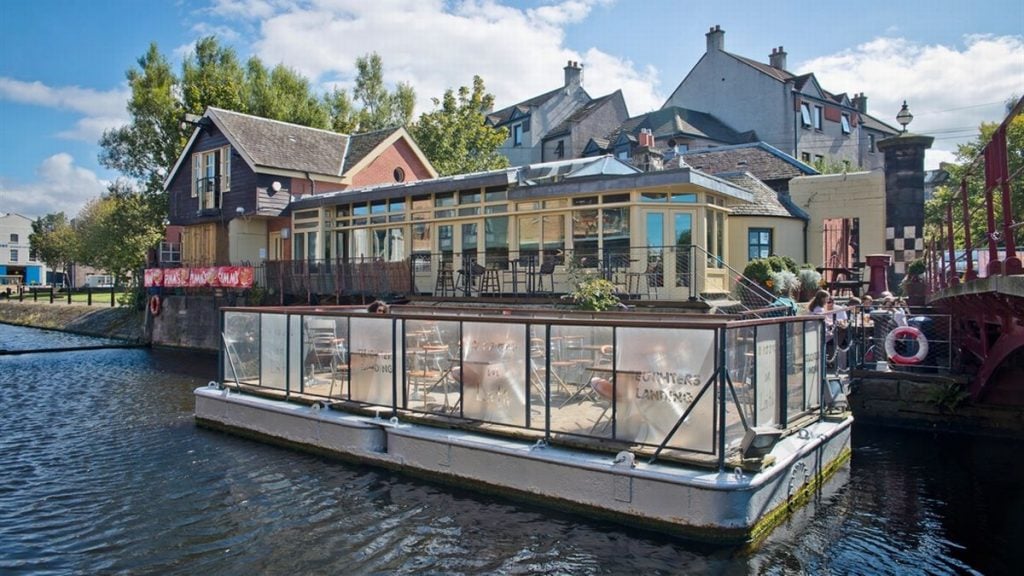 Teuchters Landing, Leith – James Evans, campaigns marketing executive
Located in the once shady but now-fashionable shore area of Leith, Teuchters is a staple of the community known for its mouth-watering dram selection, classic hearty pub grub, Scottish cask beer and…cigars? Yes, you heard that right and there's no better way to enjoy a dram and cigar combo than sitting out in the beer garden. But this isn't just any beer garden because it's located on the actual water of the dock for the full maritime effect. Yes, it's been pretty freezing out there most times I've visited. Nevertheless, I have enjoyed many a good night in this dockside pub, playing whisky roulette with their 100+ malt selection, and indulging in arguably the most Scottish dish ever, a haggis stovie before enjoying a scenic jaunt home through the shore of Leith. It's one of those places that's as popular with locals as with tourists. And no wonder, if top tier dram selections, fresh pub grub and local beers sound like your bag then absolutely give this place a visit. It's one you won't regret, nor forget.