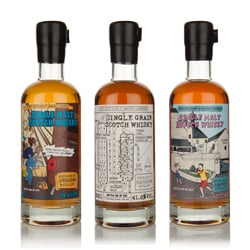 It's a scary place, the brain of Ben.
It consists mainly of Alan Partridge and Father Ted episodes, cocktail recipes, and rain-man-esque recall of horsepower and torque figures for most production cars. There's also usually something in there about whisky.
What I can tell you about the brain of Ben though, is that these Boutique-y whiskies have recently been upgraded from 'a bit of fun', to 'something with a lot of potential'.
Because of this, you're going to see a pretty decent number of new releases from brand spanking new distilleries over the next few weeks / months, and if the results of some of the recent whisky auctions are anything to go by, I think we'll see them selling out in pretty short order.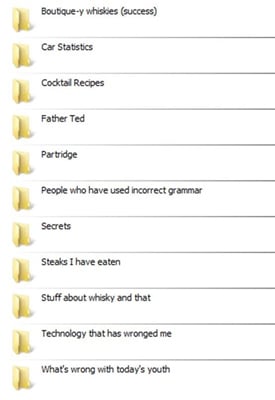 Terrifying.
We're also going to keep replenishing the initial batches of the sold out distilleries just as soon as we can lay our hands on the stock. Seriously – if anyone can find me a cask of Port Ellen, I'll do 'stuff'.
Now, in the spirit of keeping you lovely lot in good whisky, we've come up with these three, really quite special bottlings, as well as Batch 3 of the tremendously successful Caperdonich. You know we're not really 'for' talking about the age or individual makeup of individual Boutique-y bottlings for the reasons outlined in the very first post about 'em, but I can tell you that the youngest of these whiskies was distilled in the early '90s, and that one of them was distilled before man first walked on the moon. No, really.
So – onto the juicy details on each of the releases:
First up, we've got the very first Single Grain Whisky to be released by That Boutique-y Whisky Company – from the Invergordon distillery:
Invergordon – Batch 1 (That Boutique-y Whisky Company) £59.95
252 bottles, 41.6%.
As this was our very first grain whisky, we thought it only proper to feature an illustration of the internal mechanics of a Coffey Still on the label. Coffey Stills (also known as continuous stills) were designed in the early 19th Century by one Aeneas Coffey, and are a much more efficient way of producing whisky than a pot-still, and have the benefit of being able to operate continuously, as opposed to in batches.
As you'll see from this incredibly witty, and not at all over-the-top or point-labouring label, the word 'Coffey' sounds a lot like 'Coffee'. See what we've done there?
Tasting Note by The Chaps at Master of Malt
Nose: Massively deep and concentrated nose with creamy caramel and those hints of rancio one gets in a very good, old brandy. Black pepper and toffee apples. Old leather.
Palate: Unctuous, almost syrupy palate entry with stem ginger and cassia bark. Hints of nutmeg, clove oil and over-ripe black grapes. Black treacle too…
Finish: Long and toffee-led finish. All kinds of spice notes too, particularly more of those black pepper notes.
Next, we're off to the world-famous Bowmore distillery. The oldest on Islay, and the first on the island to have a visitor's centre to accommodate the growing surge of whisky tourists:
Bowmore – Batch 1 (That Boutique-y Whisky Company) £52.95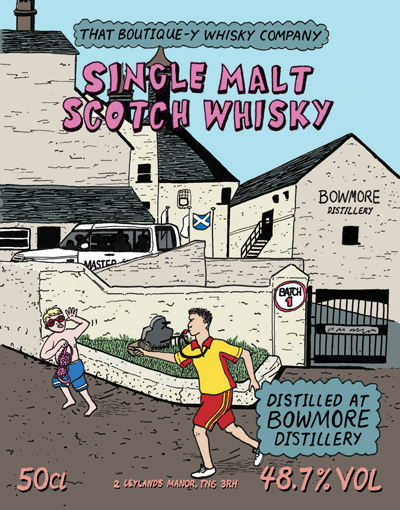 263 bottles, 48.7%.
In this label we find a rendering of the distillery, as viewed from the main road outside. There's a cheeky young scamp running across the foreground, who's evidently purloined a bra from the changing rooms of the adjacent swimming pool (Which in an incredibly pleasing twist, are heated using the waste heat from Bowmore's stills).
On the left of the label, you might notice a certain vehicle, used to great effect during our 2012 junket to the Feis Ile. What's it doing parked outside the Bowmore Distillery cottage though? Who drove it there, and why? We just don't know.
Tasting Note by The Chaps at Master of Malt
Nose: Phenolic peat hits the nose first, followed by waves of dried fruits – notably sultanas, cranberries and dates – with a salty afterthought.
Palate: A velvety mouth-feel with drifting peat smoke and hints of iodine. Then there is a rush of candied citrus peels and masses of sherry-soaked dried fruit.
Finish: The finish is long and lingering with notes of beach bonfire smoke and dried apricot and pear.
Overall: Peat and sherry living together in perfect harmony.
For our final label, we turn to Springbank distillery.
Springbank – Batch 1 (That Boutique-y Whisky Company) £61.95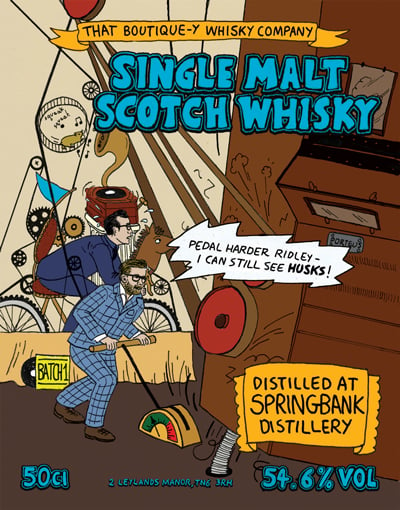 252 bottles, 54.6%.
This label features the irrepressible duo from www.caskstrength.net, Neil Ridley and Joel Harrison, operating a somewhat Heath-Robinson contraption being used to drive Springbank's fantastic old Porteus-Brand Grain mill.
Despite slaving away relentlessly at their task, the chaps are evidently maintaining the height of sartorial elegance. Perhaps a metaphor, for*…
Tasting Note by The Chaps at Master of Malt
Nose: Oily, smoky nose with a surge of beautiful heather root and soft peat embers. Plenty of honey sweetness too.
Palate: Creaking, spicy oak to the fore with a development of salted butter and sweet plumes of peat smoke and stewed fruit.
Finish: Long, buttery finish with dark caramel and hints of burning heather.
To add to this trio of superb whiskies, we've also got the 3rd batch of the Caperdonich now available. This time there are 120 bottles, at £135.95 each. And finally to answer the question you're all thinking, yes, there is more Ardbeg on the way, but it's a *tiny* batch, with really quite a special flavour profile. Best keep an eye out, as it's going to disappear quickly this time…
*You were warned. Partridge. Mainly Partridge.