Diageo's little-known Teaninich Distillery is celebrating its 200th anniversary with a behind-the-scenes open day and a scarce official bottling under the Special Releases umbrella. We're excited.
Highland single malt Scotch whisky distillery Teaninich tends to fly under the radar. Tucked away north of Inverness, it's not exactly on the tourist trail – yet this workhorse distillery is one of Scotland's most productive and progressive. Following a whopping £26 million investment from owner Diageo in 2013, which included a brand-spanking new 12-still strong stillhouse, this obscure production site has the capacity to churn out 10 million litres per year and is a major contributor to Johnnie Walker – only the biggest Scotch brand in the world.

What's the fuss all about?
Teaninich was founded in 1817 (it's simple maths) by clan chief Captain Hugh Munro, so it is historically significant – and its production volumes mean that despite its covert nature, it's a pretty major Scotch player. Not many original buildings remain because Diageo has invested so heavily, but it still makes for an intriguing blend of old and new. Or as distillery manager Diane Farrell puts it: "At Teaninich heritage and progress have always gone hand in hand. We are one of the most innovative and modern distilleries in Scotland while also being one of the oldest – and we are proud to continue that legacy of innovation today."
Teaninich quietly gets on with things. It's the darling of the independent bottlers' world (check out Adelphi's 32yo and Duncan Taylor's 40yo Tantalus edition for some choice examples) but official releases are rare beasts indeed (the 10yo from the Flora & Fauna line is about the only one that springs to mind). Plus, the team up at Teaninich like the secretive side of life – the distillery generally operates a closed-door policy.  So imagine our excitement when to mark its 200th anniversary we received word that not only will Teaninich open for a one-off visitors' day, but there's a 17 year old refill American oak expression on the way too!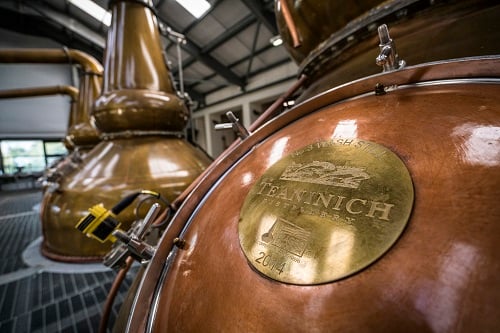 Go behind the scenes at Teaninich!
If you're in Scotland this Saturday 12 August, hightail it up to Teaninich for special tours and tastings – you'll get to go behind-the-scenes at a little-visited distillery, and a great one to tick off the list. Free (dry) tours head off at 11am, 1pm and 3pm, with £10 tasting tours at 12pm and 2pm. All money raised will go to Moray Firth Radio's Cash for Kids charity – with Teaninich liquid such a mystery, it'll be well worth the spends. Detailed tour itineraries haven't been released yet, but try to spot the mash filters – Teaninich is one of just two Scotch producers to use this technique over the more traditional mash tun. If you're in the area and want to stop by, you'll need to get in touch with the Glen Ord Distillery team to book your space (call 01463 872004).
Get your mitts on an actual official Teaninich bottling!
Not in Scotland this weekend? Keep an eye out for Special Releases 2017, the annual outturn of quirky single malt expressions from across Diageo's Scotch portfolio. The line-up will include a 17yo Teaninich bottling specially made to mark the distillery's 200th anniversary. Matured in both refill American oak hogsheads and refill American oak barrels, it apparently "allows the true flavours of Teaninich to shine through". And since Teaninich signature styles are rarer than hens' teeth, it'll be an essential drop to sample. Full details are expected in early autumn, so keep those eyes peeled.