You may have heard that our friends at Trailer Happiness have had a truly rough time of it recently after flash floods wreaked havoc at the London bar. So we're releasing a new That Boutique-y Rum Company bottling to raise funds to repair the damage.
On Monday 12 July, parts of London received a month's worth of rain in just 90 minutes, causing  flood waters to pour through the streets, into homes, shops and restaurants. Aggravated by poor drainage plus burst pipes, several premises across the UK capital were ravaged, including the wonderful Trailer Happiness in Notting Hill, just as it was gearing up to reopen July 19.
Sly Augustin, Trailer Happiness managing director and owner said the bar took a "pretty big hit," and that, while they've had to deal with water before, "it's never come in through the ceiling". The good news is, nobody was seriously injured. Plus the water did subside relatively quickly. The bad news is that the damage is significant, with Augustin saying the water was also dirty so "much of the bar will need to be stripped out or professionally sanitised before it is rebuilt".
The timing couldn't have been worse. The venue used the first lockdown in 2020 to refurbish the bar and toilets, and the second lockdown to revamp the kitchen. Trailer Happiness was just a week away from fully reopening along with the rest of the on-trade in England, as remaining Covid-19 restrictions in England were lifted on Monday 19 July. It's desperately unlucky and undeserved.
Helping Trailer Happiness Boutiquey Rum-style
Now the award-winning bar is crowdfunding via Go Fund Me looking to raise £50,000 as it endeavours to restore the acclaimed watering hole. Insurance is unlikely to cover loss of earnings based on what the bar expected to make post-restrictions and it's too early to establish a realistic timeframe for rebuilding. Given the plan is also to keep the team together and find a temporary home, that's going to require capital.
We'd like to help how we can, which leads us to our plan to put together a rum to raise money for the bar. We're delighted to announce That Boutiquey Rum Company has selected a cask with Augustin to be released, with 80% of the profits going directly to Trailer Happiness.
A unique rum for a worthy cause
The rum is the bottler's fourth release from the consistently award-winning Foursquare Distillery in Barbados. It's highly regarded and highly collectible spirit seemed a logical choice. The expression is a single blended rum (to quote the Gargano Classification), a blend of pot still and column still marques from this one distillery. 
Foursquare 10 Year Old (That Boutique-y Rum Company) was matured initially for five years in ex-Jack Daniels whiskey casks before being shipped to the UK for a further five years in ex-Sauternes (a sweet wine from Bordeaux) casks. So being finished in Sauternes, partially matured in the UK, and being released to raise funds for Trailer Happiness makes this the kind of unique expression that should get rum fans all hot and bothered. See below for details of how to buy.
The label
The bottling, which was already lined up for release at Trailer Happiness and has been brought forward to aid fundraising, features another classic Boutique-y graphic novel-style label. On it you'll see The Trailer Happiness team have relocated to Barbados for the ultimate pop-up cocktail experience with a few key items from their Notting Hill basement bar. Looks like they haven't escaped the waterfall entirely though. 
Sergio can be found behind the stick, while Augustine props up the bar. They're joined by an array of guests enjoying a cocktail, including the 'Chinese Lady', the star of painting by Tretchikoff in 1952, a print of which hangs in Trailer Happiness. The other lady is the almost as famous Bianca, an unmissable life size carving looking wonderfully tropical in her grass skirt, island shirt, and lei.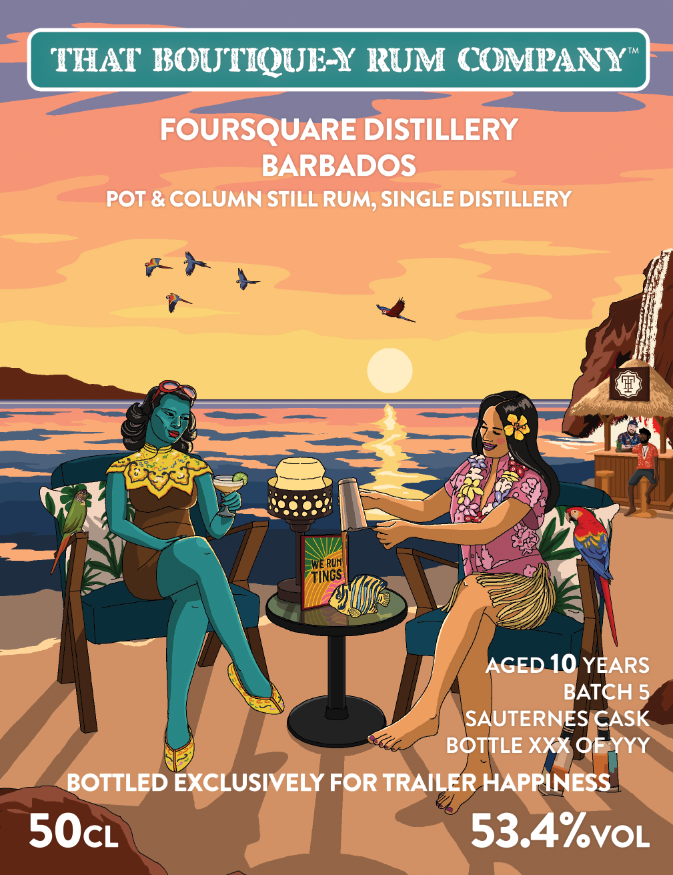 Support the cause
We hope you all enjoy the rum and agree that supporting this great bar is a worthy cause. Augustine says that he hopes Trailer Happiness will return "better than ever" and that the team is "incredibly grateful for all your support" and to "watch this space, we'll be popping up wherever and whenever we can." Fingers crossed everything goes well. Once again, the fundraising link is here if you want to donate.
Tasting note
Nose: All the coconut on the nose, ice cream, raisins and sultanas. Lots of fruit, green apple, a touch of tamarind, guava, and peach. Basically a big slice of cheesecake.
Palate: Sweet onto the palate. Ripe pear, salted caramel, lots of lovely jammy notes, cheesecake.
Finish: All sorts of sultanas, and tart gooseberry, green note, leads into a long dry finish.
Foursquare 10 Year Old (That Boutique-y Rum Company) will be available from 8am on Wednesday 28 July in 5cl and 50cl size. Be warned, stocks are limited and this rum is likely to be highly in demand so it will sell out quickly. Please note, bottles will be dispatched at the end of October.