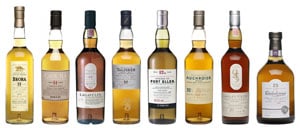 It's that time of year again – the weather has given up the pretence of caring, the trees are shedding their leaves like a sinking ship sheds ballast, and the sun can't summon the energy to stay in the sky for longer than is absolutely necessary. Thankfully all is not lost as Diageo are about to release their much anticipated Special Releases Range.
Diageo is a multi-national drinks company that owns twenty-eight working distilleries and the remaining stock of a number of closed ones, and every year they release a selection of limited releases from some of these distilleries.
With such a large portfolio to draw from these whiskies tend to be the cream of the crop and get us whisky geeks slathering at their merest mention [go on, find a whisky geek and mention it, watch it slather…].
So this evening we all trooped to London to taste these high-demand whiskies in the warm and, more importantly, dry confines of The Deck at the National Theatre. Last time I was in this theatre I watched Benedict Cumberbatch (that guy off of Sherlock) prance around the stage as Frankenstein's monster with nothing but his self-esteem to cover his modesty. This time I came armed with a notebook and pen – ready to record my experience of facing this enormous tackle of whisky.
Now, every year there are some releases that excite more than others. This year the Lagavulin 21 Year Old will no doubt raise a few eyebrows as will the famously limited Port Ellen and Brora bottlings. However, my eyes were drawn to the un-peated Caol Ila 14 Year Old which is an older, sherried style of a Special Release regular. Interestingly most of the releases this year have been bottled at an older age than they have been before – but enough of the jibber-jabber, how good were they?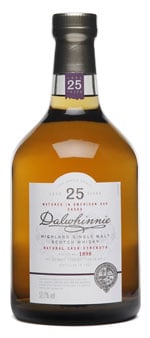 Dalwhinnie 25 Year Old – 5,358 Bottles Produced
It isn't very often we see a Dalwhinnie of this age so it is exciting to see one bottled from ex-Bourbon hogsheads at 52.1%abv with a quarter of a century of ageing.
Nose: Acacia honey for a brief moment followed by aromatic tulips and orchids. Then comes a sweet trio of white chocolate, golden syrup and meringue. With time pineapple and cornflakes begin to emerge.
Palate: Creamy lemon meringue pie with deeper notes of caramelized honey and damp conifer undergrowth.
Finish: A big whack of wood-spice which demands water followed by foam banana sweets.
Overall: The nose is impressively aromatic, there is a moment between the palate and the finish which needs water, but the aroma is simply superb.

Auchroisk 30 Year Old – 2,976 Bottles Produced
This is the oldest distillery release from Auchroisk and has been bottled at 54.7%abv from re-fill ex-Bourbon and ex-Sherry casks.
Nose: Stewing dried fruits, then dates mashed with flour leading to burnt cake crumbs and citrus flavoured boiled sweets. There is also a big DIY flavour which I would describe as saw dust, others might say varnish, either way it is awesome!
Palate: There is a big rush of autumnal fruits, for me dried apples macerated in sherry which forms part of a dry but luxurious mouth-feel.
Finish: The finish is dominated by spices particularly cloves and nutmeg but as soon as they fade there is a strong presence of powdered sherbet.
Overall: For me the most drinkable whisky of the evening, this Auchroisk offers big fruity flavours which I could sit with all evening.

Caol Ila 14 Year Old – 5,958 Bottled Produced
This is the oldest Caol Ila Un-Peated released, and has been matured in ex-Sherry casks before being bottled at 59.3%abv.
Nose: A fruit salad of apple and melon drizzled with lime juice followed by apple, parma ham and damp heather. Before long aromas of kelp emerge and hold the fort.
Palate: The mouth-feel is light with an initial burst of fruit which becomes particularly lemony with time.
Finish: The finish is long and consistent with notes of Scotch tablet and then strong mineral notes of sand and white pepper.
Overall: This whisky offers value for money along with an incredible consistency, it's like John Cash; the voice never changes but we're all still listening.

Brora 35 Year Old – 1,566 Bottles Produced
The oldest release to date of this rare single malt – this 35 year old Brora was bottled at 48.1%abv from re-fill ex-Bourbon casks.
Nose: Sparkling white grape juice and waxy Crayola crayons leading to mushroom stuffing and musty attics, then there is a perky suggestion of ground white pepper.
Palate: A burst of fruit leading to salt, charcoal and chewy malt with less peat influence than previous years.
Finish: Leather and spice with a dusting of icing powder.
Overall: This will please connoisseurs, there is plenty going on (similar to the 2010 release) and an extraordinary complexity.

Talisker 35 Year Old – 3,090 Bottles Produced
Another highly-aged offering from this year's Special Releases and also the oldest Talisker to feature in the range. The Isle of Skye's only single malt whisky has been bottled from ex-Bourbon and ex-Sherry casks at 54.6%abv
Nose: Crème Brulee, steak rubbed with cracked pepper and salt crystals, birch bark and a hint of vanilla.
Palate: Pepper and spice followed by vanilla ice-cream, floral heather and a little more crème brulee.
Finish: Oh what's that? More crème brulee? Well if you insist! Then there is frozen coffee and icy fresh peppermint.
Overall: Old-cask strength Talisker? I need to stop being cynical and accept it's frigging awesome, great stuff and well worth the hype.

Lagavulin 12 Years Old – Limited Numbers
The Lagavulin 12 Years Old is a regular fixture of the Diageo Special Releases range and it is easy to see why. Bottled at 56.1%abv from ex-Bourbon casks, it is a punchy number that pleases year-on-year.
Nose: Well the lady behind the table says it smells like Lagavulin's still-room and I can believe that. Having not visited Lagavulin for me it smelt of wash-backs, brewer's yeast, meaty peat and barbecued meat [Ed. Rhyming has never been cool, stop now…]
Palate: Rich peat notes which don't dominate then there are notes of Turkish delight and rehydrated dried red fruits.
Finish: Charcoal and barbecue smoke that cling on forever.
Overall: I have to admit I went in thinking 'not another Lagavulin 12 year old' and I was wrong, once again it was brilliant and I need to learn my lesson. Consistently excellent.
Lagavulin 21 Year Old – 2,772 Bottles Produced
The original Lagavulin 21 Year Old has achieved legendary status in the whisky world so I was frothing at the bit to try this 52%abv Lagavulin bottled from first-fill ex-sherry casks.
Nose: Vanilla and old pot pourii, leathery peat, passion fruit and star fruit in some exotic cocktail.
Palate: That tannic leathery peat followed by stewing tropical fruit with a syrupy mouth-feel.
Finish: Coal soot and burnt spice in a swift but wholesome finish.
Overall: There's a lot going on with this dram, I'd be lying if I said that it didn't need an evening in itself to contemplate it. For now I will say it is intriguing but it needs unlocking.

Port Ellen 32 Year Old – 2,964 Bottles Produced
It's a Port Ellen, it's rare and everyone wants some but well… it's easy to see why. Bottled from a mixture of ex-Bourbon and ex-Sherry casks at 52.5%abv and with an impressive thirty-two years of cask ageing this offering from the long-closed distillery is sublime.
Nose: Watermelon… quite literally, then comes Satsuma slices and that famous chamois leather with the faintest suggestion of lemon. There is a peat presence here but it is like the stage on which the actors play – it isn't the focal point.
Palate: Woody peat followed by cream, butter icing, fresh-cut kiwi fruit and linoleum.
Finish: Chamois leather, dry bracken and smouldering wood embers form and long, rich finish.
Overall: Port Ellen is still hanging in there, this remains cracking whisky it's a shame there's not much of it left.
So there we have it, the Diageo Special Releases 2012. For me this feels like Boxing Day or the day after the Wimbledon Final, I'm left with an emptiness which will only be fulfilled a year later. To round the releases up I would say: Older and sweeter with a surprising consistency from nose through to finish. Now pass me the Auchroisk and I'll see you tomorrow.
Angus
p.s. more information on when these bottles will arrive coming soon!