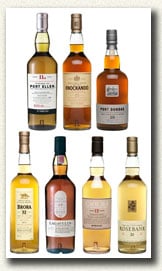 Last night played host to one of the biggest events in the whisky calendar: the launch of the Diageo Special Releases. This annually released selection showcases the very best whiskies in the global drinks giant's unrivalled arsenal, including massive crowd pleasers like Lagavulin, Caol Ila, and the legendary Port Ellen.
Unlike Ben, who's off doing some 'real work' in the form of running the Cocktail bar at the Movember Launch Party for 750 people, then doing a sampling of our new Movember Whisky until the small hours, I've been lucky enough to sit in a lovely warm room, with lovely warm people, drinking delicious and exclusive whiskies all evening. Also I spend too much on male grooming products and have a penchant for singing about my feelings. I'm also not very competent at sending through images by e-mail, and am currently asleep in my bed, like the weaksauce young man that I am, and hence uncontactable by phone so you'll notice that the images herein are stock images from Diageo's Powerpoint presentation. Sorry about that. This paragraph may or may not have been written by me.
I began with Rosebank, a distillery I've always had a soft spot for. This year brought the launch of a 21 year old Rosebank, distilled in 1990. This is from some of the oldest stocks owned by Diageo, aged in a mix of refill American Oak and refill European Oak casks.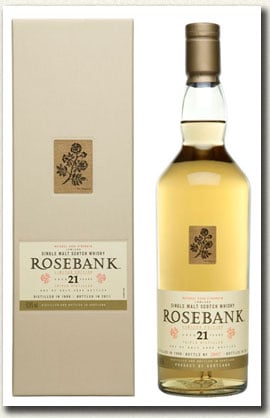 Rosebank 21 Year Old 1990
Nose: An intensely floral nose, with huge notes of Parma violets, rose petals and just a hint of lavender. There's also just a touch of bicarbonate of soda (not a bad thing) alongside oodles of sweetness.
Palate: Just as the nose suggests, those Parma violet notes take the fore. There's some rather pleasing notes of bramble leaves, toffee apple and cranberry, as well as a little kiwi and pine sap.
Finish: It finishes beautifully with potpourri, liquorice, lemon sherbet and (and this really is going to sound bad, but it's really not a bad thing, honest)… …detergent. It was difficult to even type that, but there genuinely is just a hint of it, and it's very, very interesting.
Overall: One of the most floral Rosebanks ever released, and that's saying something. With a very reasonable suggested retail price of £160 a bottle, we can see this being a very popular little whisky…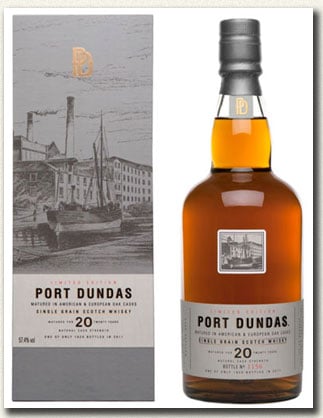 Port Dundas 20 Year Old 1990
The first ever 100% single grain whisky in the Special Releases and the oldest ever official bottling of Port Dundas, this is going to be good…
Nose: Very pleasing mix of bourbon spices, plum wine and black pepper. In fact, there are some almost rum-like aromas conjuring up hints of cinnamon and apple crumble. Definitely a grain whisky, but one with a fantastic pedigree.
Palate: A fabulously evocative palate that tastes extraordinarily like rye whiskey. There are hints of liquorice too, and apple pips, burnt brown sugar and maybe a little strudel, but overall rye whiskey is definitely brought to mind. I could even go so far as to say it strongly reminded me of Van Winkle 13!
Finish: Long, spicy finish with dark fruit and almond.
Overall: A very good and very different old grain whisky. Definitely worth trying!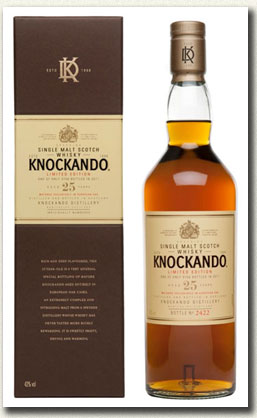 Knockando 25 Year Old 1985
Aged in first fill European oak sherry casks, this is certainly going to draw lovers of sherried whisky, and you can tell that by the colour alone!
Nose: Sooo buttery and fruity – prunes, raisins and tamarind sweets. In fact, I'll repeat Tamarind Sweets, and leave it there.
Palate: Very thick and rich, with notes of nutmeg and cardamom pepping up a core of gorgeous old sherry and damson jam. This is exactly what you want from decent sherry-matured Speyside whisky; it's not too dry, not too rubbery, it has a hint of umami too. Noted traffic cone thief Billy Abbott from "the competition" mentioned getting a whiff of sulphur, but if there was one it was very subdued.
Finish: Medium length, very rich. Some potpourri, mushroom and orange zest.
Overall: You can see this working well with the cheeseboard… Overall it's a rich, beguiling whisky which will certainly be a big hit when it hits the shops.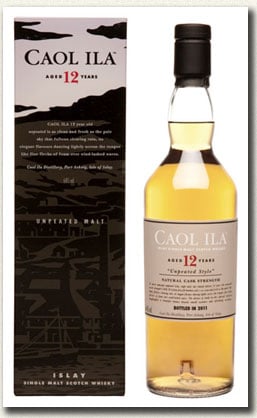 Caol Ila Unpeated 12 Year Old 1999
One of the whiskies we're always keen to try, this is the 6th limited release of unpeated Caol Ila, originally distilled for blending in the "highland style", they put around 6,000 bottles by each year for the Special Releases. This particular edition was aged in first fill American oak bourbon casks filled in 1999.
Nose: An old-fashioned tuck shop greats the nostrils; sherbet, Refreshers sweets and various boiled items in jars (the kind that shatter your teeth instantly). There's also an assortment of "Cinema Snacks" – mainly chocolate-coated raisins and toffee popcorn. Hints too of walnut, ginger and mace.
Palate: Very rich (and at 64%abv that means VERY rich), offering up stem ginger in syrup, parma violets, lemon meringue pie, chili and melted rum & raisin ice cream.
Finish: Long and sublimely sweet with exotic spices and pear juice.
Overall: A recurring theme of almost soapy parma violets seems to be popping up! A very unusual Caol Ila, and certainly one of the best Unpeated Caol Ilas we've had.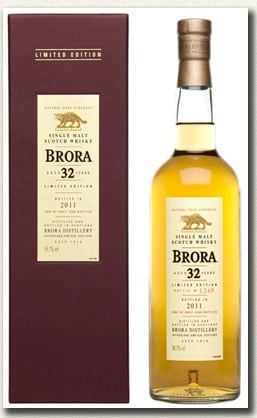 Brora 32 Year Old
A whisky that can usually be easily classified as "sooty", Brora is a closed distillery and a true highland gem, located right next door to Clynelish. With a suggested retail price of £300 pounds a bottle, it's obvious that the Broras are highly sought after!
Nose: Quite a closed nose for a Brora, with crystallised fruits, quince and reserved sootiness. There's not a whole lot going on actually.
Palate: Spicy, with chocolate-covered honeycomb (ok, Crunchie bars), pine oil, hickory and rosemary smoke (that sounds like a rather specific tasting note, and it'll make a lot of sense come the release of a fascinating little treat from Professor Cornelius Ampleforth!).Maybe some apple peel too.
Finish: Sweet and smoky, wood ash, pepper and aniseed on the tail.
Overall: Not the usual bruiser you expect from Brora, but a very fine whisky nonetheless.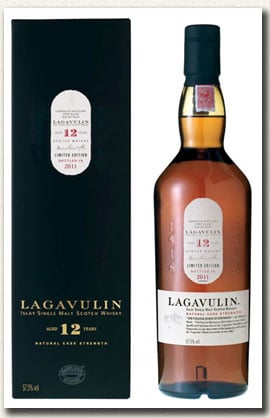 Lagavulin 12 Year Old
Of the handful of on-going whiskies from Lagavulin, the cask strength 12 year old stands out massively. It is always a fabulous malt; rich, spicy and intense with as much textbook Lapsang Souchong smoke as you could ever hope for.
Nose: Very smoky with bonfire toffee, cold wood ash, smoked game and treacle.
Palate: This is very tangy and takes me right back to my first visit to the distillery on a freezing cold day with the weather ferociously setting in. Oily and smoky, like a log fire in winter. Hints of cocoa develop.
Finish: Long and oily, ending on signature Lagavulin smokiness, Ovaltine, Cocoa and pear.
Overall: Delicious!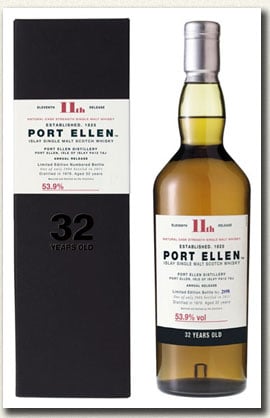 Port Ellen 32 Year Old 1978
The oldest ever official Port Ellen, aged in refill American oak casks which were filed in 1978. The eleventh release in the series…
Nose: Honeycomb and chocolate raisins, coconut, damson jam, quince cheese, grapes and very soft smoke. Not one of the most peaty Port Ellens so far.
Palate: Blackberries, guava, and also something which I probably should put (let's just say it's not unlike the flavour of tomato skins in a greenhouse). India rubbers, pepper, dry oak, under-ripe apples, pear skins and mango.
Finish: Quite smoky now with coal, maple syrup, corn soot and rum spice.
Overall: Another fascinating whisky – utterly divine.
I have to say I think overall this year's Special Releases were a great deal better than last year's. There were some fantastic whiskies, with that recurring theme of slightly soapy parma violets and tangy fruit. None of the "Heavy hitters" were as brazen and muscular as usual, but it didn't stop them from being deeply complex. Favourites for me were the Caol Ila, the Knockando, and that incredibly floral Rosebank.
Mike.