It's been a great year for Churchill fans: Gary Oldman won an Oscar for Darkest Hour, Andrew Roberts released a Churchill biography, and best of all, Pol Roger have just launched a new vintage of their Cuvée Sir Winston Churchill.
Winston Churchill and Pol Roger go way back. I have seen an invoice from 1908 showing Churchill's first purchase of Pol Roger Champagne, the 1895 vintage. The special relationship was cemented in 1944 (just after the liberation of Paris) at a lunch put on by the British ambassador to France where Churchill met with Odette Pol-Roger. They got on like a house on fire, no doubt helped by lots of the legendary 1928 vintage. Churchill became a great friend of the family and even named a racehorse after the house. In his last decade alone, he ordered 500 cases!
Royal connections
Even without the Churchill connection, Pol Roger would be the most British of Champagne houses. It has had a Royal Warrant since 1877. Pol Roger's son Maurice was a regular visitor to London to sell its wines. Ever since the late 19th century, Britain has been its largest market, and the company keep the wine destined for these shores an extra 6 months in the cellars beneath Epernay so that it becomes rich and biscuity. Naturally, at Prince Harry and Meghan Markle's wedding this summer, they served Pol Roger.
Fine wine
Pol Roger edged their label in black when Churchill died in 1965. Afterwards, the relationship between the Pol Roger and Churchill families continued. When Pol decided to launch a luxury Champagne– or rather, an even more luxury Champagne – it was logical that they would name it after their most famous customer. The first release, 1975, appeared in 1984. Since then Cuvée Sir Winston Churchill has only been made in exceptional years, and each vintage has to get the thumbs up from the Churchill family.
Last week, I was lucky enough to get a taste, well actually more than a taste, of the latest vintage, the 2008. In attendance were relatives of Churchill including his great granddaughter, Marina Brounger, as well as members of the de Billy and Pol Roger families who still own the company. James Simpson from Pol Roger's British arm told me that the 2008 is "a five star vintage. As good as anything we've ever made before." Production is tiny, in the tens of thousands of bottles, compared with Dom Perignon who make millions.

The Cuvée Sir Winston Churchill 2018 launch event
Their 'ordinary' vintage 2008 was one of the best Champagnes I've tried recently, so my expectations were very high for the Cuvée Sir Winston Churchill. It didn't disappoint: layers of apple, green apple, cooked apple, apple pie on the nose, and then phenomenally rich and concentrated on the palate. Leave it for a few years if you can, and it'll get even better.
Buried Treasure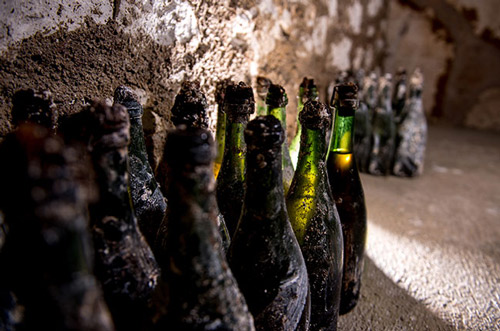 What have we here…? Photo credit: Pol Roger
With its very high percentage of Pinot Noir, Cuvée Winston Churchill is designed to taste like the kind of rich, meaty wines that Churchill would have been brought up on. Tantalisingly, Pol Roger has just discovered a stash of such wines which were thought lost. Over a million bottles disappeared into the mud when a cellar collapsed in 1900 but recent renovations have turned up some intact bottles from vintages between 1887 and 1898. Protected all those years by the mud and cold they may well be in good drinking condition. James Simpson mentioned that they will be opening some of these lost wines soon. We're angling for an invitation.