Protect the planet *and* enjoy a delicious drink? Newsflash: it can be done. To celebrate Earth Day, Patrón Tequila demonstrates how to level up your kitchen leftovers and create 'cocktails with a conscience'…
Earth is pretty cool, so it's a terrible shame that collectively we suck at taking care of it. Things aren't shaping up too great right about now – the world's natural ecosystems are more fragile than ever, and the entire human race could well be extinct within a couple of hundred years. But perhaps worst of all is that our recklessness is upsetting David Attenborough. And he isn't even angry, just disappointed.
In times like these, we could all do with channelling a little more of Sir David and his environmental savviness in our everyday lives. And, well, should the world's most beloved broadcaster ever trek through the uncharted wilderness of my kitchen in search of a Tequila tipple, I imagine he'd like the liquid he happens upon to be as planet-friendly as possible. This is where Patrón comes in.
The veritable hipsters of spirits sustainability, Patrón's production team adopted green practices long before it was cool or 'on-trend' to do so. Patrón was the first Tequila distillery to install a natural gas pipeline as its main energy source, reducing carbon dioxide emissions and improving air quality.
It composts 100% of its leftover agave fibres from distillation, which creates more than 5,500 tons of natural fertiliser a year for Hacienda Patrón's vegetable garden – in turn providing food for its 1,200 staff. The Tequila giant even developed a water treatment system that turns residues from distillation known as stillage into clean water.
Safe to say, the folks at Patrón are doing their bit for the planet, and they'd quite like us to follow suit – all while having a bit of fun doing so. Which is why the brand has partnered with The Conduit, a London-based members' club with a social and environmental purpose, to host  Cocktails with a Conscience.
As well as learning the tricks to transforming regular kitchen waste into high-quality cocktail ingredients, masterclass attendees will enjoy a three-course dinner designed by the venue's executive chef, Merlin Labron-Johnson, paired with Patrón drinks featuring leftovers from the preparation of each dish.
"Reducing waste and repurposing leftovers to create cocktail ingredients is not just an ethical commitment for the industry, but also a creative and enjoyable challenge", explains Walter Pintus, bars operations manager at The Conduit, adding that it gives bartenders the opportunity to create "distinctive and bespoke syrups and infusions".
Take the coffee infusion for his cocktail, Salt of the Earth, the recipe for which can be found below. "When your bar serves around 500 coffees a day, you end up with tons of coffee grounds to bin, but these still offer amazing tasting notes," Pintus explains. "By infusing coffee grounds with salt and vanilla for 24 hours before filtering it with boiling water, we have created a captivating saline coffee solution that pairs very well with the smoky notes of Patrón Añejo."
Can't make it? Live too far? No worries. Patrón has partnered with some of the most progressive bars in the world to give their locals a taste of cocktails with a conscience. Cub, Eve, and Scout in London will be showcasing a specially-created sustainable serve, as is Stairs Bar in Berlin, Dr Stravinsky in Barcelona, Himkok in Oslo, Dogma in Antwerp, Laurels Bar at Caesar's Palace in Dubai, Yes Please Bar in Manila, Martini Bar in Singapore, Ends and Means in Melbourne, Cannery & Rye Co in Shanghai, Hope & Sesame in Guangzhou, and Trunk Hotel in Tokyo.
Or you could just stay at home. Here, Pintus shares his top tips for DIY bartending with sustainability in mind…
Swot up
Before you start experimenting, do a bit of research and homework, he says. "As easy as it might sound, making cocktails using kitchen leftovers requires a little understanding of the natural properties and tasting profile of your ingredients as well as of some chemical and cooking processes". When creating Earth Apple, the recipe for which is below, Pintus wanted to reduce the milk waste from cappuccinos. "By reheating this milk and adding vinegar, you drive a separation of the lactose, and the remaining milk whey can be used to convey roundness and a kick of acidity to this Patrón-based white Negroni," he explains.
Save skin
Reutilising the skin of fruit and vegetables is always a great idea, says Pintus. "Peels are the most flavoursome part on top of being rich in nutrients and when properly utilised and paired with the right spirit can deliver brilliant flavour combinations", he explains, pointing to the oranges The Conduit team use to make vinaigrette or the Jerusalem artichoke skin used to make puree. "The peels of these items contain some great essential oils which offer a true explosion of aromas and it would be a shame to miss out on these", he says.
Start simple
Unleash your imagination and creativity just as you would do when cooking, he adds. "Creating cocktails using otherwise discarded ingredients can be easily achievable for cocktail lovers at home, as well as bartenders and drinks enthusiasts," Pintus continues. "Try, mix and taste, and you'll be surprised at what you can create – the key is to start simple, and work from there".
If you're ready to get stirring, try the following recipes out for size. It's what Attenborough would want.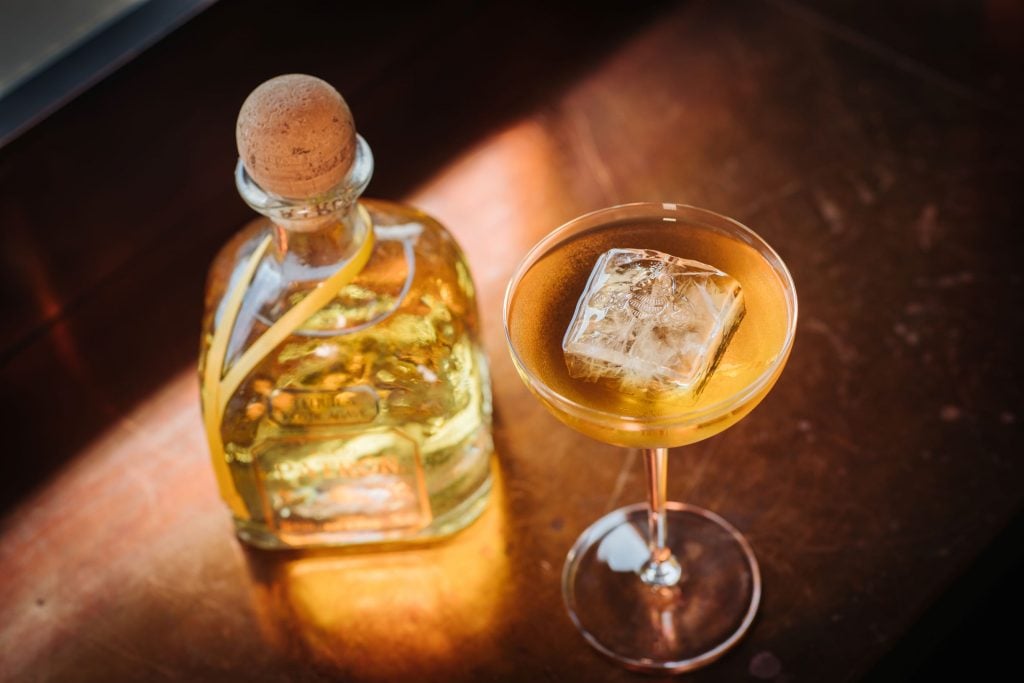 Salt of the Earth
Ingredients: 20ml Patrón Añejo, 5 dashes coffee grounds solution*, 40ml amontillado sherry, 2 dashes orange blossom, 10ml Agave water
Method: stir and serve over a cube of ice in a coupette glass.
*Coffee ground solution: blend salt with leftover coffee grounds and vanilla pods, put in a jar and leave 24h to infuse. Add 20% boiling water to dissolve salt, filter and you will obtain the saline coffee solution.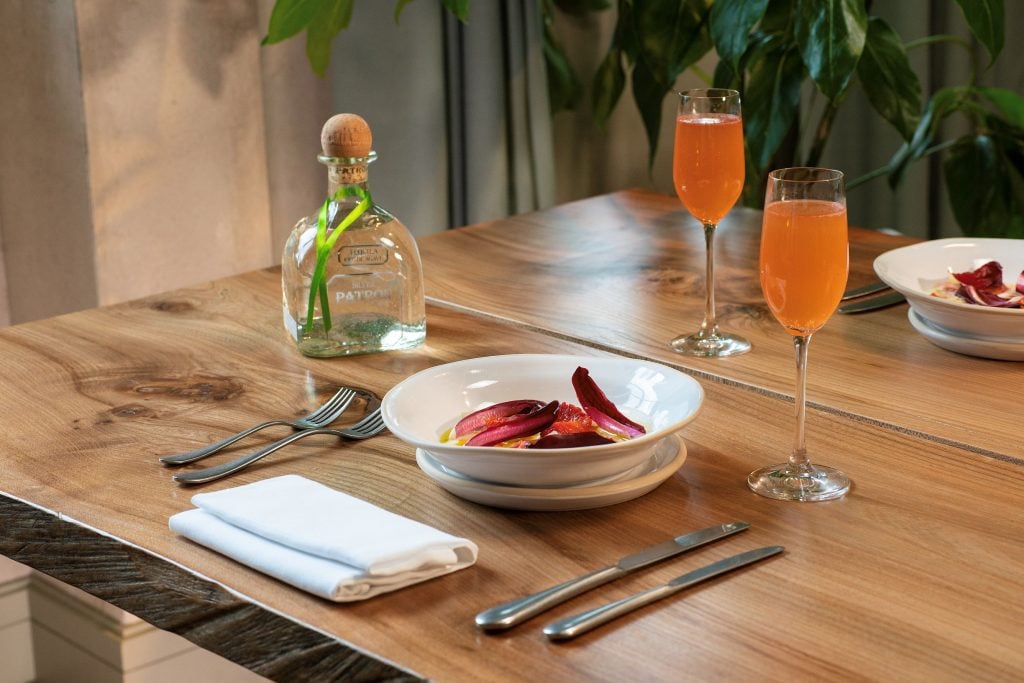 Orangerie
Ingredients: 30ml Patrón Silver, 30ml blood orange peels sherbet*, 20ml fino sherry, 10ml saffron syrup
Method: shake all ingredients and serve in a chilled flute.
*Blood orange peels sherbet: Infuse blood orange peels and squeezed orange juice leftovers with sugar for 24h. Add water and the liquid and filter the product to obtain this sweet and sour sherbet.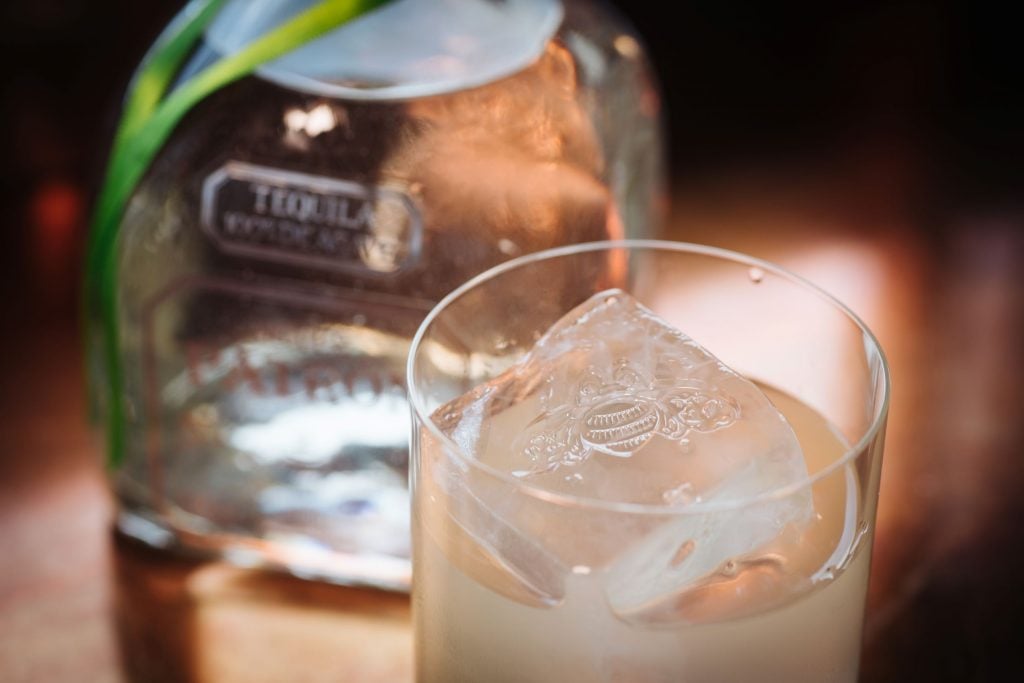 Earth Apple
Ingredients: 20ml Patrón Silver, 45ml Jerusalem artichoke skins-infused vermouth*, 10ml Luxardo Bitter Bianco, 10ml of milk whey*
Method: stir and serve over an ice chunk in an old-fashioned glass.
*Leftover Jerusalem artichokes skins are added to Martini Ambrato for 5h to infuse the vermouth. Heated milk left unused for cappuccinos is heated up again, vinegar is added to separate lactose and the remaining liquid used to convey roundness and acidity to the cocktail.
Patrón's Cocktails with a Conscience will take place at The Conduit in Mayfair on Wednesday 24 April from 7pm – 10.30pm. Tickets cost £55 and include a welcome drink and canapés, cocktail masterclass, three-course dinner and paired cocktails. Buy yours here.