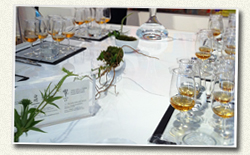 On Monday we took the train up to London for an event we'd been looking forward to for some time. London in summer is quite possibly the best combination of city and season the world has to offer, it has to be said. So we were in high spirits as we arrived at the Saatchi Gallery for a Suntory tasting entitled "The Art of Japanese Whisky".
We were led to a very splendid and incredibly modern tasting room, and quite frankly we felt like we weren't anywhere near "cool" enough to be in there. It was the sort of event that you could have quite easily worn a beret and not looked out of place.
As we sat down we each had in front of us a place setting with 5 Suntory whiskies, as well as a knife and fork (this pleased us greatly as we were feeling rather peckish!)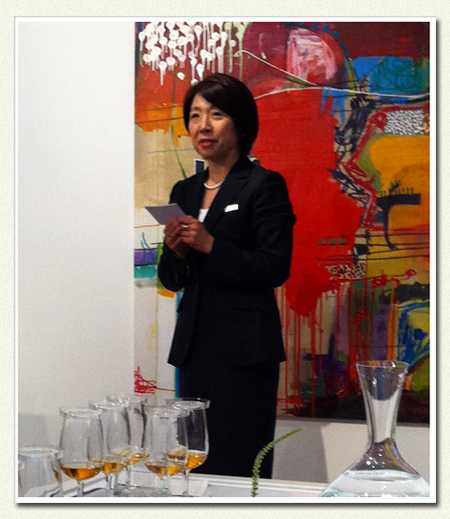 The tasting was introduced by Makiko Ono, the head of Suntory London, and she spoke about how privileged Suntory felt to be making their whisky, and introduced Suntory's Global Brand Ambassador, the charming Mike Miyamoto, who explained a little about the history of Suntory, in a talk named "The Story & Omotenashi – Tasting Rituals".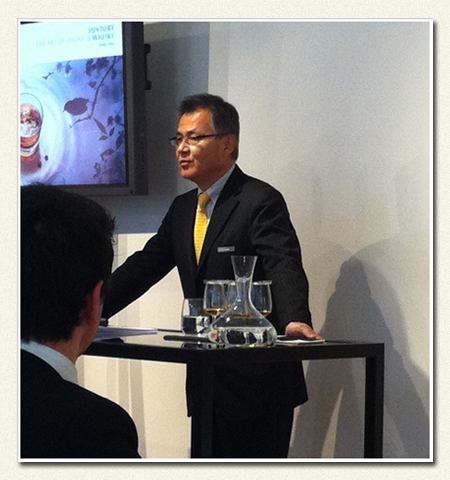 Suntory, in many ways the most pervasive Japanese brand, was founded by Torii Shinjiro in 1899. Similarly to his Nikka counterpart, Masataka Taketsuru, Torii Shinjiro learned distilling from the Scottish distillers, and he took this knowledge to Japan. In December 1924, he built Japan's first whisky distillery, Yamazaki, in a breath-taking location. For Suntory, whisky is a reflection of Japan's culture, as Mike Miyamoto says "it's a harmony between Japanese nature and Japanese people". This was reflected by a slideshow which showed off the Yamazaki and Hakushu distilleries' stunning natural surroundings. Both also boast nearby water sources that are so pure they are recognised and protected by the government, and good water really is key when making good whisky.
We began the tasting…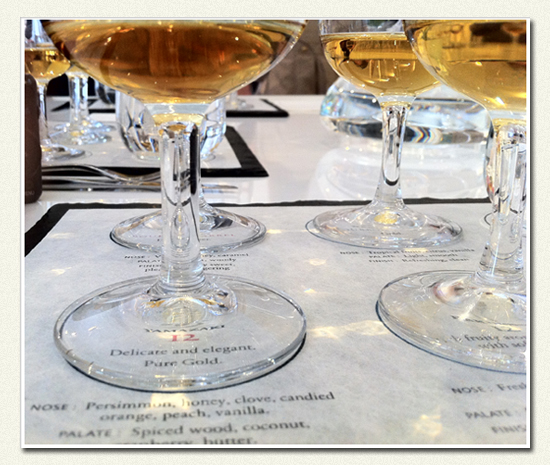 Nose: An abundance or Persimmon on the nose. This is tremendously fruity, pertaining to juiciness, with overripe peaches and nectarines. There's spice too, with notes of cloves, nutmeg, and vanilla. Just a whiff of potpourri develops in the glass as well.
Palate: Creamy and thick, "cranberries" were described, as well as coconut butter. More of the potpourri from the nose, with vanilla spice and nutmeg. It develops on aniseed, liquorice, molasses and black pepper.
Finish: Sweet and soft with juicy fruit, barley and spice. Very long.
Overall: For what is essentially an entry-level malt, this Yamazaki 12 is fantastic. It's the perfect young Speyside-style single malt, but it's utterly Japanese in many ways. We love and heartily recommend it.
Next up was Hakushu 12 Year Old.
Founded in 1973, there are a whopping 24 pot stills at the distillery, and they are mix of direct-fired, and steam-heated. The reason for this is Japanese distilleries must strive to be self-sufficient. In Scotland, blend-makers can swap whisky between distilleries, but in Japan this is not the case, as the majority of distilleries are owned either by Nikka or Suntory – therefore each distillery must make a wide variety of whiskies in order to create flavoursome blends.
Nose: Green notes on the nose: think fresh parsley and cut grass. There's an overriding note of cantaloupe melon, which blends well with the soft smoke, apple peel and pear.
Palate: Juicy and buttery. We get hints of spent matches, and if you've ever tasted a spent match you'll agree (not something we recommend trying though!). Gingernut cookie dough and nutmeg.
Finish: Quite a short finish, with very light smoke (more like smoked tea than peat), with more of those cookie dough notes.
Overall: Very good, but not a patch on the Yamazaki!
Nose: Floral, and citrussy, then onto juicy ripe fruits including melon and nectarine. Rose petals, butterscotch and smoked salmon.
Palate: Thanks to ageing in Japan's native Mizunara oak, we get plenty of spice, and maple syrup. Mizunara is known for its cinnamon and nutmeg flavours. The palate is also leant a good deal of creamy vanilla.
Finish: Potpourri and maple syrup on the finish, with a hint of tangy blood orange on the tail.
Overall: A great blend.
Next up we had two whiskies we hadn't tried before: a brace of single malts aged in bourbon barrels.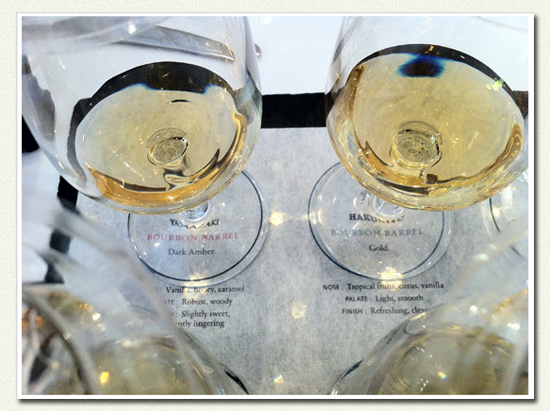 The first was Yamazaki Bourbon Barrel, bottled at cask strength (48.2%). This will hit the shelves in mid-August, and there will be just 1,000 bottles available to the UK market.
Yamazaki Bourbon Barrel
Nose: Very interesting indeed, with everything you'd expect (vanilla, oak, honey, char), and a curious savoury quality which comes through as walnut bread and window putty!
Palate: Incredibly sweet, with soft chewy oak and that cinnamon variety of Golden Grahams (we think it was called Curiously Cinnamon).
Finish: Sweet with good length. Maple spice clings to the palate.
After this we had Hakushu Bourbon Barrel which is also at 48.2% abv and equally limited in the UK market.
Hakushu Bourbon Barrel
Nose: Panna cotta, tropical fruit (particularly dried pineapple) and vanilla.
Palate: Very smooth and sweet, with more creaminess, and a more than a suggestion of mascarpone. The smoke is very subdued, hiding behind some of the sweeter notes from the barrel.
Finish: Long and very spicy, sweet too – this is equally as cinnamon-rich as the Yamazaki.
After the Suntory flight, we were to enjoy a meal in three courses, each of which was paired with a different Suntory whisky, and each whisky was served in a different way.
To start with we had the Hakushu Highball, made with Hakushu 12 year old. This was simply whisky, ice and soda water, and it resulted in a slightly minty, smoky flavour. It was very palate cleansing.
The first course was served (beautifully we might add, on a small slate).
We had smoke eel on pea pancake, served with horseradish crème fraîche and watercress. With this was sole fish and two chips cooked with truffle oil. Just two chips. That was all we were given.
Whilst the dish was introduced we were tempted to nibble a little, but we refrained for fear of a man shouting "hey, where's one of your chips gone?!"
Our reaction to the first pairing was mixed. We generally agreed that the eel worked well with the highball, with the drink refreshing the palate. The sole fish and chips didn't go quite as well (in our opinion). We felt the truffle oil was jarring with the Hakushu, and it was slightly too oily for it to work as well as it could have.
The next dish was accompanied by a Yamazaki Mizuwari, made with a measure of Yamazaki topped up with beautiful crystal-clear ice and still mineral water.
The mini-peppered steak on wild mushroom crostini was divine, and a tiny crisp added a good deal of texture. This went well with the Yamazaki, as did the fillet of Highgrove lamb which had marinated with shallots and honey and was served with Cumberland sauce. Perhaps it was just ever so slightly too sweet for the pairing to work perfectly, but this really would be splitting hairs. The lamb was perfectly cooked and very tender.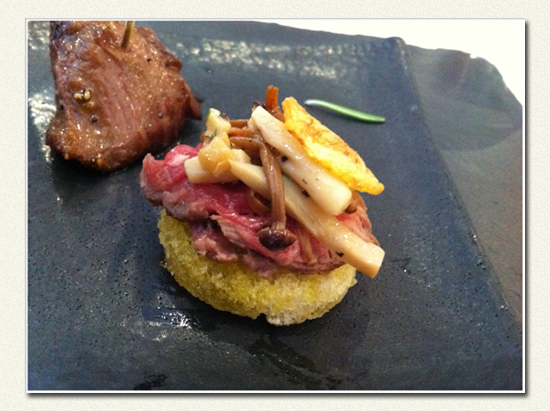 The final dish was a mini foie gras burger, and a Veal cottage pie with tiny wild mushrooms, served in a crisp tartlet. This was accompanied by a Hibiki on the Rocks (and by rocks, we mean a beautiful iceball!). This worked very well, particularly as the drink was much stronger than the previous two cocktails, and as a result it highlighted the sweetness of the foie gras, and the richness of the wild mushrooms.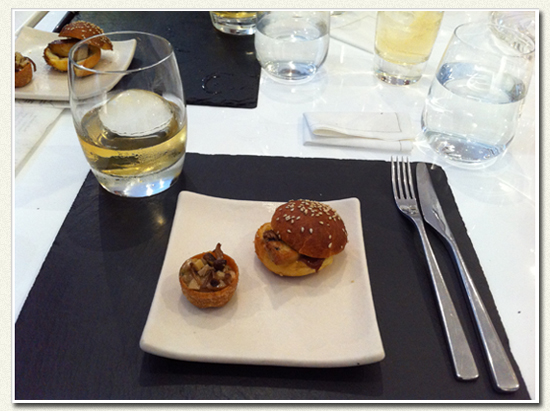 Overall the partnership of veal cottage pie and Hibiki on the Rocks was our favourite, although it is worth adding there was split opinion within the Master of Malt camp about how well these drinks worked. One of us loved the Mizuwari and the Highball and would have sooner ordered them as an accompaniment to the meal as opposed to wine. The other one of us wasn't so keen and would perhaps have preferred the whiskies neat with the dishes. It is a matter of taste and it's certainly worth trying a good Mizuwari with your next meal!
The afternoon was to be crowned with a trio of cocktails created by mixological maestro Zoran Peric, Suntory's UK Brand Ambassador.
If he ever has a company and doesn't call it Zoran Industries he's missing a trick…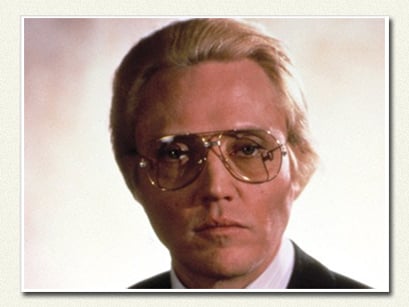 Each of the three cocktails Zoran prepared was inspired by the 24 seasons (or Sekki) of Japan. The first cocktail was inspired by the season Taisho, which begins on July 23rd, a time known for its "Large heat".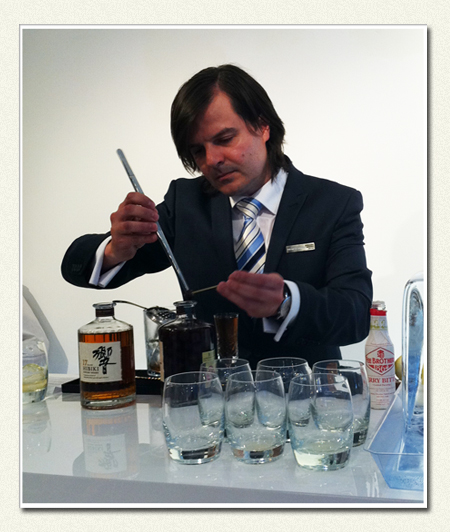 [Zoran Peric in action…]
Taisho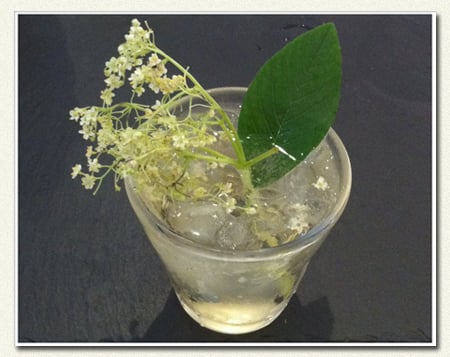 The drink was created as a summer refresher. Zoran made it in a tumbler filled with a couple of large pieces of cracked ice. The ice was coated with Belvoir elderflower cordial and a large measure of Hakushu 12 year old. The glass was then topped with soda water, before a lemon zest was expressed over it. The Taisho cocktail was garnished with a fresh sprig of elderflower blossom.
We really enjoyed it, and it was incredibly thirst-quenching. We imagine ourselves sitting out on the lawn in summer, sipping on a couple of these. Someone else commented that for many that have yet to get into whisky, a cocktail like this is the perfect start.
Soko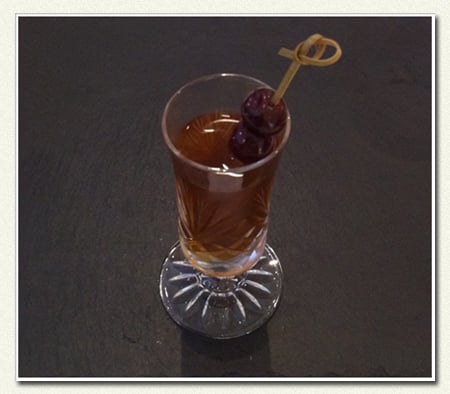 Zoran's second cocktail was inspired by the second part of October, known as "frost descent". For this, he intended the drink to be more warming, basing it around Hibiki 17. He started by mixing the ingredients in an ice-filled cocktail shaker to which he added Fee Brother's Cherry Bitters, as well as 6ml of Pedro Ximenez sherry. This was followed by a double measure of the Hibiki befire stirring the ingredients well. Finally he strained them into a small sherry copita and, as a garnish, he added three cherries which had been left overnight in a mix of Hibiki 17, cinnamon, anise and cloves.
Overall we liked this one, although not so much as the Taisho cocktail. Perhaps just a dash more sweetness would have lifted the drink slightly.
The final cocktail was inspired by the middle of winter, "Toji", and it was made with Yamazaki 12.
Toji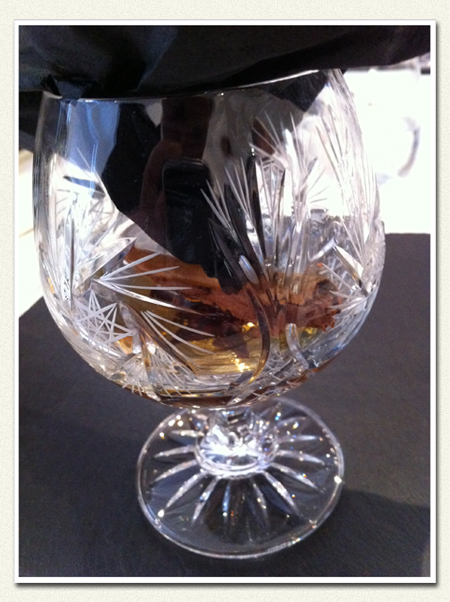 Start off by placing the garnish (a cinnamon stick, cloves and anise) into a brandy balloon. To this, add a measure of Yamazaki.
Meanwhile, in a small copper pot with a handle, add a barspoon of brown sugar, as well as a handful of spices including cinnamon, cloves and anise. Add a few ml of absinthe into the pot, as well as a measure of Yamazaki. Then, using a lighter, set light to the contents of the pot and allow them to burn. Whilst still alight, pour the contents into the brandy glass (don't allow the cooked spices to fall in). This creates a decidedly dramatic effect.
Take a lemon zest, express it over the glass and use it to "perfume" the rim of the glass before discarding. Finally, push a paper napkin into the balloon to retain all the aromas. Zoran describes this as "Christmas in a glass", and we couldn't agree more!
– The Chaps at Master of Malt –