Launched in the mid-1960s, Connoisseurs Choice is one of the world's most comprehensive and fascinating ranges of independently bottled Scotch whisky on the market. The oldest vintage in the current selection dates all the back to 1938, and the whiskies come in all ages, from 5 to 75 years old! Today, we're going to take an in-depth look at this phenomenal range, as well as try a few delicious expressions. In fact, we're even giving away a very special sherry-matured 1952 Glen Grant from the same bottler, worth £2,120. First, however, a little history…


Connoisseurs Choice was created by the award-winning independent bottler, Gordon and MacPhail. The company was founded by James Gordon and John Alexander MacPhail in the late 20th century. On the 24th May 1895, the Elgin Courant described the opening in "Commodious Premises, No's 38 and 40 South Street […] a Family Grocers, Tea, Wine & Spirit Merchants". As reported by the paper, the founders' goal was to personally select stock, with the intention of offering a "superior article at a popular price", whilst giving "the utmost satisfaction".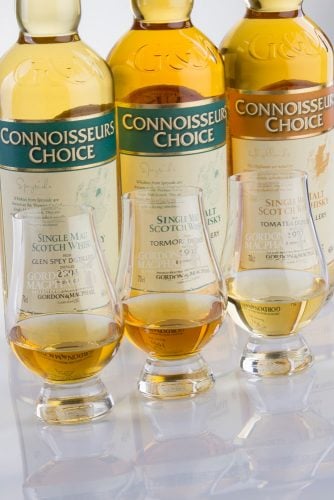 Today, the firm is run by the Urquhart family – an association which began all the way back in the late 1900s, when fifteen-year-old John Urquhart joined as an apprentice. He helped select and buy casks of whisky, and leant a hand creating house blends for the company's first customers. By 1915, when John Alexander MacPhail retired, John Urquhart had made such an impression on his employers that he was made a partner in the business, becoming a senior partner two weeks later after James Gordon died suddenly.
Over the following years, Urquhart developed the business, paying close attention to whisky broking, and specialising in single malts. He even became a licensed bottler for famous distilleries including Glen Grant, Glenlivet, Macallan, Linkwood and Mortlach. John selected and filled his own casks (which were largely Spanish oak sherry casks) and matured his whiskies longer than most competitors. The result was a level of quality over quantity which was maintained over the 20th century. In the 1960s, John's children Gordon, Betty and George were running the company, which, by that time, had the largest range of bottled malt whiskies available anywhere in the world.
Making use of their fabulous whisky stocks, George Urquhart took an unheard-of step by offering a wide range of single malts under an independent label, named Connoisseurs Choice. The range was initially offered to the French, Dutch, Italian and American markets, which were growing very quickly at the time.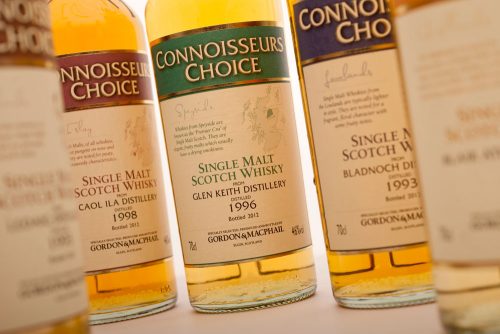 Fast forward to half a century later, and Gordon and MacPhail remains in family hands, and the Connoisseurs Choice range has more than 300 expressions! Just this year, Connoisseurs Choice received numerous awards at prestigious events, including the International Spirits Challenge, where a 1998 Glen Elgin was awarded a silver in the 'Speyside single malt aged 13-18 years' category, and at the International Wine and Spirit Competition, where a 1997 Tomatin took home the coveted gold medal. In honour of this win, we thought we'd give another Tomatin in the range a try.
This one was distilled a year before – in 1996 – and it was matured in first-fill bourbon barrels before bottling in 2013. The result?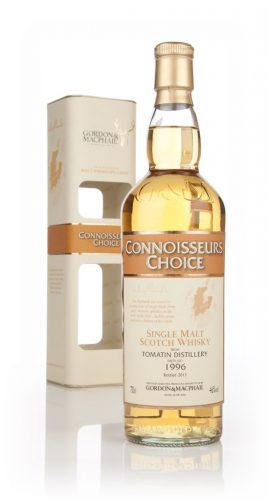 Tasting Note for Tomatin 1996 (bottled 2013) – Connoisseurs Choice (Gordon & MacPhail):
Nose: Banana chips drizzled in honey. Subtle berry notes. Malt and mint.
Palate: Citrus zest, big vanilla influence, caramel and Granny Smith apple.
Finish: Bright and fruity on the finish.
Overall: If you've got a bit of a sweet tooth, this will be a treat.
All in all, a delicious little whisky.
After their slew of awards this year, director and fourth generation member of the Urquhart family, Stephen Rankin described the Connoisseurs Choice range as "an opportunity to enjoy unique whiskies, which otherwise would not be available to purchase." Perhaps none come quite as unique and rare as the oldest whisky ever released – a single first-fill sherry-matured Mortlach, distilled on the 17th November 1939 and aged for 75 (yes, 75) years before bottling in 2015. Rather unfortunately, there isn't an open one sitting on the desk to try today.
We do, however, have a charming sherry-matured Speyside single malt from Mannochmore, and we're nothing if not capable of making the best of a situation. In fact, this 1994 vintage is a real treat. Aged in refill sherry hogsheads and bottled in 2014, here are our findings: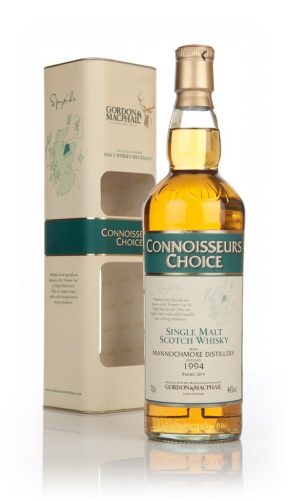 Tasting Note for Mannochmore 1994 (bottled 2014) – Connoisseurs Choice (Gordon & MacPhail):
Nose: Traditionally fruity up front, as Sherry-cask-matured whiskies often find themselves to be. Hints of green mint leaf.
Palate: Crunchy apples, ripe bananas and toasted almonds. Subtle hints of milk chocolate and cracked black pepper.
Finish: A lasting finish.
Overall: More Mannochmore, please!
If this has you in the mood for even more sherry, then you're in luck. We just so happen to have a bottle of 1952 Glen Grant to give away. It was aged in first-fill sherry casks, and it's a tremendous, unique, astonishing whisky. To tempt you, here are our tasting notes: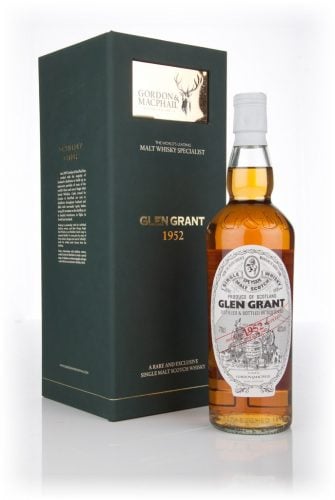 Tasting Note for Glen Grant 1952 (Gordon & MacPhail):
Nose: A medium-bodied, rather sublime nose, laden with Christmas spice, mixed peels and sherry-like aromas of sultana and prune. With time in the glass, notes of calf leather and resin appear, as well as thyme and freshly dug earth. Hints of dried banana chips and vanilla provide inviting sweetness.
Palate: An abundance of rich, chewy, nut-like flavours. There's an oily texture here which coats the palate, offering up hints of smoke, heather roots, butterscotch and Christmas pudding, drenched in brandy.
Finish: Malty and rich to the very end, those Christmas spices cling on, as do faint wisps of wood-smoke.
Overall: A staggeringly complex, rich and intense dram: there's a reason Jim Murray named this best single malt Scotch 41 years & over!
5 minutes with… Lorraine Waddell (Gordon & MacPhail Brand Manager)
Tell us a little about the bottling process for the Connoisseurs Choice range…
In the 1960's George Urquhart, the first of the four generations of the Urquhart family to shape the future of Gordon & MacPhail, pioneered a range of single malt Scotch whiskies, which he had selected, matured, and bottled. In doing so, he effectively invented a category in a market that had previously been focused entirely on blended whiskies. The 'Connoisseurs Choice' range from Gordon & MacPhail broke innovative new ground, giving a platform to many of Scotland's single malt distilleries from across all regions, some of which had never before been bottled as a single malt. Over the past five decades, we have maintained our belief that every distillery has a personality of its own. Today's collection of whiskies which make up the 'Connoisseurs Choice' range by Gordon & MacPhail is a constantly evolving selection, highlighting the unique characteristics of the individual distilleries. The 'Connoisseurs Choice' collection brings together rare and sought after single malts  from some of Scotland's longest established distilleries, such as those we mature and bottle from distilleries as diverse as Caol Ila on the island of Islay and Strathmill in Speyside. The range also highlights the output of Scotland's newer distilleries, such as our releases from the Isle of Arran Distillery. All of the releases which carry the 'Connoisseurs Choice' label are bottled when we feel they have reached the perfect balance of oak and spirit character: ready to be discovered by the connoisseur in all of us.
What are some examples that stand out as truly unique expressions in the range?
The range contains some of the world's most renowned single malts from over 40 distilleries across Scotland. It is very hard to narrow these down on only a few truly unique expressions.
Can you tell us about any particularly exciting bottlings to look out for in 2017?
In March this year new expressions in the Connoisseurs Choice range will be available including Connoisseurs Choice Fettercairn 2007, Connoisseurs Choice Inchgower 2007, Connoisseurs Choice Ledaig 2004, Connoisseurs Choice Mannochmore 1996 and Connoisseurs Choice Teaninich 2009.
COMPETITION TIME: WIN a bottle of 1952 Glen Grant, worth £2,120
If you're now hankering for a dram, then you're in luck; we're giving away an incredible bottle of 1952 Glen Grant worth over £2000.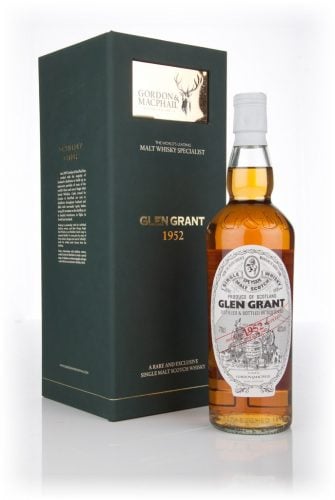 How Do I Enter? For a chance to win this single malt worth £2,120, all you have to do is purchase any bottle of Connoisseurs Choice from our site by 23:59 on Burn's Night – a pretty good start to the New Year, we're sure you'll agree (no purchase necessary – see Terms & Conditions below).
UPDATE: Congratulations to Guy Bolam, who was our lucky winner! Enjoy your bottle of Glen grant 1952!
To all of you, good luck!

The Chaps at Master of Malt