Love visiting distilleries? So does everyone, it would seem! The Scotch Whisky Association (SWA) has crunched the numbers and it turns out we collectively made a record 1.9 million visits to Scotland's whisky distilleries in 2017!
1.9 million people is the equivalent of the entire population of Latvia, or of Guinea Bissau. Or the same as everyone in Cyprus visiting a distillery twice. It's also an 11.4% rise year-on-year, and a figure 45% higher than 2010's visitor numbers. That's a hefty increase.
And it also puts whisky distilleries squarely on the tourism road map. The National Museum of Scotland and Edinburgh Castle are the top attractions outside London, and they both attracted 2 million visitors each in 2017. The distilleries are catching up!

We're spending more when we're there, too. We spent £60.9 million between us while at visitor centres – 15.6% more than last year. That's a lot of fancy fill-your-own bottlings and serious quantities of distillery cafe sandwiches.
We hail from all around the world, too. The highest number of visitors came to Scotland from Germany, followed by the US, India, China and Japan. Hurrah!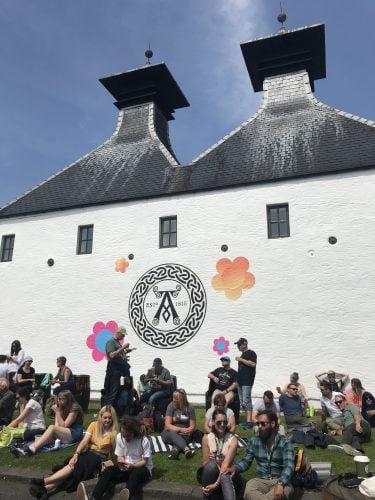 Visitors gather for Ardbeg Day!
"These are exciting times," said Karen Betts, Scotch Whisky Association chief executive. "Scotch whisky distilleries have invested – and continue to invest – hugely in providing world-class visitor facilities at their sites all over Scotland, and they are collaborating in establishing new whisky trails and finding new ways of telling the story of Scotch to British and foreign visitors alike. And it's a wonderful story: part traditional, part modern and set among Scotland's communities and in its breathtaking landscapes.
"We will continue to work closely and collaboratively with tourist organisations, local councils and the Scottish Government to ensure that Scotland's tourists have a memorable time visiting our country and experiencing all it has to offer."
Malcolm Roughead, chief executive of VisitScotland, added: "We're delighted that the popularity of Scotch whisky distilleries is continuing to grow with our visitors, which reflects the hard work and investment by the industry in delivering a world-class experience.
"Scotch whisky is a culinary and cultural icon and one of Scotland's most valuable commodities, with visitors from across the globe coming to our shores to experience an authentic Scottish dram. It is a vital part of local tourism as not only do distilleries benefit from the draw of 'the water of life' but so too do the surrounding towns and villages. VisitScotland continues to work with the Scotch whisky industry to promote events, trails and films associated with Scotland's national drink."
If all this isn't worth raising a dram over, we're not sure what is.
Where did you head in 2017? What were your Scotch whisky distillery highlights? Let us know in the comments below!