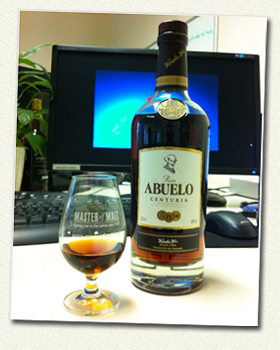 Ben came into the office excitedly today, clutching a bottle of rum. He thrust it at me declaring Nick Masters (a chap from Ron Abuelo's UK distributor Hi-Spirits) had heralded it as "one of the best liquids ever". I dutifully cracked it open for a tasting and, as everyone knows, nothing beats the early morning blues better than a 9am rum tasting (#DrinkAware).
Centuria is the flagship from Ron Abuelo, and they age it for as much as 30 years in the solera system, using Jack Daniel's whiskey barrels. The mix of JD's signature foam banana flavour, vanilla, and some serious old Panama rum is a very exciting prospect…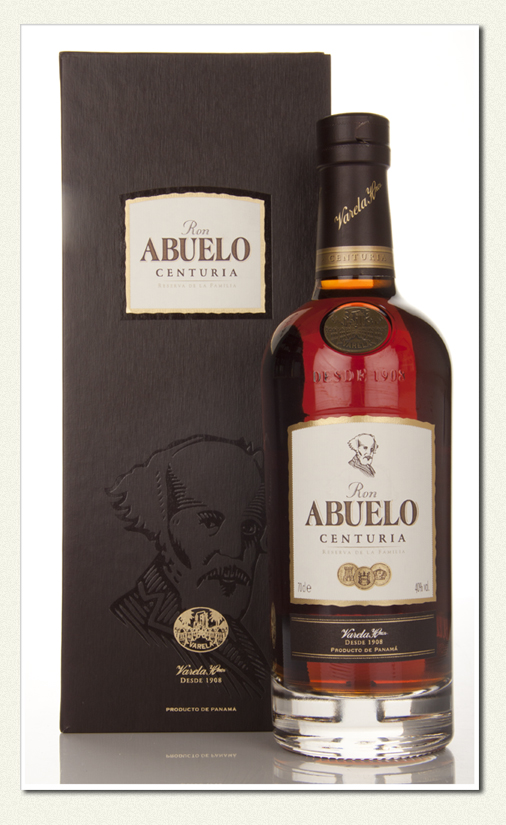 Nose: Thick, sticky, syrupy nose with huge faintly smoky notes of molasses and black treacle. Vanilla and barrel char, a touch of oily espresso bean and a beautiful note of cedarwood. It develops and becomes incredibly evocative, with hints of tarmac on a hot day in summer, old ropes and apple crumble sprinkled with dark brown sugar. Concentrate hard and there are also notes of iced tea and allspice.
Palate: Sweet and rounded, this rum is intensely fruity like apple strudel, with soft, juicy sultanas, nutmeg and cinnamon. Melted vanilla ice cream, toasted brioche with Demerara sugar, toffee apples and just a touch of smoke. The whole package is not unlike bread and butter pudding. In fact, there's a recipe for that I once made that was in a Jamie Oliver book, and it involved a lot of custard and a lot of marmalade and that's exactly what Centuria reminds me of. It really didn't last very long either. Mmm bread and butter pudding.
Finish: Medium length finish, with prunes and walnut casings. Hints of cardamom on the tail. It almost feels like a really sticky PX sherry on the finish too.
Overall: Nick wasn't kidding, this stuff is fantastic. It becomes very much like a dessert sherry on the finish, and I could see it working really well with blue cheese. Maybe a decent Roquefort. I might just have to verify that this evening!
You can buy a bottle for £119.95, and we'll be adding some 3cl samples of it over the next few days!
Mike.