At Master of Malt we love music and we love whisky so we especially love it when music and whisky collide. Regular readers will know about musicians Felipe Schrieberg and Paul Archibald – aka The Rhythm and Booze Project – whose gigs mix music with whisky appreciation. At one point they built a bass drum out of a Scotch whisky cask – that's their level of commitment to rhythm and booze. And now the dynamic duo have released their first whisky via their latest venture, Rhythm & Booze Records (a record label and independent bottler all in one) which has just landed at Master of Malt.
As well as being a top musician, Schrieberg is also a whisky writer of some note having written for Whisky Magazine, Forbes.com, and the Master of Malt blog! He won the 2022 Icons of Whisky Communicator of the Year award, and is also a Keeper of the Quaich no less. Meanwhile Archibald is no slouch as he's done a PhD on the history of jazz drumming. Nice. 
The story of a special sherry cask
But back to the whisky. This first release is a blended malt whisky that spent 13 years in an oloroso sherry cask and has been bottled at 50% ABV. Beyond that, we don't have a lot of information as to its provenance: "we're not even sure if it was a mix of new makes, existing aged malts, or a mix of these. It definitely did spend 13 years in the sherry though," Schrieberg told us. He did think, however, that the malts probably came from the same stable as a very well-known Speyside single malt. Eh-oh!
He continued: "We had tried a few different samples from different casks, searching for something that would fit the music well. This cask was far and away the winner, filling both the brief of being delicious and appropriate for the sound we're bringing". You see this whisky doesn't just have to taste good, it has to fit with the bluesy sound of The Project. As Archibald explained: "We create a pretty gritty, raucous sound, and in our performances we want our audience to be a part of that and enjoy it. We felt that the profile really manages to capture that in alcohol form. It's quite rich and robust, but also surprisingly easy to drink."
You can find out for yourselves if the music fits the whisky because the band has released a new EP to listen to alongside it. Rather than have to head down to Our Price (I'm showing my age now) to buy a record, through the magic of smart telephones you can scan the QR code on the bottle and download the EP. Schrieberg said: "We want each of our releases to be a unique artistic statement for the ears, nose and palate. You won't find these songs on any streaming site for a very long time after we launch this new bottle."
Tasting Rhythm & Booze Records #1: 13 Year Old Single Sherry Butt Blended Malt Whisky 
So the Rhythm and Booze lads think it goes with their music, but how does it taste in the Master of Malt sensory laboratory tested under rigorous scientific conditions?* Pretty damn good, it has to be said. As you might expect, it majors on the sherry with rum and raisin type notes on the nose. The palate is similarly rich with chocolate, toffee and walnuts but there's a salty edge to it that suggests that there might be a peaty element to the blend. It's rich but beautifully balanced – you can see why they went for it immediately. 
It's the first of a series of releases from Rhythm and Booze but they're not just about whisky. The next bottle is going to be a rum. We think it will be well worth tasting. 
Rhythm & Booze Records #1: 13 Year Old Single Sherry Butt Blended Malt Whisky 50cl is available from Master of Malt. Click on the link for prices and to buy.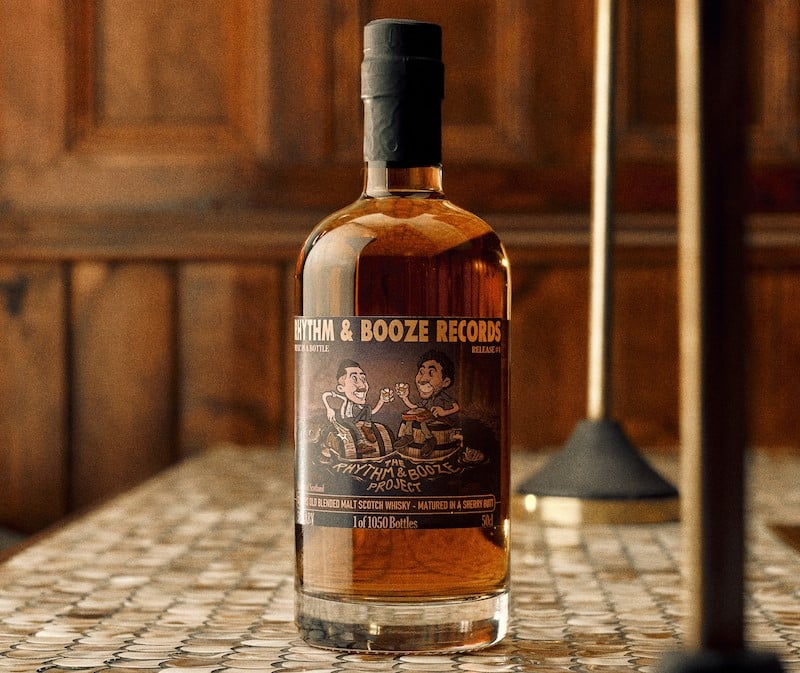 Tasting Note by The Chaps at Master of Malt
Nose: Rich nose with malt extract, molasses, orange peel and dried fruit, some dark cherry too. Sherried malt fans will love this.
Palate: Aromatic and spicy on the palate, black and pink peppercorns, there's a salty element here too – as if there might be something smoky in the blend – with a refreshing edge to it.
Finish: Walnuts, toffee and chocolate on the finish. Very nice.
*Sipped in front of the telly watching repeats of The (American) Office.