What if you could take the best aspects of beer, whiskey, and gin production, and combine them to make one killer category-defying hybrid spirit? London Distillery Company's Matt McGivern and Dylan Bell have done just that – and more besides – through their experimental side project, Rebel Rabbet…
If your average distiller happened upon a 103-year-old Irish whiskey mash bill recipe, he or she might be tempted to resurrect the brand, recreate the spirit to the letter (or thereabouts), and pocket the profits.
When Matt McGivern and Dylan Bell, co-founders of Rebel Rabbet, find such a recipe, they ferment the mash with saison yeast, triple distil it, and play mad scientist with the new make. Then, they release one spirit per month across the coming year until the whole lot's gone.
Then again, they aren't your average distillers. If Dylan Bell sounds familiar, it might be because he works for The London Distillery Company (TLDC) in Bermondsey. Or maybe it's because he's the former drummer of British synth-pop band Years & Years and grunge rock outfit Exit Kid. Maybe.
McGivern, meanwhile, works as head of operations at TLDC. A chemist and distiller, he's also the former product development wizard (regrettably, not his official title) for William Grant & Sons, which, happily enough, is where he met Bell.
"I was working on Monkey Shoulder, and he was in new product development – Tullamore D.E.W. and some crazy Glenfiddich recipes, things like that," Bell recalls. "We decided we wanted to do something really different, and ended up stumbling across the papers of an 18th century immigrant distiller called Rabbet.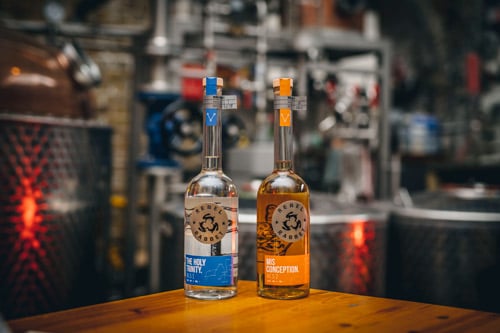 The Rebel rabbet range
"Matt's from Ireland and I'm from Canada, so we love the idea of migration influencing the art of distillation," he continues. "People starting communities and making spirits in different ways." And so Rebel Rabbet was born. Together, they want to create spirits that are "on the fringe of category definitions". Alternative spirits "made from the grain up".
The duo partnered with the folks from local brewery Anspach & Hobday (A&H), located just a few railway arches down from the TLDC distillery. They brewed the ancient mash bill – combining oats, Special B malt, Extra Pale Maris Otter barley and rye – and fermented it with saison yeast for two weeks to create a 9% ABV non-hopped wash.
The distillate forms the base of RES1 and RES2, the first two releases in what Bell and McGivern have dubbed the 'Rebel Exile Series'. By the end of 2019 there will be 13 'Res' in total; each batch containing 50 bottles. When the series is complete, they'll auction the final collection and donate the money to a chosen charity.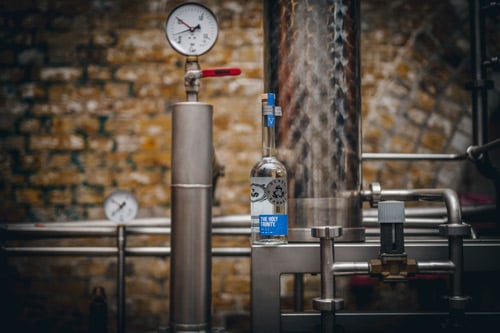 RES1
RES1, also called Holy Trinity, is a fusion of beer, whiskey and gin production techniques that sees the new make rectified with quince, vanilla, pink pepper, cassia bark, coriander seed and liquorice. The concept of RES2, or 'Misconception' as its otherwise known, is even wilder.
"At TLDC we make triple sec, and we age it in a combination of Buffalo Trace bourbon barrels and micro-bourbon casks," explains McGivern. "When you pour the triple sec out, the barrels smell like the best Old Fashioned you've ever had.
"We thought, 'why not take the new make and age it in those?'. So we aged it for two months in the micro-bourbon casks and then finished it in the Buffalo Trace."
RES2
The third and fourth installments are in the ideation stage. RES3 currently goes by the name of Seam Buntory. The recipe? Bourbon distilled with yuzu. Bourbon yuzu.
"At the minute we're trialling it with Jim Beam," says Bell. "If we do it ourselves we'll get some English corn and make it in our own weird way. Yuzu is such a crazy amazing citrus fruit, but it's got quite a bit of viscosity when you put it through a rotary evaporator. It really goes with the toffee note of the bourbon."
RES4, also known as 'Leather', riffs on the classic vodka blueprint. However, the spirit has been rectified with oolong tea, black truffle, prickly pear, "and a little bit of quince", explains McGivern. Why Leather? The liquid smells like a leather jacket.
With seemingly nothing off-limits, I ask McGivern to share his most extreme flavour pipedream. "I would love to go to the north of Italy with a pig to hunt for white truffles," he says, after a moment of contemplation, "distil the white truffles, put the pig in the still and eat the pig afterwards."