An incredible 1.7 million of us headed to Scotch whisky distilleries in 2017 – were you one of the growing numbers of whisky tourists?
Checking out a Scotch whisky distillery in the flesh is the dream of many – and more of us than ever are making a journey to Speyside, Islay, the Highlands and/or beyond. Over 1.7 million people checked into a Scotch distillery in 2016 – that's an impressive 8% year-on-year increase.
Even more excitingly, over half of the 123 distilleries across Scotland now welcome members of the public – a thrilling figure if, like us, stillhouses and maturation warehouses rank as highly as far-flung beaches when it comes to dream holiday destinations.

And many agree – the largest proportion of visitors came from Germany, Scotland and other parts of the UK, closely followed by tourists from Sweden and Norway.
Not only are we all heading to Scotland's distilleries in our droves – we're spending more when we're there, too. Each visitor dropped an average of £31 on tours, tastings, bottle sales and the like – up 13% on 2015's figure – with total spends hitting close to £53 million over the year.
"It's not surprising that more and more tourists are visiting Scotland's distilleries to see how Scotch is made and to meet the people involved," said Karen Betts, pictured, chief executive of the Scotch Whisky Association (SWA), which compiled the stats.
"Each distillery is distinctly of its place. Their histories, stories and modern-day craftsmanship fascinate locals and overseas visitors alike," she added.
Scotch whisky distilleries have now become so popular that they collectively rival the likes of The Royal Albert Hall, St Paul's Cathedral and the Scottish National Gallery when it comes to visitor numbers.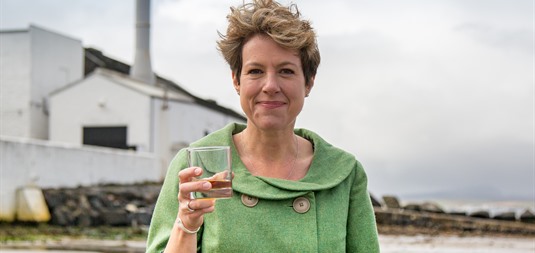 The SWA's Karen Betts
And it's all good news for Scotch whisky itself. The SWA says many distilleries plan to invest in shops and tasting areas to boost the visitor experience, thanks to the visitor influx. The money spent is sure to have a positive impact on the wider distillery production, too.
"It's wonderful to see that Scotch whisky distilleries enjoyed a record number of visits in 2016," said VisitScotland's chief executive, Malcolm Roughead.
"Whisky is one of Scotland's most valuable commodities with people from all over the world coming to our shores to experience an authentic Scottish dram."
Did you visit a Scotch whisky distillery last year? Why did you decide to go, and what was your favourite experience? From intimate warehouse tastings to incredible distillery views, let us know your top visit tips in the comments below.