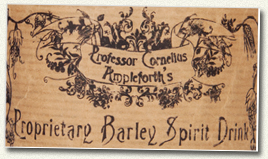 Created by the "madcap" Professor Cornelius Ampleforth, the romantically- and SWA-appeasingly-named Proprietary Barley Spirit Drink combines the Professor's signature love for infusin' and mixin' with his passion for whisky and the ways and techniques of yore. Yes, yore.
For this thrilling instalment, Ampleforth turned to Spain, and to the mountainous countryside that surrounds Pajarate. It was here that Paxarette was born; a dark, syrupy liquid made by boiling down grape juice and fortified wine. In the past, the Scotch whisky industry made use of Paxarette to season casks, simply by pouring this rich flavouring into the wood, to help impart a fuller, richer sherry character into the whisky that was aged in them.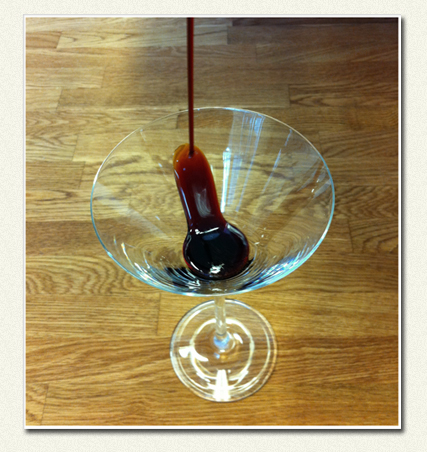 The Professor's Paxarette: Black Gold
The ancient practice is decidedly cheeky, but it is on that fine line between mischief and genius that Professor Cornelius Ampleforth loves to tread. Basing his next concoction on this old fashioned style of Paxarette-flavoured whisky, he started with the very finest 10 year old cask strength single malt whisky from Speyside (aged exclusively in the very best sherry casks – devoid of Paxarette of course). He then made his own version of Paxarette by reducing deliciously creamy Pedro Ximenez sherry and he began using it to "season" the whisky.
He found that adding a little of this sherry reduction to the whisky made it rather interesting. He then found out that if he tipped in "a whole mess" of boiled down sherry, it stopped tasting like whisky, and started tasting really, really sweet and creamy. The Professor ended up creating a new hybrid super-drink, taking the spicy, malty wholesomeness of malt whisky, and adding in the creamy thickness of Pedro Ximenez sherry.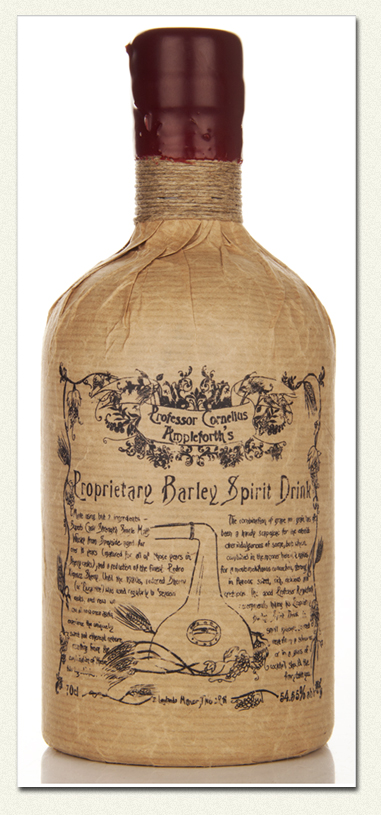 Proprietary Barley Spirit Drink
Nose: Immense sherry tones on the nose, coupled with juicy, sticky prunes and muscovado sugar. Hints of nutmeg, flour and toffee brittle, with astoundingly creamy notes of Christmas Pudding, laden with brandy butter.
Palate: Sweet, creamy and incredibly juicy. Those Christmas Pudding flavours are so evocative. The palate is chewy and thick, coasting the tongue with oily toffee and molasses. Cinnamon, dates and golden syrup.
Finish: Spicy and warming, notes of sweet espresso coffee and dessert sherry. Suggestions of rose petal jelly, allspice and baklava.
– The Chaps at Master of Malt –