As The Balvenie introduces peaty pair Peat Week and Peated Triple cask, we catch up with Sam Simmons, the distillery's global brand ambassador, to dig down into the developments…
Reel off classic Speyside distilleries and William Grant & Sons' Balvenie will be near the top of the list. Honeyed with a gamut of stewed fruit and toffee, the brand's single malts embody the classic Scotch region, the signature profile even shining through the [many] experimental, delicious cask finishes often employed. So imagine our excitement when we learned not one but two peated* Balvenie expressions were set to join the line-up – this was going to be The Balvenie as we'd never tasted it before.
And behold! Just days later we were treated to some samples: Balvenie Peat Week Aged 14 Years (2002 Vintage) and Balvenie Peated Triple Cask Aged 14 Years were in the building in a particularly shiny press pack. Peat Week, matured in 100% American oak casks, will roll out next month (the lucky few are officially the US, UK, Denmark and Sweden), while Peated Triple Cask (first-fill ex-bourbon, refill ex-bourbon and ex-sherry) debuted in travel retail earlier this summer. Both expressions are non-chill filtered and bottled at 48.3% – so far, so intriguing. Both are billed as the results of "experiments" by David Stewart MBE, Balvenie malt master, and Ian Millar, William Grant's prestige whiskies specialist (and formerly Glenfiddich and Balvenie distillery manager). And after tasting the new liquid (read on for our verdict) we had questions. Lots of questions. It was time to get someone from the distillery on the blower.

Peated Balvenie: NOT a new phenomenon
"We've always still used peat through the years," says Sam Simmons, Balvenie's global brand ambassador and all-round whisky expert (he also holds a PhD, so technically it's Dr. Sam). This makes sense – up until the mid-20th century it was standard practice for most distilleries to peat their malt. After all, it was the fuel most readily available – just dig it up from the ground. And let's not forget – The Balvenie still operates its own malting floor. "Even if you go back to regular Balvenie now, if you go back to the Single Barrel 12 Year Old, there's 3 parts-per-million (PPM) peat in that."
This is a riveting revelation. Even today there is some peat in every Balvenie – "it comes across like an umami-type; you don't detect it but it's like salt, it just adds something," Simmons says – and that 'seasoning' comes from a mixed anthracite/peat fuel source. So how do the Peat Week and Peated Triple Cask expressions differ, and why should we be so enthusiastic about them?
First up, both Peat Week and Triple Cask are entirely made from barley peated to 30 PPM, and from liquid produced during (you've guessed it) one week each year. If you're not a peat fan and that number seems alarmingly high, fret not – the whiskies emerge from the cask at around 5 PPM.
"We started making this peated spirit at the distillery as a decision between David Stewart and Ian Millar in a time when it was not really a boom period in whisky at all," Simmons explains. "So it was a way to innovate."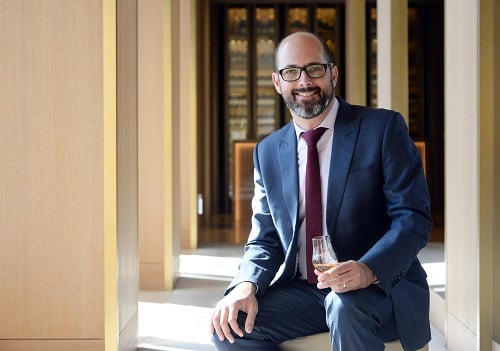 The Balvenie's Sam Simmons
Digging a bit further, it transpires that the peated Balvenie liquid was never really intended for single malt consumption at all. Scotch fans will have noticed a recent uptick in peated expressions from distilleries with decidedly non-smoky signature expressions (recall Macallan Rare Cask Black, Glenrothes Peated Cask Reserve and The Glenturret Peated Edition, among others). And the reason isn't all that romantic.
"One of the things that I love about whisky is that it is interdependent," Simmons explains. "I mean, of course the brands and the sales people on the front line are competing and trying to get more sales than the other. But the closer you get to the process, everyone at the distillery all helps each other." So if there's a problem at Laphroaig, the team from Ardbeg will come down the road to offer reinforcements, he illustrates.
"As companies, we know the things that each other know. We know we're dependent on trading spirit, we know what we need. And I guess about 15 years ago and even further, even in the '90s, most of us were really pulling back on production." There was less confidence in the future, he says. With sales down, no-one really knew what was going to happen.
"One way to protect your own interests in case the big boys – and I won't name them – increasingly held on to their spirit and didn't trade anymore, if suddenly it was going to be hard to get Caol Ila, it made sense to be able to have your own peaty spirit." So that's exactly what The Balvenie, and other independent distilleries, started to do. "We started to say it might be future-safe to just make sure we have a bit of peaty spirit in case things dry up from the bigger companies."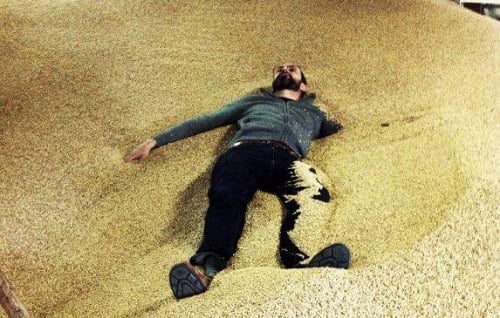 Simmons gets acquainted with the barley
Not all peat is created equal…
But destiny ruled that the peated Balvenie liquid would stretch further than for blends alone – and here we are with a pair of undeniably peated Balvenie expressions. When you taste them (we will get on to that) they are remarkably distinct from the characteristic metallic, iodine-led peat of Islay single malts. What's going on here?
"I'm a whisky geek," he states. "I've been to Islay, I still go to Islay. When we're up at Balvenie, we have peat, we use peat with every kilning, not to the same level for Peat Week, but there's always peat up at the distillery. And I noticed how different it looked [from the peat on Islay]. It looked like poop. It was much darker, much heavier." When he was next over on the island he made a point to check out the stacks over at Laphroaig.
"There was a huge difference. We burned some, and it totally smelled different. One of the reasons why is the source of peat, the roots in the peat, the fibres in the peat. They impart different flavours. So at some point if the land was completely submerged by sea [as on Islay] you're going to get more iodine notes, there's going to be more kelp, it's going to be grassy, it's going to be different. Whereas where there was tree and bark [see: Speyside] it's going to be sweeter and woodier."
And does this play out in the liquid? I hear you cry. Well, yes! The peated Balvenie duo is more akin to its single malt siblings than the pair's distantly-related Hebridean cousins. We started with Triple Cask, seeing as those lucky travel retailers got their mitts on it first…
The peated Balvenie duo
Tasting note for Balvenie Peated Triple Cask Aged 14 Years
Nose: Loads of stewed red and dark fruits, and a savoury kind of smoke, which is relatively prominent.
Palate: Here the peat really shines through, although it still remains gentle. Then dessert-like stewed fruit notes come through (very Balvenie) and then vanilla pods and cinnamon.
Finish: Long and spicy, with a lovely lingering smoke.
Tasting note for Balvenie Peat Week Aged 14 Years (2002 Vintage)
Nose: Classic Balvenie stewed fruits with a healthy serving of marzipan and honey. A lighter, more vegetal peat comes through much further back and with more subtlety.
Palate: Loads of citrus notes and vanilla with a honeyed warmth. Again, the peat smoke drifts across later on, and it has an almost floral vibe.
Finish: Surprisingly gentle, no less delicious.
The verdict? Peated Balvenie works well – no spoiler alert as there's no way a distillery of its calibre would release sub-par spirit. However – if you're a peat freak who adores roadworks and iodine, you might be a tad disappointed. We rate the thorough integration of the peat smoke with the traditional Balvenie character in both expressions, even though they are very different.
Triple Cask showcases the smoke much more. Perhaps it's the sherry cask influence generally ramping up the all-round punchiness, but we like it. Robust, round and well-made. The peat comes through up-front, but not to the detriment of the distillery character.
Peat Week plays its cards closer to its chest. While the smokiness is certainly there, you have to seek it out a little bit more. It's a whisky that makes you work harder to appreciate it's delights. Balvenie + peat + classic American cask = exceptionally well-integrated smoke. It's a recipe that works, and that Balvenie fans will find interesting, while those without the peat-loving gene will also appreciate. A duo absolutely worth tasting.
*What is peated whisky? When making whisky, barley kernels are allowed to start germinating to release sugars, but the reaction must be stopped before these vital sugars are wasted making a plant grow! Germination is halted using heat in a kiln, with the heat coming from either a 'clean' fuel or by burning peat. Compressed material from usually boggy ground, the peat gives the barley – and subsequent whisky – that distinct smoky, earthy flavour. All makes sense when you know!