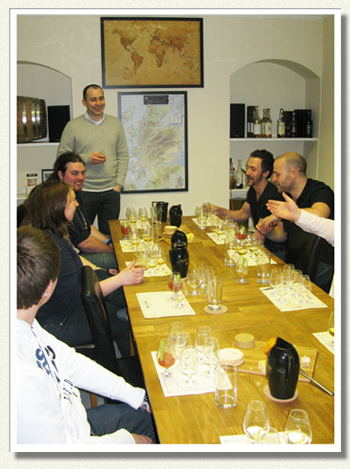 We ran our first official in-house whisky tasting last Thursday and all-in-all it was a rip-roaring success!
The tasting, led by Darren Rook – our tastings manager – was all about the Scotch regions, and the extraordinary variation there is in whisky from different parts of Scotland. Beginning with the lightest/gentlest whisky first, we journeyed (figuratively) to the Lowlands, with a single cask 19 year old Rosebank no less!
This was followed by the lower strength version of our single cask Tomatin 19 year old (Stephen Fry's favourite whisky!), which offered up a fantastic array of barley, zest and malty sweetness.
Next was a charming Speysider: a 1987 BenRiach, bottled by Gordon and MacPhail. The refill American hoggie maturation resulted in a spicy, biscuity dram with oodles of creamy vanilla on the palate.
Springbank CV represented Campbeltown, treating us with its oily, coastal notes, hints of almond, citrus, salt and oak.
Our final dram of the night was from Islay, and if there's one whisky that sums up the incredible island, for us it has to Ardbeg Uigeadail. A huge, smoky, sherried malt with about as much complexity as you'll experience in any spirit.
To prove the resilience and durability of this fine whisky, Darren even paired it with some British cheese including an aged Red Leicester, Keens Cheddar and a hearty Stilton.
We were feeling pretty adventurous after all this, so we even concocted an Ardbeg Bloody Mary to finish off!
Overall, a resounding success, and we've already planned our next couple of tastings…
On Thursday 7th April we'll be hosting a Lost Distilleries tasting, and on Thusrday 5th May there'll be an "Extreme Islay" tasting. Both will be held at our Tunbridge Wells town centre offices, and both are just £25 a ticket!
– The Chaps at Master of Malt –