As The Dead Rabbit nears its fifth anniversary, the New York bar – home to the largest collection of Irish whiskey in North America – is making room for a rather special bottle of its own: The Dead Rabbit Irish Whiskey.
If you're partial to a cocktail or two, you'll no doubt be familiar with the multi-award-winning Manhattan bar – if not for its numerous 'World's Best Bar' accolades, then likely for its frankly outrageous Irish Coffee.
Which makes it all the more exciting that co-founders Sean Muldoon and Jack McGarry have partnered with Darryl McNally, master distiller at The Dublin Liberties Distillery, to release their own blended Irish whiskey.
The Dead Rabbit Grocery & Grog in New York City
The Dead Rabbit Irish Whiskey contains a combination of single malt and grain whiskeys that have been aged in ex-bourbon barrels for five years before enjoying a finishing period in "half-sized" virgin American oak barrels.
Flavour-wise, the whiskey is said to be "light and aromatic, with toasted oak notes and a hint of caramel" on the nose, "deep, rich and mellow" on the palate, with "a long soft hint of vanilla" on the finish, all rounded off with "a bit of Dead Rabbit attitude". They reckon it's best served on the rocks or as a base for cocktails – especially Irish Coffee.
"It's only appropriate that this whiskey makes its entry to the market as Sean and Jack celebrate their bar's five year anniversary," McNally said in a statement. "It's been an absolute pleasure working with Sean and Jack on the development of this liquid, we couldn't be happier with the end result."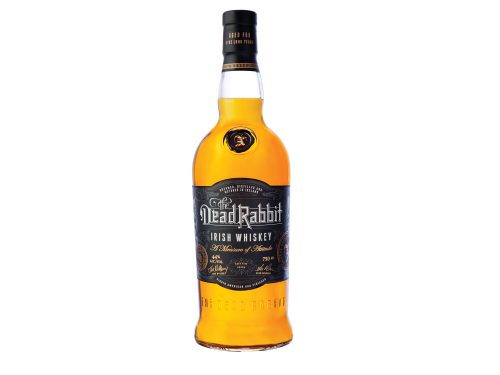 The Dead Rabbit Irish Whiskey
The bottle is pretty cool, too. The upside-down dead rabbit seal (on the right of the label) is a nod to the bar's notorious namesake; an Irish street gang that dominated the streets New York City in the mid to late 1800s. The fearsome crew was headed up by bare-knuckle boxer John Morrissey, who went on to become a Democratic congressman and senator.
"We can't wait to share it with you all," Muldoon and McGarry said of their new creation, adding that they're "endlessly fascinated" by the Irish whiskey category.
Bottled at 44% abv, The Dead Rabbit Irish Whiskey will debut at the bars fifth anniversary party on 12 February before its rolled out in "key markets" worldwide from April. Watch this space!