Italy meets Scotland for our New Arrivals this week as Tomatin releases its Italian Collection, a series of three single malt Scotch whiskies finished in Italian wine casks, a Marsala finish, a Barolo finish, and an Amarone finish. And we had a little taste! First a little bit of information on Tomatin distillery.
The Tomatin story
Tomatin distillery was founded in 1897 near the village of the same name in the Highlands, just south of Inverness. It takes its water from the nearby Allt-na-Frithe burn. Despite being closed at the beginning of the 20th century, Tomatin went on to become one of the biggest single malt Scotch whisky distilleries in Scotland. Its owners began a process of expansion so that by 1974 the distillery had no less than 23 stills producing around 12 million litres of spirit a year!
Previously owned by Tomatin Distillers Company, in 1986 Tomatin became the first Scotch whisky distillery to be bought by a Japanese company: Takara Shuzo and Okara. As you can imagine this raised a few eyebrows at the time. Following the acquisition of Okara's interests by Takara Shuzo and a subsequent amalgamation, Tomatin is now under the ownership of The Marubeni group.
Though still a giant, Tomatin now has just 12 operational stills producing around five million litres of whisky per year. Most of the spirit here is unpeated though some peated is produced under the Cù Bòcan range. Most of the ageing takes place in ex-bourbon casks in one the distillery's 14 on-site warehouses though it does use more exotic woods like Andean oak and, of course, Italian wine casks.
Introducing the Tomatin Italian collection
Scott Adamson, blender and global brand ambassador at Tomatin Distillery, commented on the launch:
"The Italian Collection combines the rich tapestry of Italian wine culture with our elegant Highland single malt whisky. Italy has a historic, unrivalled passion for single malt Scotch whisky, so this latest trio of releases, is a tribute to that long standing relationship with a unique take on our traditional Highland malt. We wanted to capture the essence of Italian wine, its history, nature, landscape and traditions and weave it into our whisky, all embodied within a single glass. Each expression in this collection is a testament to the seamless blending of these two worlds, offering a truly exceptional tasting experience for whisky lovers."
Each whisky was distilled in 2010 and spent 10 years in bourbon casks followed by a two year finishing period in Italian wine-seasoned barrels. They were all bottled at 46% ABV.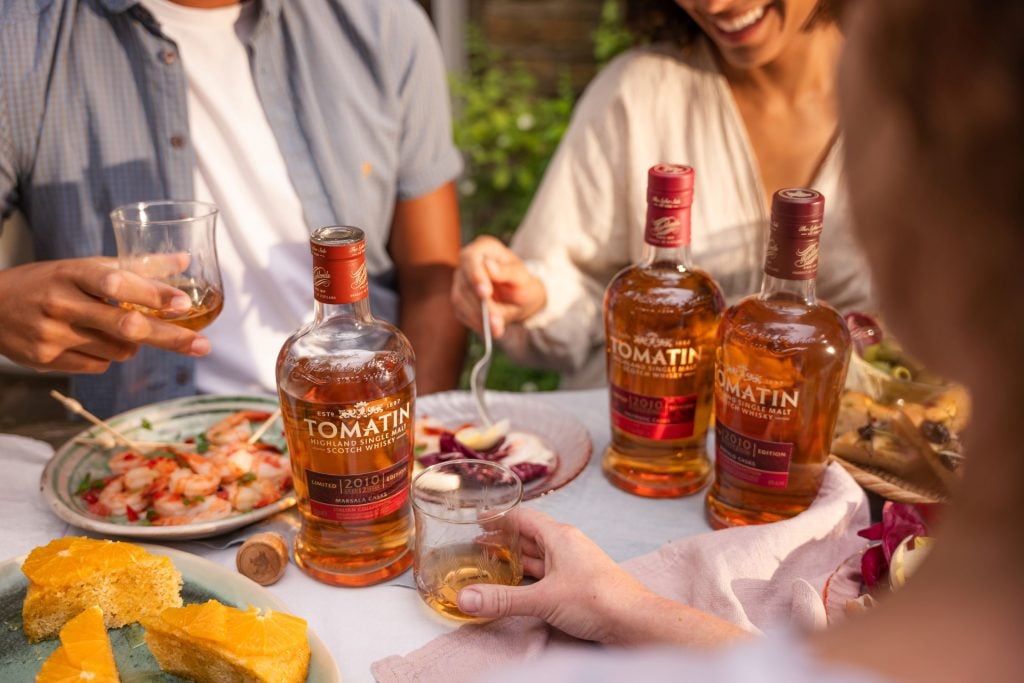 What is Marsala?
Marsala is a fortified wine from Sicily that has been made since the 18th century and was once immensely popular in England. The most commonly seen examples are sweet, though some dry wines known as vergine as also made. The grapes used include grillo, catarratto and inzolia. Typically Marsala has flavours of toffee, almonds, and orange peel.
Tasting note from the Chaps at Master of Malt
Nose: Lots of warming spices like ginger with honeycomb, toffee, touch of tobacco here too and orangey fruit.
Palate: Orange peel, peppery spicy, toffee and subtle flavours of almond and orange peel.
Finish: Citrus note lingers with roasted oak notes. 
What is Barolo?
Barolo is one of Italy's most prestigious wines. It's made entirely from nebbiolo grapes grown in a demarcated area of Piedmont in the north of the country. This grape produces pale but tannic wines with haunting aromas of strawberry, rose petal and tar. The best examples can age for decades and indeed need time for those fierce tannins to soften.
Tasting note from the Chaps at Master of Malt
Nose: Fragrantly aromatic with notes of marzipan and chocolate.
Palate: Red fruit like cherries and cranberries with baking spices and orange.
Finish: Sweet and subtly nutty.
What is Amarone?
Amarone is made in the Valpolicella region around Venice in Northern Italy. The grapes used, mainly corvina, corvinone, rondinella, are harvested very ripe and then dried in wooden racks so that they shrivel and raisin which concentrates the sugars. This is not dissimilar to how PX sherry is made except Amarone is fermented out, in a process that takes months, so that no sugar remains. The result is something utterly unique, a strong dry red wine with flavours of dried fruit, balsamic spicy notes and nuts. 
Tasting note from the Chaps at Master of Malt
Nose: Orchard fruit mixed with dried fruits, orange peel and marzipan.
Palate: Sweet tawny Port-like notes, red cherries, toffee and cinnamon.
Finish: Lingering baking spices, raisin and caramel. 
Tomatin Italian collection is available to pre-order from Master of Malt. Click on links above for prices and to buy.