One of our favourite things to do in the New Arrival slot is to shine a spotlight on a lesser known single malt distillery. This week it's a special bottling of Miltonduff 12 Year Old courtesy of Signatory.
Despite its proximity to the city of Elgin, Miltonduff remains a pretty much unknown distillery. It produces a lot of whisky, around 5.5 million litres of pure alcohol per year, most of which is destined for Ballantine's various blends. In fact, parent company Chivas Bros doesn't release any official single malt bottlings.
So, it's left to independents to fly the flag for Miltonduff as a single malt. In this case, we owe our New Arrival to Signatory, an independent firm founded by brothers Andrew and Brian Symington in 1988 (Brian left in 1998). Signatory is now one of the largest independent whisky bottlers, and in 2002 went into the distilling business with the purchase of Edradour Distillery (at the time it was the smallest distillery in Scotland, though smaller ones have come along since). The company has its own bonded warehouse. All the actual bottling is done in-house with no colouring or chill-filtering. 
The history of Miltonduff distillery
Before we dive into this particular bottling, let's take a closer look at Miltonduff. The current legal distillery was founded in 1824 by Robert Bain and Andrew Pearey but it's named after an older illicit operation known as Milton. The suffix was added for the Duff family, who owned the land. It takes its water from the Black Burn. The Ballantine connection dates back to 1936 when Miltonduff was acquired by Hiram Walker, which had bought George Ballantine and Son the previous year. The firm needed good quality malt whisky for its rapidly growing blends. 
In 1964, two Lomond stills were installed which produced a single malt that was bottled as Mosstowie. The stills were removed in 1981 meaning that these bottles are now extremely rare and expensive. In 1987, Miltonduff passed into the hands of Allied Lyons which was then swallowed up by Pernod Ricard, owners of Chivas Bros, in 2005.
As befits a workhorse distillery, there is no visitor centre. The current set-up consists of three onion-shaped 15,000 litre spirits stills and three 22,000 litre wash stills supplied by 16 washbacks. That's how things stand at the moment. In April, Pernod Ricard announced it would be spending £88m expanding capacity at Aberlour and Miltonduff. In the latter case, building a brand new distillery to sit alongside the current one at Miltonduff, adding 10 million litres to the capacity to fulfil demand for blends. Bottles of pre-expansion Miltonduff could potentially, therefore, become quite collectable. 
Miltonduff 12 Year Old 2009 
Most of the current output goes in bourbon casks like our New Arrival of the Week. It comes from a pair of American oak barrels, casks 701735 and 701742, to be precise. The whisky was matured from November 2009 until January 2022 when it was bottled at 46% ABV with no chill-filtering. It's a deliciously fruity single malt that is very reasonably priced for a 12 year old Speyside single malt. Perhaps only Glen Moray offers better value for money but with Miltonduff you're getting that added rarity which we know our customers love. How many of you have tried Miltonduff?
Miltonduff 12 Year Old 2009 (Signatory) is available from Master of Malt. Click here to buy. Stock is very limited so this is likely to sell out quickly.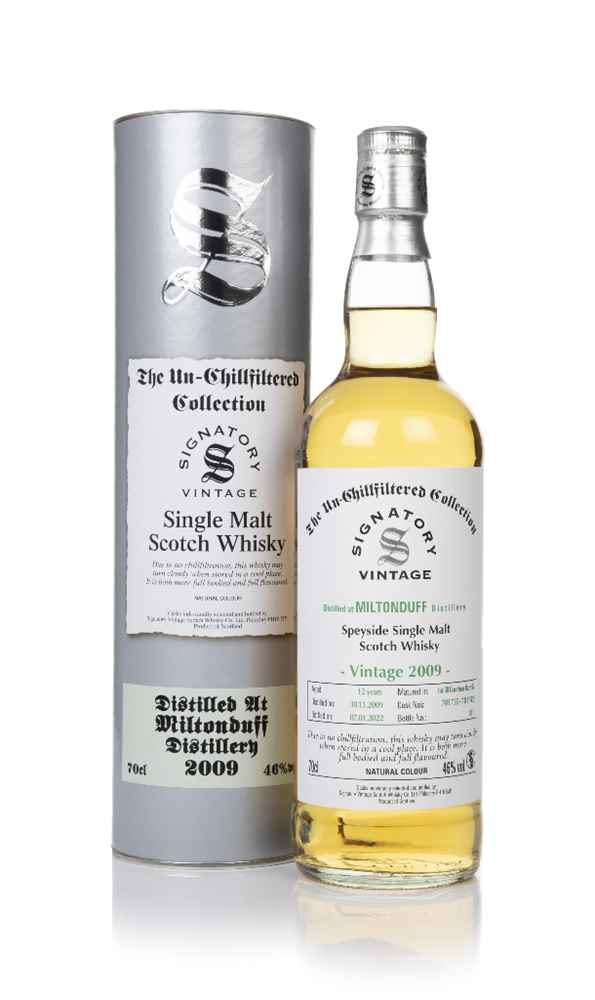 Tasting Note by The Chaps at Master of Malt
Nose: Chocolate chip muffins, a touch of zesty marmalade, creamy vanilla, spiced apple, buttery malt.
Palate: Creamy vanilla fudge balances a prickle of candied ginger, softer notes of malted milk biscuits and lemon curd.
Finish: Green apple, soft pear, and sweet, soft caramel with gentle hints of cinnamon and mellow oak.