For those who like their whisky on full side we have a great New Arrival this week. It's from Loch Lomond distillery and utilises some heavily-charred American oak in the ageing process to create a whisky that is laden with sweetness and fire. Introducing Loch Lomond Steam & Fire.
Loch Lomond – a Scotch whisky distillery like no other
Loch Lomond, located in the Highlands just north of Glasgow, is a whisky distillery like no other. Unlike most single malt producers it has a Coffey still in-house so it can make its own grain whisky. Single malt production is a little unusual too as master blender Michael Henry has two sets of pot stills to play around with. Here he explains how they work:
"We have two shapes of stills: a set of traditional swan neck stills like you'd see in other distilleries, and then we have three sets of straight neck pot stills that are unique to us. The straight neck pot stills, we can run those in two ways. The first is we can take a very tight cut on the spirit run and collect the new make spirit at 85% strength. And the second is to take a wider cut on the spirit run and collect about 65% strength." 
The straight neck stills produce a lighter, fruitier kind of spirit at a low and high strength, whereas the traditional swan neck still makes a weightier more traditional Highland style. But the diversity doesn't end there. Loch Lomond uses different levels of peating: unpeated, medium, and heavily-peated. It must be quite a job keeping track of all those types of spirit. Regardless of the type of malt used, fermentation times are long, 92 hours, to create all kinds of fruity flavours which are accentuated during the distillation process.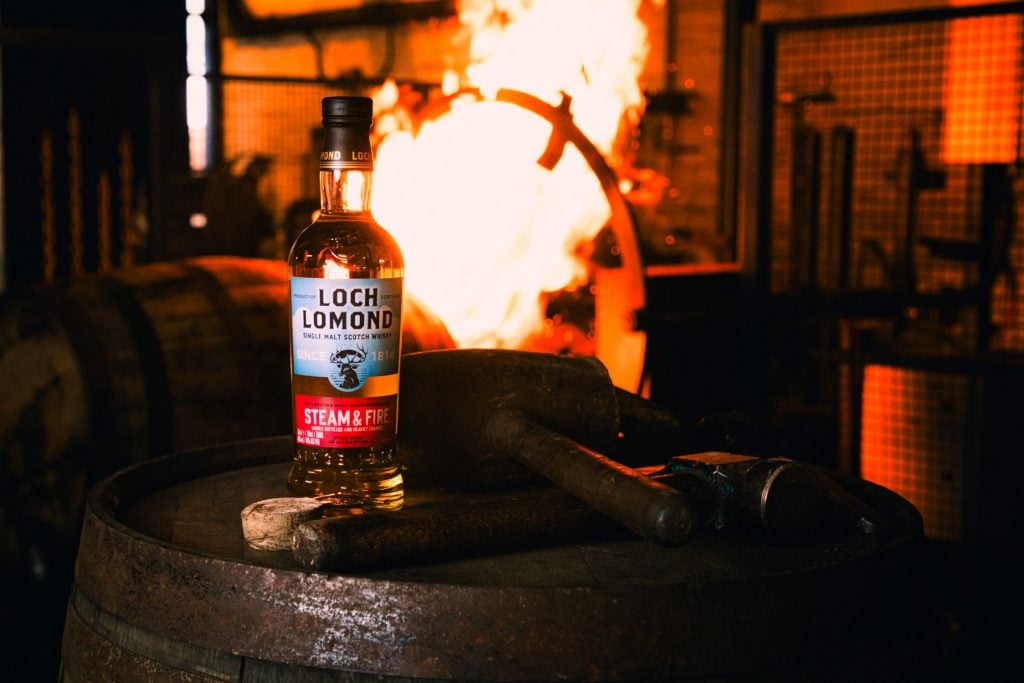 Introducing Loch Lomond Steam & Fire
With Loch Lomond Steam & Fire, Henry makes full use of this unusual distillation set-up. It's made up of spirits from the swan neck and unique straight neck stills with unpeated malt, and a small peated malt component from just the swan neck still. But the fun doesn't end there because the ageing process is quite unique too. Initially the whisky that will become Loch Lomond Steam & Fire is aged in first-fill bourbon barrels and refill American oak casks in the classic Loch Lomond house style, but then it's treated to a 9-10 month finishing period in first-fill heavily re-charred American oak barrels – sourced from the distillery's own cooperage. This gives Steam & Fire its distinct sweet and fiery flavour profile. 
Henry elaborated on the process:  "Fire is a powerful element which has a distinctive impact on the flavour whisky takes from the oak. It is key in breaking down the surface of the oak releasing the flavours locked within, with the temperature of the flame and length of charring time critical in determining the flavours imparted."
It's a NAS (no age statement) release bottled at 46% ABV. This is one that took a little time to come around in the glass but when it did, pow! The nose is so sweet tempered by a little smoke, and on the palate that trademark Loch Lomond fruitiness comes in but still with those toffee and chocolate notes to the fore. It's very nice neat but those sweet, smooth flavours mean that it's also a cracking whisky for mixing. Try it in an Old Fashioned with chocolate or orange bitters – or both for the full Terry's Chocolate Orange experience.
Loch Lomond Steam & Fire single malt is available from Master of Malt. Click on links for price and to buy.
Tasting notes from The Chaps at Master of Malt
Nose: Really sweet smelling, honey, toffee, orange liqueur, even some jam roly poly in there, and a little smoke.
Palate: Sweet and creamy with muscovado sugar, marmalade, and chilli jam.
Finish: Dark chocolate comes through with fudge and lingering wood smoke.