Our New Arrival this week is a rare Cognac that not only comes from a single vintage but a single vineyard too. It's Hine Single Estate Bonneuil 2012!
Traditionally, most Cognac producers have prioritised consistency— not vintage variations—in their products. Most Cognacs are blends of years sold in a consistent house style under designations such as VS (Very Special, minimum two years ageing), VSOP (Very Superior Old Pale, minimum four years) or XO (extra old, minimum 10 years.) 
The terroir of Cognac
What doesn't come across in commercial Cognac is the sheer diversity of terroir there is in the region from the crumbly chalk of Grand Champagne to the sandy soil of Bois Ordinaries. But Cognac is rarely named after a specific vineyard or area. As Per Even Allaire, the Hine sales manager, puts it, "soil is forgotten about in Cognac."
Part of the reason for this is that very few Cognac producers control the whole process from vine to bottle. The Big Four, Courvoisier, Hennessy, Martell and Remy Martin, are predominantly negociants: they buy spirits and then age, blend and market them. According to the late Cognac expert, Nicholas Faith, their own vineyards "account for an insignificant percentage of their requirements." 
Hine is different
Hine, however, is a little different. It owns enough vineyards to provide for 30% of its production. According to Even Allaire, "the raw material is the essence of what we do." And in 2014, they decided to branch out even further: they released a Cognac not only from a single year, but from a single vineyard, Bonneuil in Grand Champagne, a terroir that Even Allaire describes as "absolutely magnificent." 
The wine from this vineyard is distilled at the nearby Distillery St. Denis. Hine makes the brandy in small batches so they can preserve more of the character from the wine. "It's bespoke, there is no standard recipe," Even Allaire told me. He described how the distiller, M. Espinard, worked by sight and smell rather than computer. As with most Cognac, Bonneuil is made with 100% Ugni Blanc grapes. 
A Cognac for wine lovers
The first vintage was 2005 and there have been four releases since then 2006, 2008, 2010 and now 2012 which has just landed at Master of Malt. It's aged in French oak casks for ten years before bottling. Only 12 casks were selected for the blend. The idea is to accentuate the flavour of the vintage and the vineyard so the oak never overpowers the fruit. I was fortunate enough to visit Hine a few years ago and we had lunch in the vines, with salmon ceviche washed down with Hine Bonneuil 2006, which was indeed "absolutely magnificent." You can taste why sommeliers have really taken to Bonneuil. The packaging too is aimed at the wine drinker with none of the bling you sometimes see in Cognac. 
I've had a few vintages of Bonneuil and they can be very different. For example, the 2006 was lean and grassy with a strong lemony citrus edge, perfect with salmon ceviche. In contrast, the accent on the 2021 is on fresh apricots with the oak bringing subtle cinnamon and vanilla notes and a creamy texture. It's the sort of Cognac that would make a delightful aperitif or palate freshener and would also work beautifully in a simple long drink with soda water. If you think Cognac should be all about richness and oak, then this will change your mind.
Hine Single Estate Bonneuil 2012  is available from Master of Malt. Click link to buy.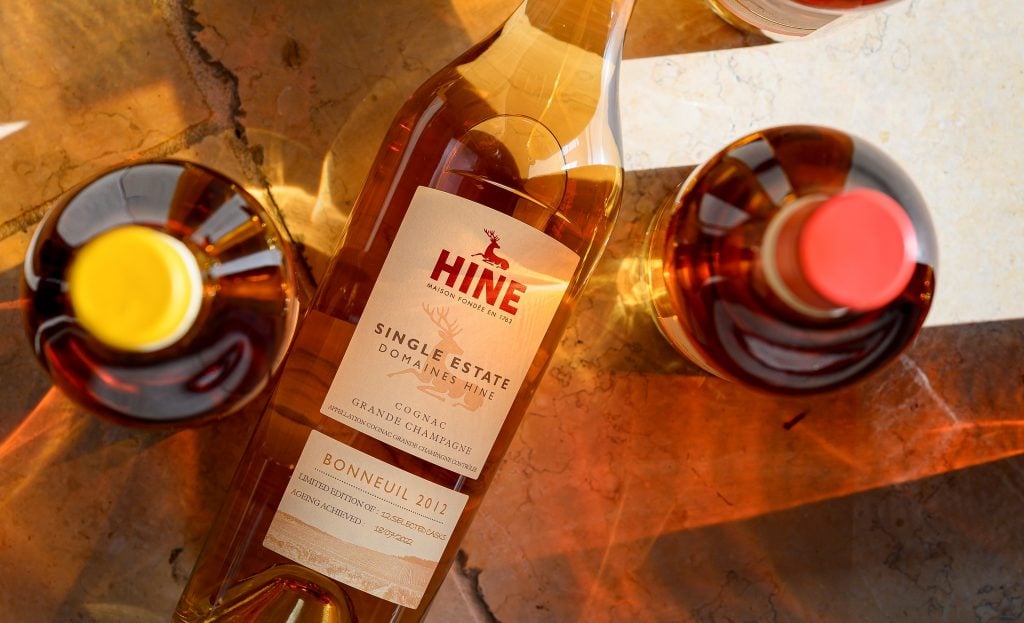 Tasting note for Hine Single Estate Bonneuil 2012  
Nose: Smells so fresh with stone fruit, floral notes and a touch of vanilla.
Palate: More of the same on the palate, apricots, sweet baking spice, touch of vanilla. Creamy texture.
Finish: Lingering fruit and a creamy texture.
Overall: Lovely, fresh, pure style. I've had a few vintages of this and this is one of the best.