There's never been a cask strength Highland Park in the core range… until now. As a load of 63.3% ABV Orkney single malt arrives at MoM towers, we caught up with brand ambassador Martin Markvardsen to find out more.
Martin Markvardsen has had an interesting journey into whisky. He was in the Danish Navy when he was bitten by the whisky bug and decided that he had to move to Scotland to learn more: "The only way I could learn more about whisky was actually to take some time off from the navy and then I went over to Scotland to work at different distilleries." He eventually left the navy, managed World of Whiskies in Copenhagen Airport and then took over the whisky bar at the legendary The Craigellachie Hotel up in Speyside.  By this time he was already a massive Highland Park fan: "When I was working at Craigellachie Hotel, it was probably the only bar in Scotland that had the same 'malt of the month' for four or five months because that was the Highland Park 18 and I loved it!"
Someone at the Edrington Group noticed Markvardsen's enthusiasm and 15 years ago he became a brand ambassador for Highland Park. It makes perfect sense for a Dane to get the job because the Orkney Islands, the home of Highland Park, have such a strong Nordic culture, as he explained: "I think it was very easy for me to fit into the role about being the face of Highland Park, being a Dane, and having the natural Viking soul as we talk about at Highland Park. But also I think it was probably easier for me to understand the culture in Orkney than most other people." 
The distillery is firmly rooted in the islands' culture and landscape as Markvardsen explained: "We are one of the last remaining distilleries in Scotland still to do the floor malting. The climate up there when we do the maltings, the humidity and these kinds of things have an effect on the barley. The Orkney peat from Hobbister, where we get our peat from, is nowhere else to be found in Scotland at the same quality and the same content in the peat. We tried many, many years ago to use peat from the mainland but it didn't really work for us. It changed the flavour in the whisky." 
The climate also affects the maturation of the whisky according to Markvardsen: "When you look at the climate on Orkney compared to the rest of Scotland, we never have very, very low temperatures, like frost or snow but we definitely don't have warm summers either, like they can have in Speyside and so on. That makes a difference in the maturation as well, very slow and very paced maturation."
Then we came on to the reason for our phone call, the new cask strength expression: "It's something we wanted to do for a long time and we had a few cask strengths on the market in the past but we've never had cask strength in our core range," Markvardsen explained. "The strength might change from batch to batch but the first batch that will come out now is 63.3% ABV and it's an absolute cracker. It's a non-aged statement but if you know the spirits of Gordon Motion, our master whisky maker, we know that it's not a young whisky, it's full flavour. I'm actually sitting here with a sample in front of me and it's amazing how it develops after a few minutes in the glass".
It's aged predominately in American oak, a mixture of sherry and refill casks. Markvardsen told us: "It's extremely easy to drink and even at full strength, which I'm probably not allowed to say, it's extremely gentle to the palate and I would say the American oak sherry casks that we've used here will give it this fruitiness and smoothness that that Highland Park is known for. It's definitely not a heavy sherry product."
Talking to Markvardsen, you can see why Highland Park snapped him up, his enthusiasm is infectious. He finished up by saying what he loves most about this new cask strength bottling: "Here we can give people a choice to enjoy the whisky exactly the way they want. If they want to have a huge kick with the high alcohol, we will let them do that. And for a lot of people that never made it to Orkney, this is the closest they can get to come in and take a sample from the cask." A whisky that transports, just what we need in these peculiar times.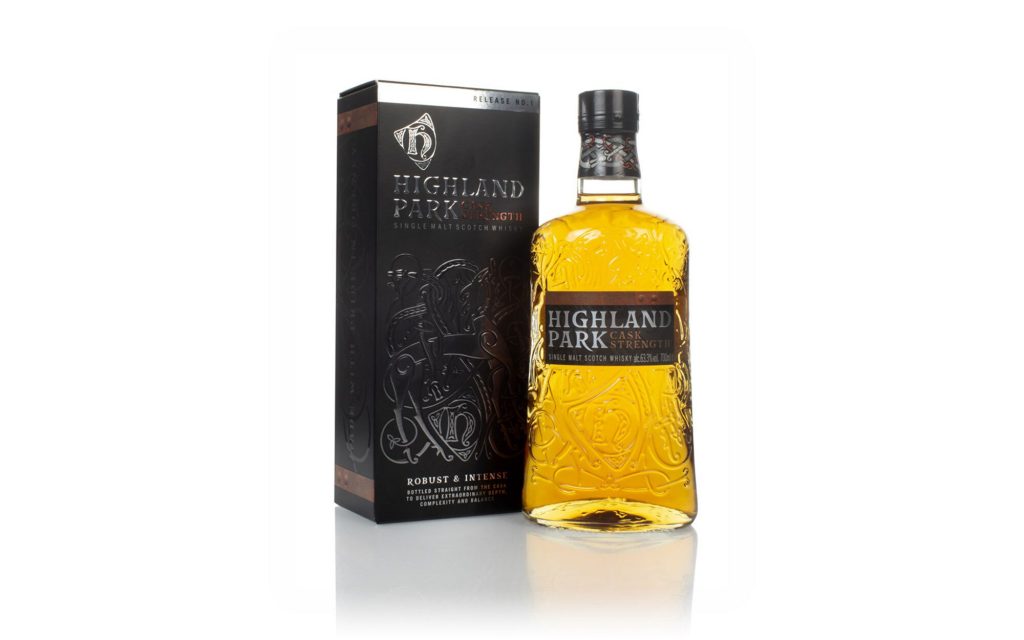 Tasting Note by The Chaps at Master of Malt:
Nose: Wafts of sweet peat and brown sugar simmering in a pan, with jammy sultana and buttered crumpet in the background.
Palate: Ginger, nutmeg, heather honey, apricot and orange oil. Continued smoke builds, introducing earthy spices later on.
Finish: Warming peppery notes and a lingering hint of caramelised nuts.
Highland Park Cask Strength is available from Master of Malt.