Hibiki's latest limited-edition release Japanese whisky, Hibiki Blossom Harmony 2022, is a testament to symbolism, sakura, celebration, and expert blending of course. We had the opportunity to try some ahead of the launch on 18 October. 
Spare a thought for IT departments of drinks retailers the world over, as the inevitable surge of people trying to get their hands on the latest release from Hibiki floods websites on the release date of 18 October 2022 (and keep your eyes peeled for it here on Master of Malt of course).
Hibiki Blossom Harmony 2022
Adding to the House of Suntory range of non-age statement limited releases, the Hibiki Blossom Harmony 2022 blend draws on malt and grain whiskies from Suntory's Yamazaki, Hakashu, and Chita distilleries that make up the core Hibiki Harmony blend. 
This particular blend has the added intrigue of incorporating whisky finished in sakura casks. Sakura wood – or Japanese cherry – attracted chief blender Shinji Fukoyo due to "its symbolism, but also because of its distinctive, subtly floral and spicy aroma and flavour notes". 
The symbolism of sakura, famously celebrated for spectacular, fleeting flowering displays is something that Fukuyo had in mind while crafting this blend, saying it "celebrates a particular moment in your life, a harmony that blossoms", he adds that "it would mean so much to me if you could enjoy it with someone special […] who makes you blossom."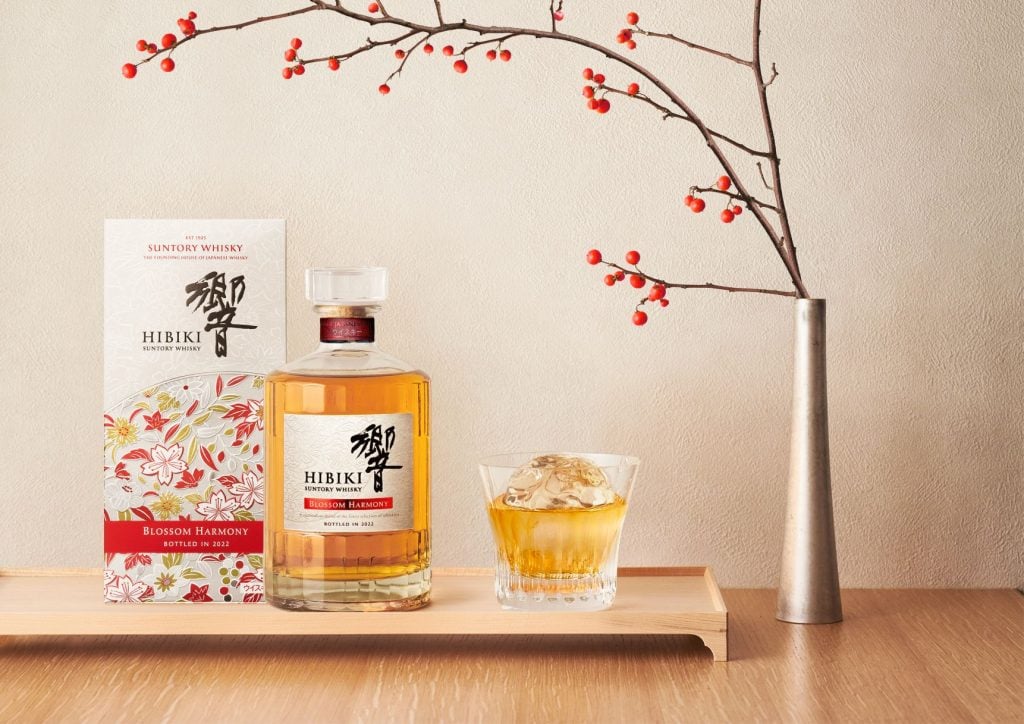 The trouble with cherry wood and whisky
The House of Suntory said Hibiki Blossom Harmony 2022 captures this "joyful spirit" in finishing a "rare selection of whiskies" in sakura. A sense of playfulness was likely needed when making this blend, as cherry woods and whisky are notoriously challenging to work with. 
More porous than oak, allowing for rapid oxidation, cherry can lead to some rather punchy flavours – think big woody, astringent, plum brandy notes – then there's the small matter of a larger angels' share to factor in. Structurally, the casks are more prone to leaking too. 
These are some of the reasons why distillers will opt for oak. Well, that, and some legislation too. But being bold with cask choices has paid off for Suntory before, with porous mizunara now an increasing option in blends, such as Hibiki Harmony. 
Achieving balance
Fukuyo found, after a period of trial and error, that grain whiskies were best suited to finishing in sakura, with the overall blend containing around 20% of this finish, we're told. Achieving balance with such a tricky liquid is something to be celebrated, and it certainly was at the London launch of Hibiki Blossom Harmony 2022, which saw guests enjoy guided tastings with Mr Fukoyo, surrounded by ikebana displays while 'immersive 12K' projections of the changing seasons in Japan played. It felt cosy and formal, with an impressive 12 course menu and inventive cocktail pairings, almost like a futuristic izakaya. 
The night finished with a dram and a review of the Hibiki Blossom Harmony 2022, which, no surprises, was an unusual, yet expertly balanced blend, with sakura influence all the way through, but never overpowering. Bloomin' delicious. Sorry, we couldn't resist. 
Hibiki Blossom Harmony 2022 will be arriving at Master of Malt on Tuesday 18 October at 10am. Check the New Arrivals page for more information. Now sold out!
Hibiki Blossom Harmony 2022 Tasting Note:
Nose: Delicate, honeyed florals counterbalance a richness of cocoa nibs, and fragrant sakura wood, with juicy berries in the background.
Palate: Aromatic plums and tropical fruits, with warm toasted oak, and complex, savoury-sweetness of salt-pickled cherry blossoms. 
Finish: Brown sugar, with a freshness of green banana.