Two of the most prestigious malts in the Glenlivet stable, the 21 and 25 Year Old whiskies, have been reinvented with some delicious cask finishes. It's the Glenlivet Sample Room Collection!
A couple of seriously fancy new Glenlivets have just landed at Master of Malt so we're celebrating in the time-honoured fashion, by writing a blog about them. Together they make up what the Speyside distillery is calling its Sample Room Collection. Sample room eh? Sounds pretty fancy. 
It's been put together by the Glenlivet dream team of distillery manager Lisa Glen, lead distiller Kevin Reid, and cask expert Kevin Balmforth. These are some of the first releases from the Glenlivet distillery following the retirement last year of Alan Winchester who was in the whisky industry for 48 years. So big shoes!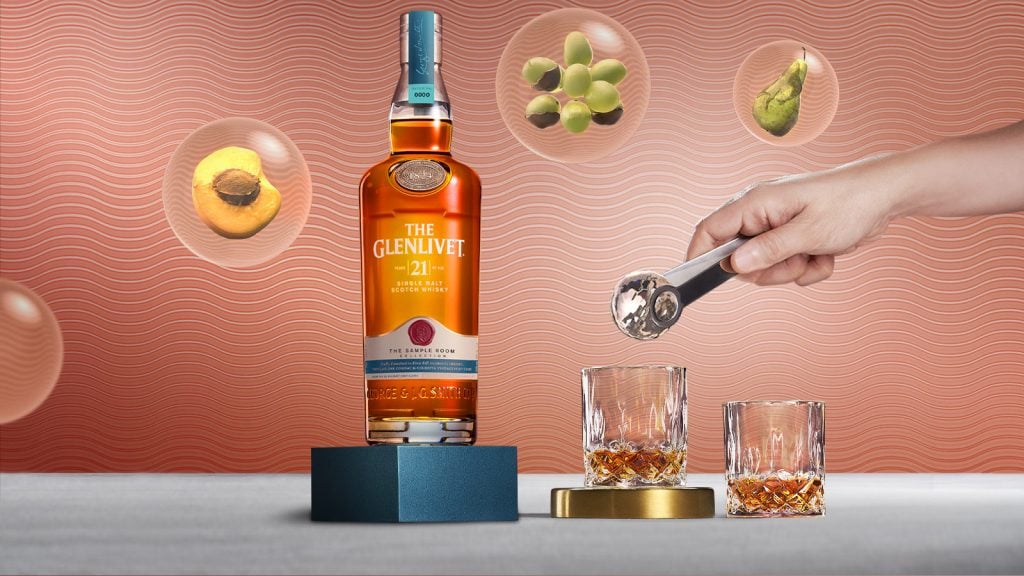 Let's take a closer look at the Glenlivet Sample Room Collection
The previous release of a 21 Year Old Glenlivet was called Archive and it won pretty much every award going including a double gold medal in San Francisco, a gold at the IWSC, and best newcomer in a Chevy Chase movie at the Shepton Mallet film festival. So there's no pressure on this new expression. It's been treated to a triple finish in first-fill oloroso sherry casks, Troncais oak Cognac, and colheita Port casks. The latter are essentially tawny Ports from a particular year. This rich trio has made the 21 a decadent blend of fruit and spice. 
Tasting note from The Chaps at Master of Malt
Nose: Pear tarte tatin laced cinnamon, ginger, and nutmeg.
Palate: Fresh orchard fruit mixed with dried fruits like apricots and currants with rich chocolate and spicy ginger. 
Finish: Long with lingering baking spices. 
The previous incarnation of this was the classically styled XXV which was finished in oloroso sherry casks. The new version is a little different in that the finishing process takes place in PX sherry and Troncais oak Cognac casks so this majors on dried fruit, dates, and molasses plus all kinds of spicy deliciousness.
Tasting note from The Chaps at Master of Malt
Nose: Rich sweet notes of honey, damson jam and dark chocolate balanced by toasted spices and citrus flavours. 
Palate: Richly decadent with candied oranges, tropical fruit and figs with toasted oak and North African spices. 
Finish: Sweet chocolate and toffee. 
And last but not least, it's the Glenlivet 18 Year Old which is the same as it was before. Which means it's extremely good. This was aged in a combination of first and second fill American oak and sherry casks. We reckon it's looking great value at the moment. 
Tasting Note by The Chaps at Master of Malt
Nose: Quite big and well-rounded. There are notes of chewy sultanas and Sherried peels, barley sugars and toasty cereals with petals and apple blossom. A touch of fudge and gentle wisps of smoke.
Palate: Full and rich with notes of chewy, tannic oak. Manuka honey and walnut with Cox's apples and orange peels. Cut herbs – fennel and spearmint.
Finish: Long and dry with a spicy oak note.
So there we have it, the Glenlivet Sample Collection plus an old classic in the Glenlivet 18 Year Old. Click on links for prices and to buy.