As Circumstance Distillery releases its very first rye whisky, we take a look at Bristol's spirits mavericks to see how the business and their whisky is maturing. I first visited back in 2019 and found it an absolute hive of innovation. Beer yeasts and long fermentation times, check. Strange ageing techniques, yup. Off the beaten track cereals like triticale (a hybrid of wheat and rye) hell yes! The team were making gin, rum, and all kinds of weird and wonderful proto-whisky drinks from a wide variety of cereals. 
Focussing on whisky
But when I returned in 2022, it's probably fair to say that the team had focused since then. The crazy kids of distillation have grown up and worked out what they do best. The founders are Liam Hirt, a cardiologist, and Danny Walker, a former bartender and one time brand ambassador for Diageo. They set up a small gin distillery in Bristol called Psychopomp in 2013 and in 2016 took on a full time distiller Marc Scott. Then in 2018, they opened a larger distillery called Circumstance. We assume that well-educated Master of Malt readers will get the joke. Clue: think of Elgar. 
Since my last visit they've had some shiny stainless steel mash tuns fitted. Before mashing was done at a local brewery. They make a clear wort to emphasise the fruity notes. Whereas previously they were using all kinds of cereals like oats and rice with plans to use triticale, now they are concentrating on the more classic barley, both malted and raw, rye, and wheat. All the grain comes from Warminster maltings.
Still crazy
It was nice to see that despite the changes, they are still fermenting in plastic IBCs which they can move around into the sun to help them get started. They're also still using a variety of yeasts too including saison (a type of beer) yeasts for the barley which produce citrus notes, Bavarian beer yeasts with wheat, and a mixture of saison and mead yeasts for the rye which produce floral sweet notes. Fermentation times are long, up to about two weeks. 
They have a 1,700-litre oil-powered pot still with two columns attached. It's incredibly adaptable, doing everything from traditional double distillation to making high strength spirits. After much experimentation, however, they tend to use it just with the pot and the four plate column taking the alcohol off at between 60-90% ABV. "We have found something that works with a balance of fruit and grain character," Walker explained. They run the stills over a day, don't run them too hard and aim to make about 50k litre pure alcohol per year.
Maturing spirits
For their proto-whiskies, they were ageing with oak spindles to get colour and flavour into young spirits, with some impressive results. Now most of the ageing takes place in wooden casks which are handily colour-coded with red for rye, blue for barley, and yellow for wheat, all very logical. They dilute with whisky down to 62.8% ABV before the new make goes into casks. 
But it's nice to see they haven't gone completely conventional in this department. Yes, there's some 200-litre ex-bourbon casks but then things get more interesting. They have tiny 128-litre new Spanish oak casks with a medium toast. Then some even smaller 60-100-litre casks made with Andean new oak, quercus humboldtii. There's no shortage of fortified wine action either with two 500-litre Spanish oak oloroso casks, one filled with rye and one with barley spirit. These are buried at the moment under other casks and Mark admitted "they will be impossible to get out." There are also 230-litre European oak Port and muscat casks, Sauternes barrels, and some chestnut barrels. They said that at some point they'd love to get hold of casks that previously held English wine. 
Tasting Circumstance whisky
They're currently working with three mashbills: a barley whisky made with 85% malt and 15% raw; rye which is 51% rye plus 49% malted barley; and finally 70% wheat and 30% barley. All three are labelled as 'single grains' as they would be under SWA rules.
We currently have the Circumstance Single Grain Wheat and the Circumstance Single Grain Rye in stock. The former is fully matured in bourbon casks. The rye is made from a core of 51% malted rye and 49% malted barley which had been fermented with mead yeast. The whisky then spent over three years resting in a combo of bourbon, new European oak, and oloroso sherry-conditioned casks before bottling at 42.7% ABV.
The result is a rye whisky like no other. It's spicy, yes, as you would expect from a rye, but the spices are so fresh and distinctive with liquorice and menthol alongside the more usual cinnamon and ginger. It's very lively and fruity. I think it'll be tremendous in cocktails like an Old Fashioned or Manhattan, but you will have to watch that liquorice note when mixing into more complicated things. 
As always with Circumstance spirits there's all kinds of super modern blockchain-type stuff so you can trace your bottle and find out more about it online. So modern.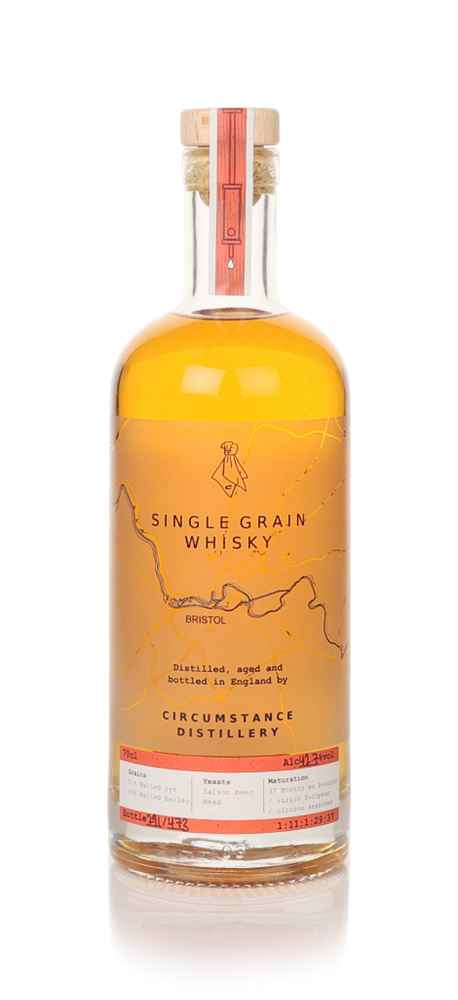 Tasting note for Circumstance Single Grain Rye whisky
Nose: Hugely aromatic with cinnamon, ginger, Dr Pepper-esque notes, cherry, and menthol with toffee and banana.
Palate: Spicy as hell – liquorice, fennel, and chilli balanced with a little caramel. The body is light and spirit-forward.
Finish: That aniseed note persists. 
Circumstance Single Grain Wheat and Circumstance Single Grain Rye are available from Master of Malt. Click on links for prices and to buy.