A new week means a new whisky, and it's a particularly special one this week. Called Ardray, it's the first ever blended Scotch whisky from the Beam Suntory stable. Best of all, it has just landed at Master of Malt.
Blends are still the backbone of the Scotch whisky industry making up over 90% of sales globally and yet despite the efforts of companies like Compass Box, they remain woefully overlooked by aficionados and the whisky press. Our New Arrival is unlikely to be ignored, however, because it's the first ever blended Scotch whisky from Beam Suntory. It's called Ardray which apparently means 'towards the light' in, we assume, Scottish Gaelic.
The parent company has some pretty tasty liquid to choose from because as well as being a powerhouse in Japanese and American distilling, the company also owns some impressive distilleries in Scotland including Laphroaig, Ardmore, Bowmore and Auchentoshan. But it doesn't end there because Beam Suntory's products are distributed over here by Edrington UK, so it has VIP access to some other rather smart distilleries you may have heard of, namely Highland Park, The Glenrothes, and The Macallan. So the blenders are spoiled for choice when it comes to malt whisky.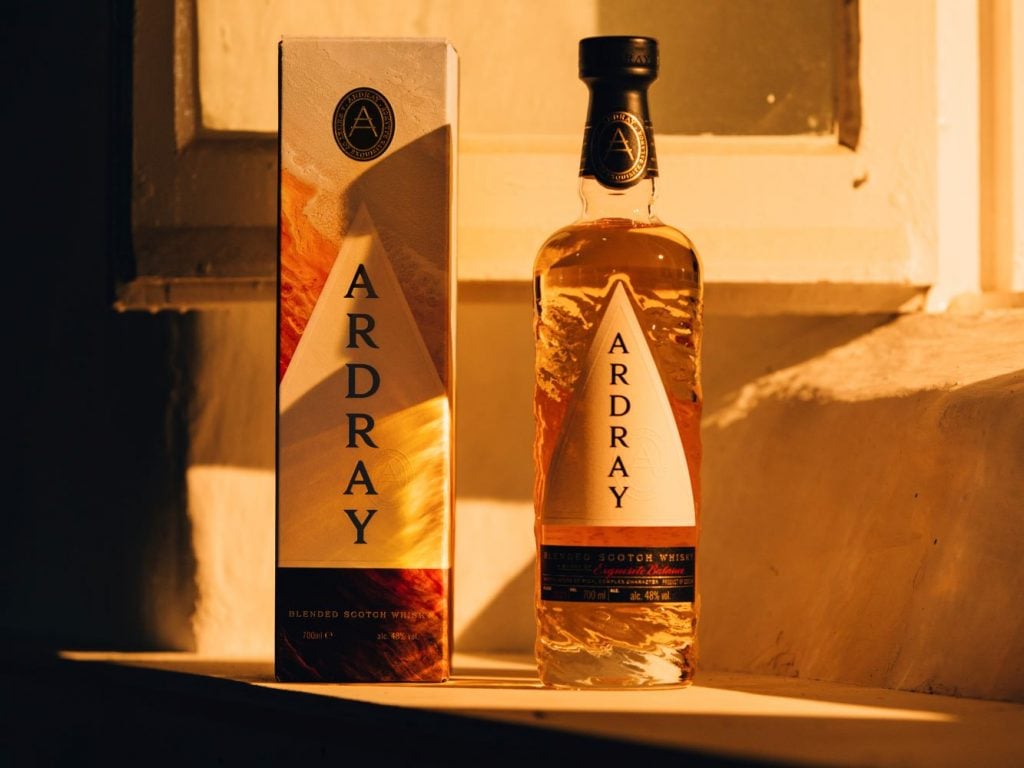 A collaboration between Scotland and Japan
Ardray is a collaboration between Calum Fraser, Beam Suntory's chief blender for Scotch, and the Suntory blending team in Japan. Together they went through over 200 different combinations before settling on the finished blend which is made up from malt from Beam Suntory and Edrington distillers plus grain whisky from an undisclosed source. The resulting blend is bottled at 48% with no chill filtering. 
This is very much a blended Scotch that's aimed at the single malt drinker. According to Fraser, "it promises a rich and complex taste, with a distinctive harmony of flavours: a mild, gently floral, and citrusy fruitiness, with a vanilla custard creaminess and a rich, silky mouthfeel and lengthy aftertaste that is unmatched." Sounds pretty good, doesn't it?
He continued: "In creating Ardray we have combined an exceptional selection of the very best Scotch whisky has to offer with the inspiring talent of Suntory's blending team to create something new, refreshing and exciting. The time, care and attention to detail taken to source both malt and grain whiskies from some of Scotland's most noted distilleries has allowed us to explore hundreds of blends of Scotch malt and grain whiskies to achieve Ardray's optimum balance of multi-layered flavours.  Driven by the desire to ensure the true beauty of this blend is greater than the sum of its parts."
It's no coincidence that the first blended whisky from this multinational has been released on the 100th anniversary of the founding of Suntory. Though it might be made up of Scotch whiskies, according to the press bumf, it takes its inspiration from Suntory's founder Shinjiro Torii. It's certainly a blend that's sure to get whisky enthusiasts excited and make even the sniffiest of single malt aficionados prick up their ears. 
Ardray Blended Scotch Whisky is available from Master of Malt. Click on links for prices and to buy. 
Tasting note from The Chaps at Master of Malt
Nose: Gentle floral aromas, orange peel, creamy vanilla, and cinnamon.
Palate: Custard Cream biscuits, green apple, and apricot yoghurt with oak char and spice.
Finish: Subtle floral notes with orchard fruits.