The Beast of Dufftown is back at it again. Mortlach has unveiled a trio of single malt whiskies for its core range, including 12 year old, 16 year old and 20 year old expressions.
Today mighty Speyside distillery, Mortlach, aka the Beast of Dufftown, announced the launch of three new expressions: the 12- year-old "Wee Witchie" bottled at 43% (RRP £50), the 43.4% 16-year-old Distiller's Dram (RRP £80) and also at 43.4% the 20- year-old Cowie's Blue Seal (RRP £200). Mark Brunton, Distillery Manager, said: "The 16-year-old is a classic Mortlach expression, while the 12-year-old offers a strong distillery character through its use of refill casks. The 20-year-old offers a balance of character and distillery character with active wood."
The new Mortlach range, in situ upon a very shiny bar
The distillery is unusual in this part of Scotland for producing a robust almost meaty spirit, compared to the light and fruity aromas more typical of Speyside,hence their monstrous sobriquet. To achieve this unique taste, Mortlach uses a special distillation process known as "The Way", which sounds like something from a Bruce Lee film but was actually invented by the distiller's son Dr Alexander Cowie in 1896. At Mortlach there are six stills, all of different sizes and shapes. These are used to distill the spirit not once, not twice, not even three times, but 2.81 times. Bananas!
The 2.81 number comes about because most of the spirit is distilled twice but some of it is distilled three times in a tiny still known as "Wee Witchie" (hence the name of the 12 year old expression). Mortlach uses traditional worm tubs condensers all the better to preserve those famous hellish sulphurous notes.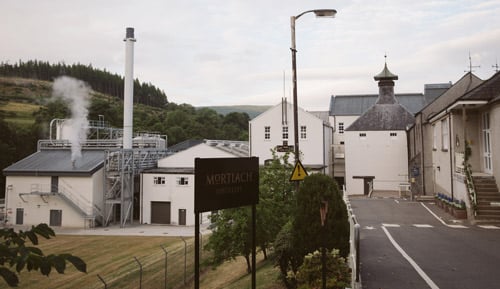 We can only assume the ! sign means "DANGER – A BEAST LIVES HERE"
The resulting spirit is like Pepperami – a bit of an animal. Dr Craig Wilson, Master Blender, said: "it's the way the unique 2.81 process gives you such an intensely complex liquid and character from the minute it comes off the still; it's like having three distilleries at the one still house. Our job is to hone the character in the right way to give you three well balanced whiskies of unparalleled richness and complexity."
Or to put it another way, the Beast is back and badder than ever.