Whether you're an accomplished at-home bartender or tend to leave it to the professionals, we're sure you'll agree the Old Fashioned is a no-nonsense cocktail staple. Coinciding with Old Fashioned Week, running from 2 November, here's our take on how to perfect the historic serve…
Of all the classic cocktails, the Old Fashioned is as classic as they come; a serve entrenched in the very beginnings of cocktail history. The first written recipe record of spirit, sugar and bitters dates back to 1802, with the world's first celebrity bartender, Jerry Thomas, proclaiming it the 'Whiskey Cocktail' in 1862. A little over 30 years later, Manhattan bartender George J. Kappeler lists that tried and trusted trio of ingredients as a Brandy Old Fashioned in his book Modern American Drinks, coining the term on paper.
It's now officially the best-selling classic cocktail in the world – its recent resurgence is often attributed to Mad Men's Don Draper, who swaggers through the sixties with a tumbler in-hand – and also, unofficially, the most contentious. Sugar cube or simple syrup? Lemon or orange garnish? One big chunk of ice, or a cluster of smaller cubes? How many times should it be stirred? Bourbon, rye, or another spirit altogether? I started making it three hours ago, and it's still not ready? Good lord, are you muddling cherries? It goes on.
It's all a bit much, even for the most dedicated of Old Fashioned drinkers (us included), so we consulted Old Fashioned Week ambassador Peter Holland for a little clarity on the topic.
Holland pictured undertaking essential Old Fashioned tasting research
First up, are there any rules about how an Old Fashioned should be served?
Given I'm neither a bartender by trade or a cocktail historian, I'm quite willing to be shot down over what I'm going to say, but I think that it's both reasonably tightly defined and also quite open. Spirit + bitters + sugar + ice + garnish (to add a citrus note). It must be a stirred drink served over ice. If it's shaken, it's not an Old Fashioned. If it's served 'up', it's not an Old Fashioned. The sweet element doesn't just have to be sugar – why not use an infused syrup, falernum, or, as
Rhum J.M
is doing in its Agric'Old Fashioned serve, use Rhum J.M Shrubb? It's a 35% ABV orange liqueur, so it sweetens and adds an orange note. In addition, pre-batching the ingredients might allow for the flavours to marry together a little better before they make it into your glass.
Even the stirring to add dilution is something I think is open to discussion. Traditionalists add a few cubes of ice and stir. Then a few more cubes of ice and stir, potentially repeating twice more. Seriously time-consuming dot com. I was in a bar in Paris recently and the bartender put the main ingredients in the glass, added a small amount of water, mixed it, then added a large chunk of ice to keep it cold. It tasted amazing and was completed in a fraction of the time. It appealed to my sense of efficiency and saved me waiting for ages.
How versatile is the cocktail?
The Old Fashioned is ridiculously versatile, and it's super easy to tweak to accommodate all drinking preferences. If you prefer your serve a little sweeter, downplaying the spirit a bit – no worries. If you really want a test bed for revealing the character of your spirit of choice, be it rum, whisky, whiskey or mezcal – no worries. The simplicity of extending a spirit with a dash of bitters, a little sweetening and dilution seems so obvious that you have to wonder why more people don't do it. Any spirit can feature, but while the most obvious selection would be a matured spirit, there is indeed no real reason why you can't use gin, grappa or perhaps (controversially) a vodka. There are a few key serves that I think reveal the real character of a rum – the Daiquiri is one of them and the Old Fashioned is the other.
Finally, could you share your tips for making a great Old Fashioned?
I think the best tip I could give is to choose a spirit with a higher ABV. Nine times out of 10, I think allows the character to shine through more clearly. Wild Turkey 101 Proof is a perfect example of this. It's also delicious to drink neat, but ridiculously good in an Old Fashioned.
Well, there you have it – the fundamentals of an Old Fashioned. Once you've nailed the basic serve (however you like it) it's time to get playful. Rules are made to be broken and all that. We asked two bars for a twist on an Old Fashioned serve for the more adventurous among us to try out at home…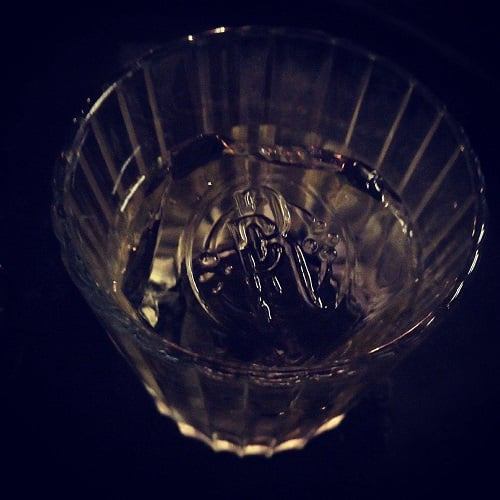 Un Peu Vieux
Un Peu Vieux by Alexander Taylor, co-owner of Pennyroyal, Cardiff, Wales
Difficulty rating: 2/5
Ingredients: 50ml  Rhum J.M VSOP, 10ml Nieeport White Port, 5ml simple syrup (2:1), 3 dashes Amargo Chuncho Bitters
Method: Combine ingredients, stir for 20 seconds, strain over an ice ball and garnish with a white grapefruit twist
Why? According to Taylor: "J.M Rhum is typically Martinique, and utterly delicious. It has a wonderful oaked sweetness, pulling rich tropical fruit out of the butterscotch-led nose. This led me to rein in that inherent sweetness and pull through the grassier notes using dry white port, to create a drink that is complex and rounded."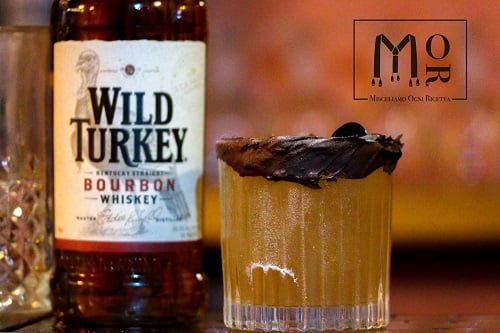 Tatanka Yotanka
Tatanka Yotanka by the team at Mor Cocktail Bar, Trieste, Italy
Difficulty rating: 5/5
Ingredients: 75ml Wild Turkey 101 fat washed with brown butter and hazelnuts, 20ml roasted pecan nut maple syrup, 10ml Pedro Ximenez 'Mor Blend' (30 years Solera aged PX, 9 years Solera aged PX), 2 dashes Bitter Truth Wood Bitters
Method: Combine all ingredients, stir, and strain over ice. Garnish with a dark chocolate rim, dehydrated yogurt powder, salt, and a Luxardo Maraschino Cherry
Why? Says Giacomo Sai, bartender at Mor: "The cocktail is inspired by Central American flavours like hazelnuts, pecan nuts and maple syrup, which combine very well with Wild Turkey bourbon. Its name translates as 'Sitting Bull' in the Lakota language, spoken by the Native American Sioux tribe. The garnish is a really important part of the cocktail – the combination of the rich chocolate flavour, the acidity of the yogurt and the saltiness play with the senses."
If you're sitting there thinking this all seems like a bit of a faff, that's fine too. The lovely lot at The Handmade Cocktail Company have got your back with a bottled cocktail version of the Old Fashioned. Just fill a tumbler with ice, add a large measure, stir, and express an orange peel over the deliciousness. Voilà!