As part of a new series on his whisky heroes, Ian Buxton takes a look at the man who pretty much invented whisky writing for the modern age, Michael Jackson. 
Michael Jackson – not, quite possibly, the one you're thinking of – was frequently untidy in appearance (actually, 'dishevelled' would be nearer the mark), often late and capable of boring for England on the subjects of rugby league and jazz. He was also extremely good company, restlessly curious and a fine and honest commentator on both beer and whisky, with a profoundly held journalistic integrity that rarely lacked for a nicely judged phrase.
Born in Yorkshire on 27th March 1942, he died in London on 30th August 2007. Having suffered from Parkinson's Disease the deterioration in his health had been painfully obvious for a number of years and on several occasions prior to his untimely death he had seemed gravely ill. Yet, despite that, his death came as a considerable shock, especially within the world of whisky where he had his greatest and most lasting influence.
Not that Michael Jackson!
Yet, if you have come recently to enjoy whisky, his name may mean relatively little to you and you may even confuse him with the pop artist of the same name, who died a couple of years later. Should that be the case, read on for, in your enthusiasm for the cratur, you owe this Michael Jackson more than you may realise.
By training and natural aptitude a journalist, his early career took him to Edinburgh and his first encounter with whisky. On moving to London he was for a short period editor of Campaign magazine, an advertising industry trade title, and also a TV reporter and producer. By the mid-1970s Michael had moved to freelance journalism, and soon developed an interest in beer and brewing, at a time when the UK industry was rapidly consolidating and traditional styles all too casually abandoned in favour of lager.
Influential beer writer
Though not the first British journalist to deplore trends in beer (Richard Boston's humorous earlier columns in the Guardian and his Beer and Skittles of 1976 arguably paved the way) Michael was undoubtedly the most influential and the 1977 publication of the first edition of his World Guide to Beer was both ground-breaking and an immediate international success, with a particular impact on the nascent small brewing scene in the USA.
More books and columns on beer followed quickly, together with the Discovery Channel/C4 TV series The Beer Hunter (1989). However, he had rediscovered his early appreciation of whisky and saw parallels in the beleaguered state of the industry with the condition of traditional brewing which, by then, was staging something of a recovery due in large part to his work and the pioneering consumerism of the Campaign for Real Ale (CAMRA).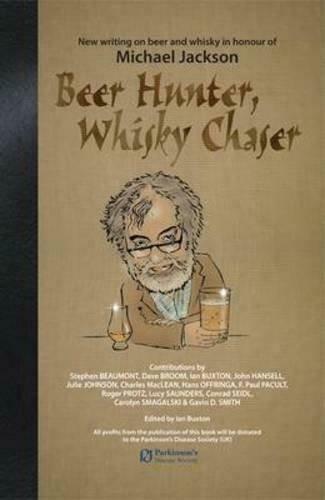 Beer Hunter, Whisky Chaser
This led to the companion title World Guide to Whisky, first published in October 1987 and subsequently in a number of further editions and foreign language translations. This book and the later Malt Whisky Companion mark the start of many of today's enthusiasts' personal journey in whisky. They were also significant in persuading the publishing industry that there was a viable market for whisky books, which in turn has permitted the flowering of a number of writing careers. Many of today's writers are in his debt, though it is arguable whether or not this is fully appreciated.
I discussed this recently with Charles MacLean MBE, himself a long-standing veteran of the whisky scene and Michael's near contemporary. "He was the first person to put single malts on the map," he said, adding that with the Malt Whisky Companion Jackson was central in "establishing the category". Around this time, indeed, he was employed by United Distillers (predecessors to today's Diageo) to help promote their Classic Malts collection, stressing flavour differences and regional variations in a manner then radical and ground-breaking. As MacLean has written in Beer Hunter, Whisky Chaser, the memorial volume issued to commemorate Jackson's life and work and raise funds for the Parkinson's Disease Society (UK), this launch material "opened up the whole sector and laid the foundations for the 'Malt Revolution' that gathered pace in the 1990s."
International Whisky Day – 27 March 
Amongst his many other interests, Jackson was an early and important contributor to Whisky Magazine; active in presentations and tastings at whisky festivals and a tireless traveller, especially to the USA where he was held in especially high regard. International Whisky Day, which sadly has been subsumed into a commercialised festival, was created originally as a charitable initiative by the Dutch writer Hans Offringa (translator of several of Jackson's books) as a celebration of Michael Jackson's life and the many samples remaining in his tasting room formed the basis of a limited release of blended whisky which appears from time to time at auction.
Particularly importantly, especially in the context of today's obsession with whisky presented as an investment and, God help us, NFTs Michael wrote not just about production techniques and flavours but also the cultural significance of both beer and whisky, something which in the present writer's view we are in danger of losing.
For many of us, this Michael Jackson remains the genuine thriller.