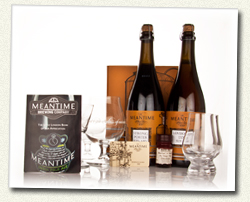 We've long since been firm advocates of the Meantime Brewing Company, and it's largely because they've had such great success in fighting against the rather dull mainstream of mass-produced lager that our nation is sadly awash with. Meantime focus heavily on quality and authenticity, shunning methods like pasteurisation, whilst making use of a minimum 28 day maturation period for all their beers. But despite all this attention to detail, one of the truly great things about the brewery is how prevalent their beer is; you can walk into Sainsbury's and buy a bottle of their London Porter or IPA, and we love that.
I was invited up to Meantime's base in Greenwich earlier this summer, and I arrived to blissful sunshine. As I walked in I was taken aback by how industrial the setup is, and considering they've just spent around £2m on new equipment, all of which is incredibly advanced, you can imagine what a laboratorial-style feast for the eyes it is!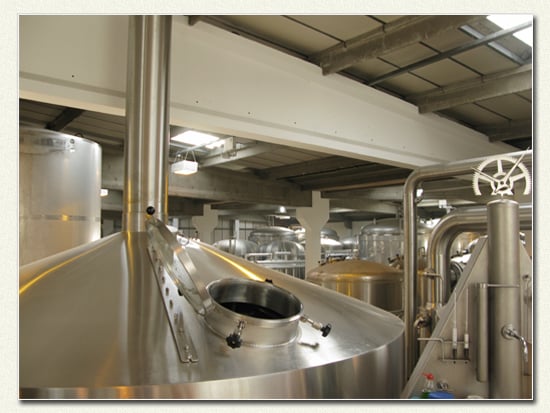 It gets very scientific indeed, and not without good reason, because, if you want to skimp on quality in order to make things quickly and in bulk that's one thing, but if you want to do the opposite to this, and do things properly, you've really got to watch over every detail with a keen eye. The fact they don't pasteurise increases their workload hugely, and there is a lot of behind-the-scenes activity to ensure the non-pasteurised beer will have longevity, and retain its character.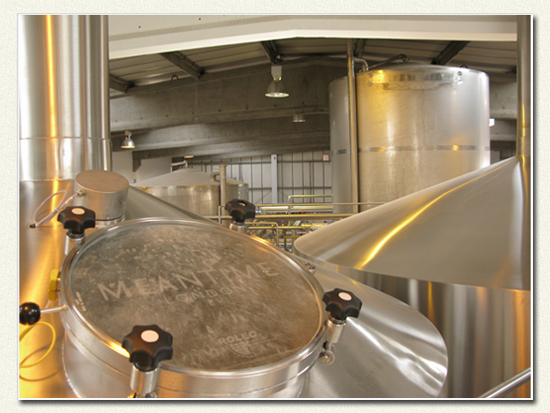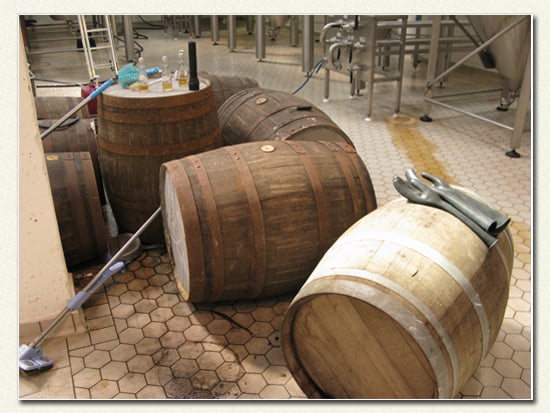 I asked why go through all this effort to avoid pasteurisation?
Well it's all about temperature… Pasteurisation is a method of increasing the shelf life of beer, and it works by heating the beer to between 71.5°C to 74°C. This sterilises the beer, but it also cooks it to some degree, resulting in a vastly less pleasant flavour. Even pasteurisation's inventor, Louis Pasteur, admitted that the eponymous process would degrade the flavour of beer and wine…
[Regard the sciency-things – it's just like being back in chemistry class…]
Instead of Pasteurisation, Meantime employ Sterile Filtration, which involves passing the beer through a filter. Well two actually; one at 0.6 microns, and one at 0.45 microns. The result? Beer that lasts and tastes great!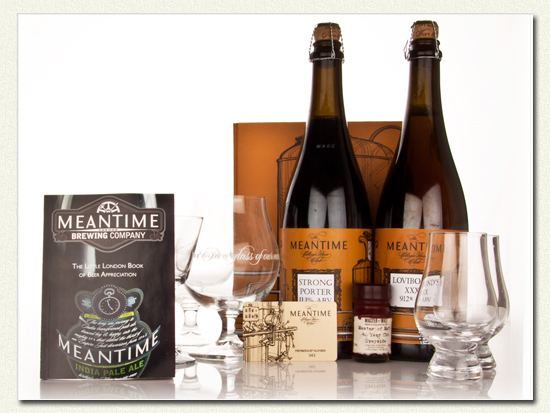 We're teaming up with Meantime to promote The College Beer Club, which was launched late last year, and it's quite possibly the ultimate membership scheme for anyone into real beer. It's Meantime's way of creating a community amongst the beer cognoscenti, whilst showcasing a wide range of new beers, and it costs just £350 a year. I say "just", £350 is a lot, but wait and see what you'll get for that money…
Firstly, you'll receive a welcome pack including a pair of beer tasting glasses, a booklet in which to write your notes, as well as two champagne-sized bottles of delicious beer to start you off.
Then, every month for the next 11 months you'll receive another two 75cl-sized bottles of fantastic Meantime beer. They like to promote seasonal styles, as well as historic beers and modern recipes – some are wood-aged, there are recipes from centuries past, and some rather experimental ales too. This year, Beer Club members have already received some stunners, including Strong Porter, Long Aged Abbey Ale, and Oak Fermented Belgian-Style Pale Ale.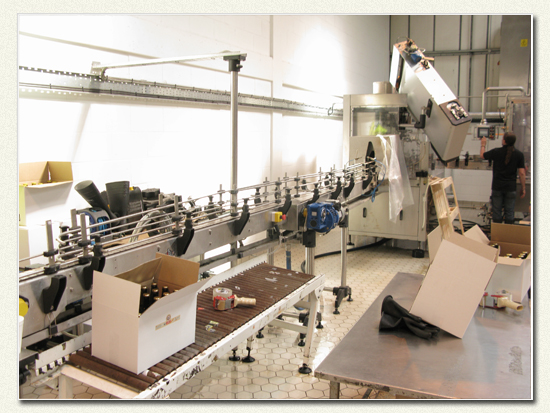 [Meantime's Small (and only) Bottling Line]
There's more though, as it's a beer "club", there are a plethora of membership benefits, including various excellent tastings and talks throughout the year. In May there was a marvellous Meantime Masterclass at the brewery, and coming up this year there'll be a backstage tour of the Royal Opera House. There are events involving art, music, history… you name it – it's all very cultured indeed! Events throughout the year are held by the Courtauld Institute of Art, the Sir John Soane Museum, Chief Wine Officer and The Old Brewery Greenwich, and members get discounts including half price subscriptions to Class Magazine, and money off at Cheeseboard, 86 St James, and others.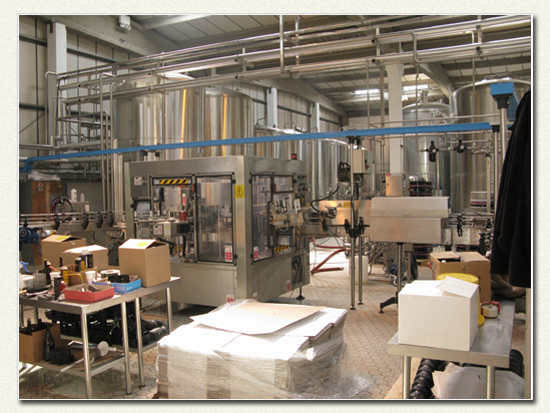 [the facilities in full swing]
It's quite simply the best thing ever to occur in the history of mankind.
You can even buy a subscription from us (I bet you wondered where all that build-up was leading!), and if you order a year's subscription for £350 from our site. To make it even more amazing than it already was, we'll even throw in a 3cl dram of our beautiful 40 Year Old Speyside Single Malt (it's fruity and very, very rich), and two Master of Malt crystal tasting glasses, which are perfect for enjoying a good dram!
With that in mind I thought I'd taste a couple of Meantime beers, starting with the India Pale Ale…
Meantime India Pale Ale 7.5%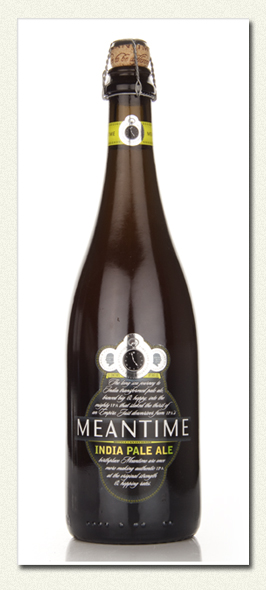 This is one of their 75cl "champagne-style" bottles, with a wire closure and cork. IPA is a lovely style of beer; quite hoppy, but at the same time there's a good amount of malty sweetness, which balances things out somewhat. Meantime make theirs with English Fuggles and Goldings hops, cramming in literally as much as possible. The final hopping rate is over 2 pounds of hops per barrel!
Nose: Meantime talk about Marmalade as a dominant aroma, and there is certainly an orangey richness. Lots of fruit comes through, almost tropical in fact, with hints of mango. Also apricot, some winter spice, something vaguely herbal, and a hint of almond.
Palate: Earthy and hoppy, a touch of toffee/malty sweetness, with granary toast, citrus peels, and more of that mango. It's oddly not as hoppy as you'd expect, and the bitterness melds beautiful with thick, creamy malt.
Finish: As it finishes, it develops more into the hops though, with a mix of bitter thick cut marmalade, nuttiness, and just a soupcon of coffee.
Overall: One of my favourite IPAs, it has an impressive balance, as opposed to being overly aggressive, and there's a good deal of sweetness which really works.
Meantime London Porter 6.5%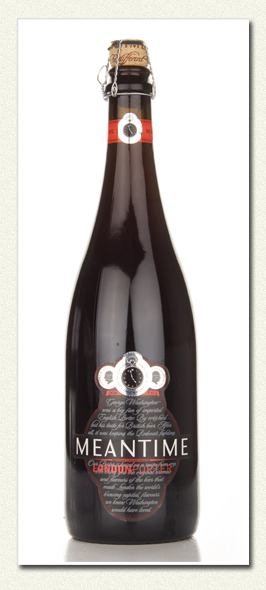 This intense style of beer got its name from the porters who worked the graveyard shift preparing the markets around London. These were men's men, and they needed a refreshing, energizing quaff to keep them going. (These were the days before Red Bull…)
Meantime's London Porter is made with seven different malts, as well as a great deal of Fuggles hops.
Nose: This is like a roasting pan filled with all things rich and tasty: espresso coffee beans, chicory, chocolate and chocolate malt! Perfect for a cold winter's day, or even an August afternoon for that matter! Some caramel, maybe a touch of something vaguely smoky too.
Palate: Similar flavours come through, with more than a suggestion of a Starbuck's Mochaccino, also roasted coffee beans, cocoa and hazelnut. It becomes more bitter as it develops, and earthy too.
Finish: Coffee and hops on the finish – earthy and bittersweet.
Overall: Again, this is a lighter beer than many others of this style. It's quite sweet too, with a medium level of carbonation, and the result is a very drinkable Porter. An excellent session beer for sure.
You can order a 12 month subscription to The College Beer Club for £350, and don't forget if you order through us we'll throw in a couple of whisky tasting glasses and a dram of our 40 year old Speyside single malt.
Mike.