Nestled just north of the Speyside border, Tomatin Distillery is one of the most distinctive single malt distilleries in Scotland, and certainly in its Highland home. As 2020 draws to a close, we settled down for a dram – well, four drams, to be specific – with global brand ambassador Scott Adamson…
Located in the village of Tomatin, a short journey south of Inverness, Tomatin Distillery has more than 120 years of whisky-making history under its belt – and as such, some pretty distinctive claims to Scotch whisky fame. Tomatin was the first Scotch whisky producer to use a lauter mash tun, and later, the first to be owned by a Japanese firm. It was also once Scotland's largest distillery, producing a bumper 12 million litres of alcohol per year on 23 stills in the seventies.
Though Tomatin no longer operates at such a frenetic pace, the team – the majority of whom live within the grounds of the distillery – continue to make use of the on-site cooperage and 14 vast warehourses. "Every cask that we produce is matured on site," says Adamson, "and that is an increasingly rare thing these days, but it's a relic from the seventies. We've got the warehouses that were built for the biggest distillery in Scotland that now are used for a distillery that only produces two million litres of whisky a year, so we have that capacity."
In addition to Tomatin's unpeated single malt portfolio, from which we're about to sample a few flagship drams, the distillery also produces lightly-peated single malt Cù Bòcan, made for one week a year at the distillery, and blended Scotch whisky The Antiquary. This year has been tricky for distillers around Scotland, Tomatin included – but on the bright side, 2021 looks set to be a bumper year for brand spanking new single malt releases from the distillery.
"This year we pumped the brakes on a lot of the things that we had planned," says Adamson. "We had a lot of nice releases planned for 2020 but we had to pull the cord on those. So we're looking forward to getting those out next year." The first of those bottlings is said to be arriving in April, so watch this space. In the meantime, join us as we taste our way through four drams from Tomatin's core range, guided by Adamson's expertise…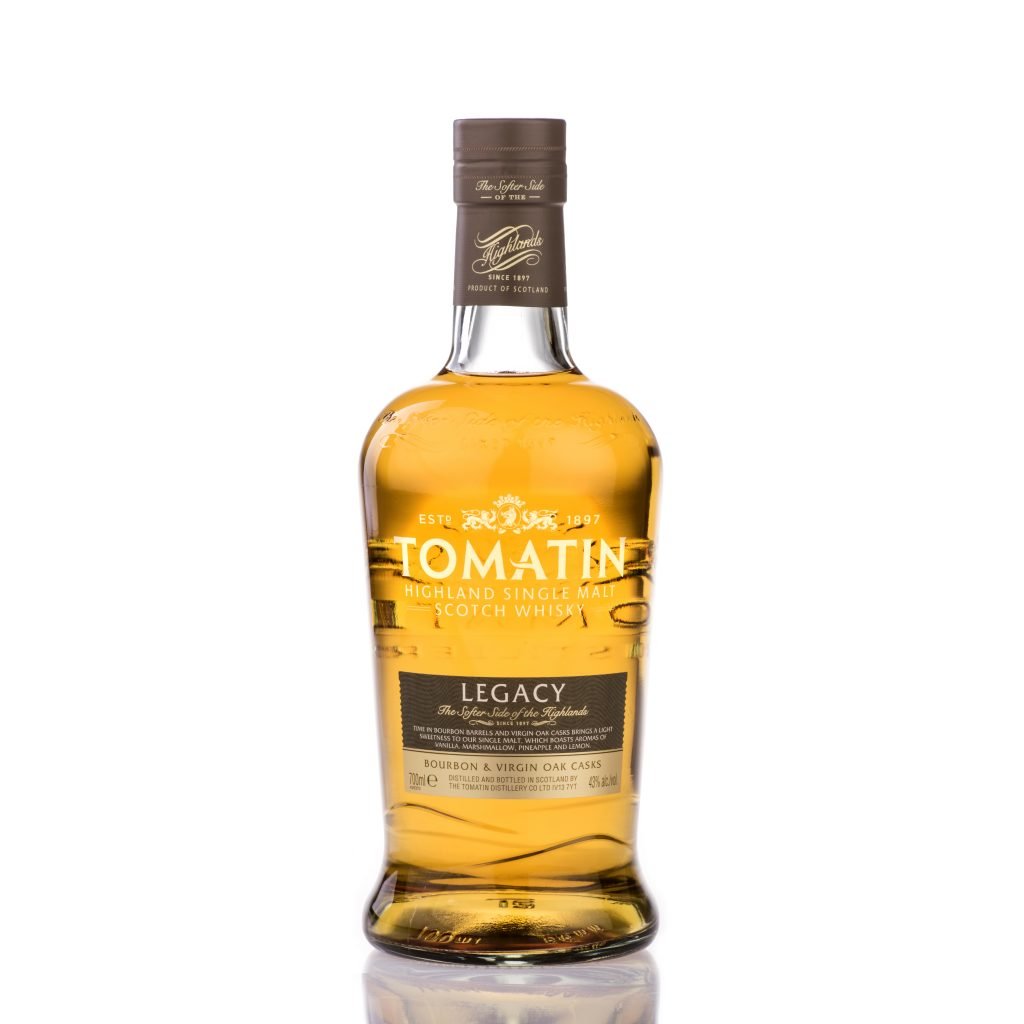 Tomatin Legacy is named for the community of workers that call the distillery 'home' in a very literal sense of the word. When Tomatin was established back in 1897, there was no local workforce to speak of: the isolated village was home to shepherds and cattle drovers. Generations of its employees have lived on-site ever since, and it's one of the few Scotch distilleries that continues to accommodate its craftsmen and women today.
The creation of master distiller Graham Eunson, 85% of the liquid that makes up Legacy is fully matured in first-fill bourbon barrels, while the final 15% is fully matured in virgin oak casks, with an average age of about seven years old. The recipe was selected by the people that live at the distillery. "When Graham started pulling together the recipes, he gave samples to each of the staff and said, 'Try this, tell me what your favourite recipe is, and that will be the whisky'," says Adamson.
No stranger to the Tomatin way of life, Adamson himself lived at the distillery for four years. "It was an incredible place for around nine months of the year – but in the winter, it could be a gruelling place to live," he recalls. "My wife worked at the hospital in Inverness and had shifts at ungodly hours. You'd wake up to see that three feet of snow had fallen and you had to dig a Volkswagen Lupo out of the driveway. It was amazing because I'd be out there at four o'clock in the morning and the next door neighbour would come out and give me a hand. Everyone understood that we were all in it together."
Tomatin Legacy tasting notes
Nose: Raspberry marshmallows and lemon icing zested with fresh peel. Menthol and pine notes too, with a waft of foam bananas.
Palate: Creamy at first, with soft vanilla pods. Candy canes emerge with lemon sherbet and sweet toasted cereals,
Finish: Light and crisp. Honeycomb develops into a warming-the-cockles type of pepperiness.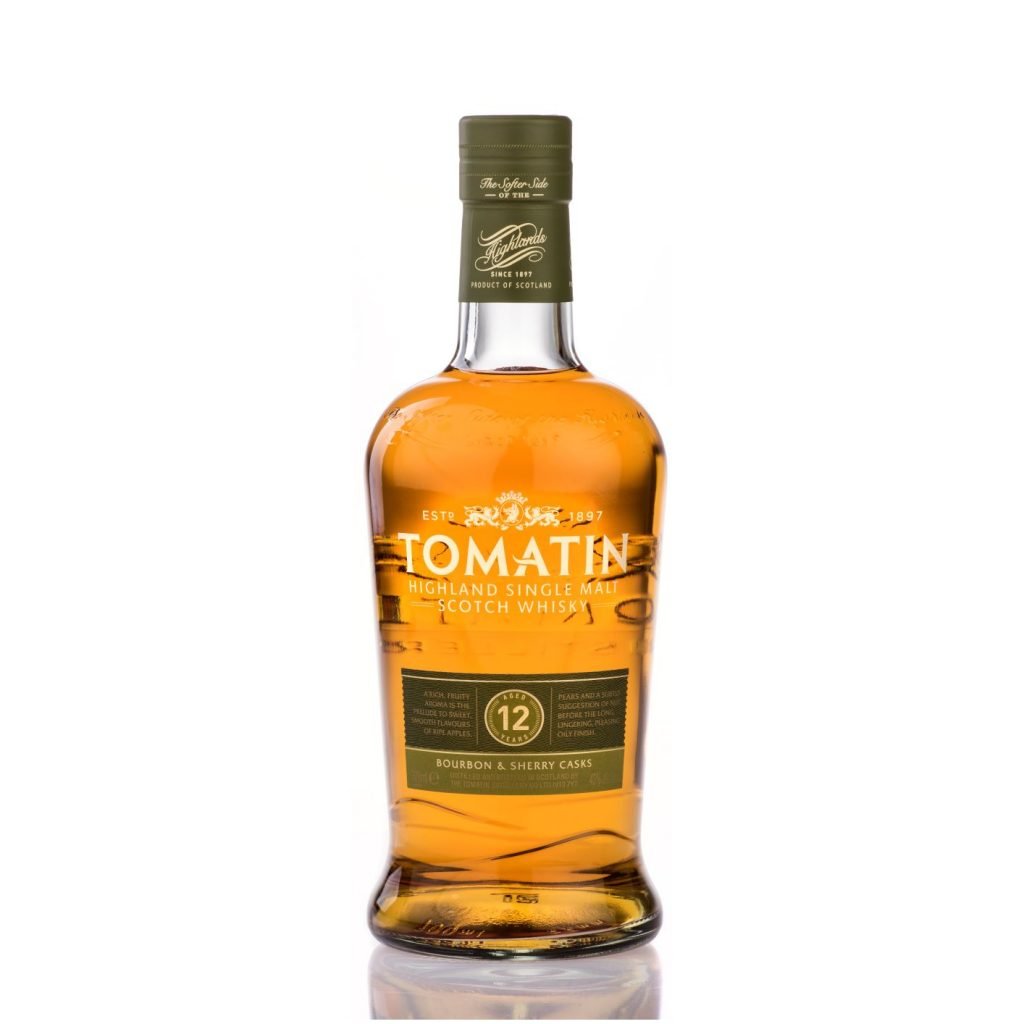 While Tomatin has released age-statement bottlings in the past  – "we've got records showing that we were releasing single malt whisky bottled as a nine-year-old back in 1926," says Adamson – the aged range didn't really begin to emerge until the 1990s. While the 5- and 10-year-old whiskies were eventually phased out, Tomatin 12 has stood strong to this day. As a quintessential Highland single malt, it's "very much the DNA that everything else is built upon", Adamson says. 
"It is a perfectly rounded, well-balanced whisky," he says. "The way we do that is with a triple-wood maturation. We're using bourbon barrels like we do in Legacy, with first-fill Oloroso sherry casks and refill casks. [Refill casks] are the unsung heroes of the whisky world, because in something like the 12 Year Old, they allow that distillery character to shine through – so you've got sweetness from the bourbon, dried fruit and spice from the sherry and nice fruity notes from from the refill casks."
Where some producers favour American oak sherry casks and others favour European oak sherry casks, Tomatin uses a combination of both, says Adamson. "Every sherry cask we're using has American and European oak staves built into it," he says. "It's then toasted and treated with what we call 'sacrificial wine' for the first year. All that wine is doing is pulling out some of the green notes from the woods that are going to be harsh in the whisky. And then that goes on to be vinegar." The team then fills those same casks with VOS and VORS Oloroso sherries for the final two years. "These casks act like transport casks used years ago in the whisky industry, and hold sherry that is destined to be bottled," says Adamson. "It gives so much more richness to the wood and allows us to create some pretty special drams."
The 12 Year Old recipe has evolved over the course of the last 25 years, as you'd naturally expect. Where once the whisky was simply aged for 11 years in ex-bourbon and one year in ex-Oloroso sherry, today around 11 different types of cask go into the bottling to achieve the desired profile. It may be a headache to make, but it's also testament to the skill of Tomatin's whisky-makers. "To still be producing a whisky that is very similar to what was released back then, with all the differences that have happened in the bourbon industry and the supply of wood from America, the sherry industry and the supply of wood from Spain – to still be able to produce this whisky really is quite an incredible thing," says Adamson.
Tomatin 12 Year Old tasting notes
Nose: A hit of malt extract, with green apple, fir trees, and lashings of spiced marmalade.
Palate: Buttery at first, then a kick of allspice and ginger emerges, elevated with nectarines and cloves.
Finish: Slightly musty oak, fruit cake with the merest hint of fennel and peppermint at the end.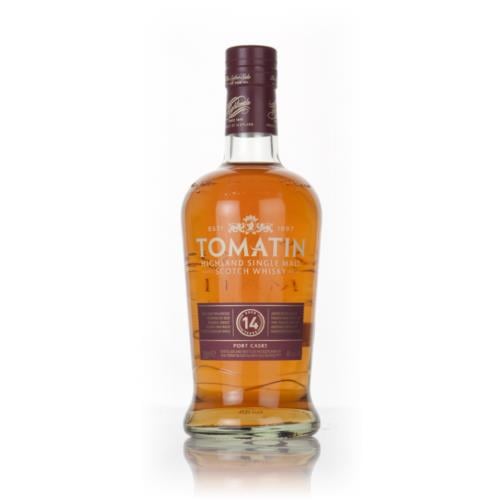 Each of these core whiskies tells part of the Tomatin story, and the 14 Year Old is all about the distillery's on-site cooperage, says Adamson. "This is when we start moving away from a marriage – like the Legacy and 12 Year Old – and into the finishes," he says. To create the 14 Year Old, "we'll mature for the first 12 years in refill casks – mostly refill bourbon barrel casks that we've used once or twice before – and then for a minimum of two years, but sometimes up to four or five, we're finishing in tawny Port pipes."
While Port cask whisky has become incredibly popular in recent years, tawny Port remains incredibly elusive to distillers. "The vast majority of Port-matured whiskies are ruby Port," says Adamson. "Nothing wrong with that at all – we've played with ruby casks and had some fantastic results." For the 14 Year Old, however, Eunson wanted to add a certain depth and roundness that only tawny Port could offer. "With the tawny Port, there's peach, cherry, and some darker notes – dark chocolate, a little bit of coffee, nice honey flavours in there," he says.
Tomatin buys its tawny Port casks from Symington Family Estates. The casks have been used to hold Port two or three times over a period spanning more than 50 years before they make their way to the distillery at a rate of just 60 Port pipes per year. "They all get put to work as Tomatin 14 Year Old," says Adamson. "We're very fortunate that we have first refusal on those casks, but it's by no means a product that we're able to grow in any massive volume. We have to be very careful about what casks we're using."
Tomatin 14 Year Old Port Wood Finish tasting notes
Nose: Rich and full, with cranberries and apricots, mulled spices, thick toffee and praline.
Palate: Soft and round with a red wine-like sweetness. Stewed red fruits, sweet prunes, caramel and a touch of spice.
Finish: Dark chocolate, candied fruits, and oak tannins that dries up towards the end, leaving a note of fresh-cut melon.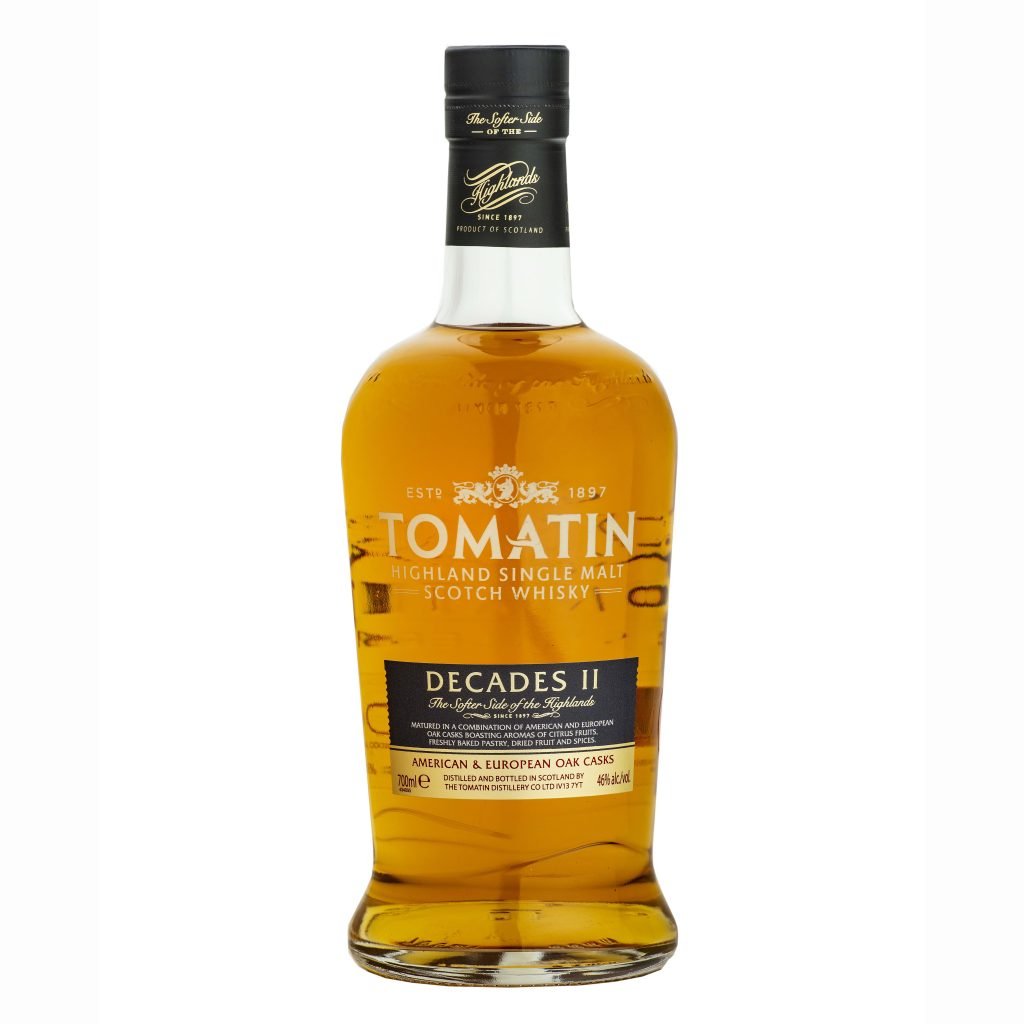 You wouldn't watch Die Hard 2 without first watching Die Hard. So before we tuck into this rather special follow-up dram, let's take a step backwards. The first Decades bottling was released back in 2011 to mark the 50th anniversary of then-master distiller Dougie Campbell. "He was asked to take casks that had been produced in the 50 years that he had worked at Tomatin and marry them together," says Adamson. In doing so, "he pioneered the category of multi-vintage vattings – he had whiskies from the 60s, 70s, 80s, 90s and 2000s, all in the one bottle."
When Campbell retired – not before being awarded an MBE for fostering 19 children – Euson stepped into his shoes. To celebrate his transition into the role, Euson was tasked with creating Decades II. "Graham's not worked at Tomatin for 50 years, so he went and spoke to members of staff that had started at the distillery during that time, and selected casks from the years that they started at the distillery," says Adamson. "Decades II contains whisky from 1973, 1975, 1977, 1988, 1995, 2000, 2009 and 2013. It's an incredible mix."
Of the whisky's make-up, 24% of the recipe is from the 1970s, and more than 60% is more than 25 years old. A bumper 21 casks go into the vatting; first-fill bourbon barrels, refill bourbon hogsheads, first-fill Oloroso sherry butts, re-charred Verdejo hogsheads, and second-fill French oak barrels. "Multi-vintage vatting is something that we've done a couple of times now," says Adamson. "We're going to commit to it and we're going to be doing it in the years ahead."
Tomatin Decades II tasting notes
Nose: Bold and fruity, with maple syrup, baked apples, green banana, beeswax and cola cubes.
Palate: Thick and sweet. Immediate tropical fruits evolve into ginger, delicate oak, and citrus oils.
Finish: Zingy, with lime and more tropical fruits. Develops into chocolate and cooked fruits with an almond nuttiness.