A brand new blended rum has just arrived at Master of Malt, and Master of Malt only. Yes, this release is exclusive to us. It's called Sealander, from Plantation, one of our favourite rum producers, and it blends together three spirits from three great rum-producing countries Barbados, Mauritius and Fiji.
An introduction to Plantation
Regular customers will know and love Plantation but for those who don't, here's a little recap. Plantation is the rum arm of Frenchman Alexandre Gabriel's drinks empire which also includes Pierre Ferrand Cognac and Citadelle Gin. It owns the West Indies Distillery in Barbados, has a share in National Rums of Jamaica, and bottles and blends spirits from across the Caribbean and beyond.
As such Sealander is a brilliant statement to show the diversity of the rum world and Plantation's skill at sourcing and blending rum. 
Three islands, three very different rums
The Barbados element comes from the West Indies Distillery. It's made up of molasses-based spirits from both pot and column stills with a little high-ester rum. It's aged for up to eight years on the island in bourbon casks to create a classic fruity rum with layers of vanilla, spice and coconut. 
Then there's rum from Fiji. It might not be as well known as the Caribbean but Fiji has a long rum history and was growing sugar cane long before anywhere in the Americas. It even cultivates a heritage cane strain which was wiped out by disease in the Caribbean in its rich volcanic soils. The Fiji element in Sealander is a molasses column spirit distilled by Rum Co. of Fiji and aged in charred barrels for five years to create a smoky, fruity and full-bodied rum. 
The final component comes from another non-Caribbean rum producer, Mauritius. The island was a French colony for nearly 100 years until it was captured by the British in 1810. It is the French tradition that you can taste in the rum as it's usually made from sugar cane juice like a rhum agricole instead of molasses as is more common. This particular rum comes from the Saint Aubin distillery and it's an unaged column still spirit full of the classic grassy and herbal flavours of pure sugar cane rum.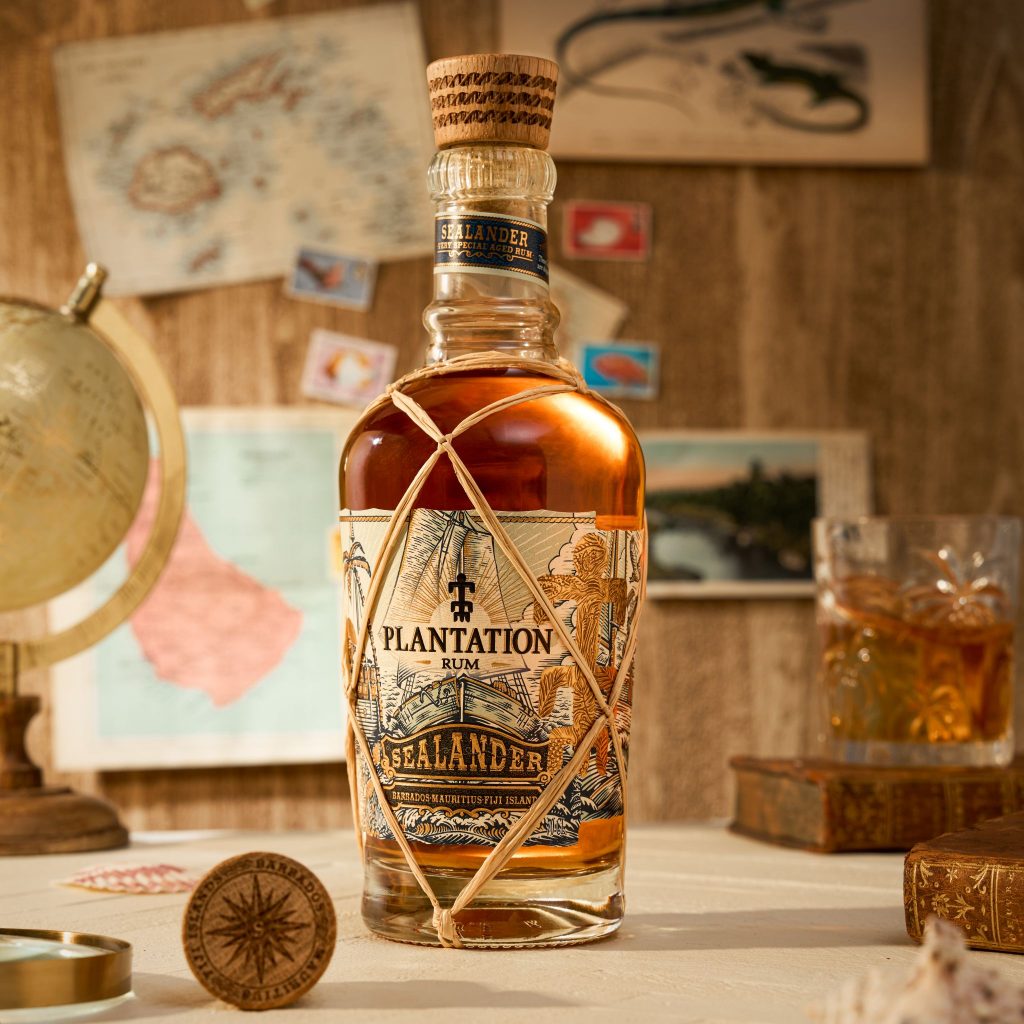 Tasting Plantation Sealander Rum
So three very different rums, the sweet fruitiness of Barbados, the smoky char from the Fijian spirit, and the freshness of Mauritius. Sealander shows Gabriel's skill in getting those flavours to meld and become greater than the component parts. The nose is grassy and herbal initially but it's then joined by sweeter flavours of pineapple, orange, toffee and brown banana. Then take a sip and it's full and sweet with salted caramel, molasses and a menthol finish. 
It's a fantastically flavoursome and versatile rum. While very nice sipped neat or with ice, it's also brilliant in a long drink with ginger ale or Coca-Cola. There's no need to be precious. But the best easy-to-drink Sealander for my money is in a Palmetto, that herbal fresh quality goes brilliantly with vermouth. Full recipe below. Serve it on the rocks or straight up. You can't go wrong with Sealander.
Plantation Sealander is available exclusively from Master of Malt. Click on the link for prices and to buy. 
How to make a Palmetto
Ingredients:
35ml Plantation Sealander
35ml sweet vermouth (I used Aperitivo! Co. Turin)
4 dashes Angostura orange bitters
Method:
Add ingredients to an ice-filled shaker. Stir and strain into a coupe (or ice-filled tumbler if you prefer) and garnish with an orange twist.