Bear with us while we compose ourselves – the latest Master of Malt exclusive bottling is here and it's so good it's got us in a right fluster. Behold: Redbreast 16 Year Old 2001 Single Cask!
Lingo that we like here are MoM Towers: whisky. Irish whiskey. Single pot still. Single cask. Cask strength. It's like the most wonderful game of word association.
So imagine the joy – nay, near-frenzy – when the fruit of our intrepid spirits buyers' latest adventure found its way into the office. Redbreast 16 Year Old 2001 Single Cask is a delectably divine single pot still showcase – and it is also a Master of Malt exclusive, which sent the excitement levels well and truly through the roof!

Irish single pot still whiskey – made with malted and unmalted barley, compared to the 100% malted barley of single malt – has its dream-like reputation for a reason. Its characteristic rich, fruity spiciness makes the style a must-sample for whiskey fans – and this edition is a prime candidate. Triple distilled at the Midleton Distillery in March 2001, the spirit that went on to become this fine whiskey spent 16 years in a first-fill oloroso sherry butt (or simply cask 18829) in Warehouse No. M154A. And it's all gone rather well indeed.
Earlier this year, our team headed over to said warehouse with Redbreast master blender Billy Leighton to sniff out some whiskey goodness. They had the good fortune of sussing out this cask: its contents a potent 60.2% ABV beast of Irish whiskey deliciousness. The powerfully woody-spicy-unctuously fruity aroma had them all enchanted from the get-go. But pour a splash into a glass and it's game on!
Luckily for us all, sherry butts are substantial vessels and tend to hold a decent amount of the good stuff. But even so, this is a single cask release so once it's gone, it really is gone – the butt yielded 582 bottles. So if fully sherry cask-matured, single cask Irish whiskey is as musical to your ears as it is to ours, act fast! Trust us – you really don't want to miss out on this one.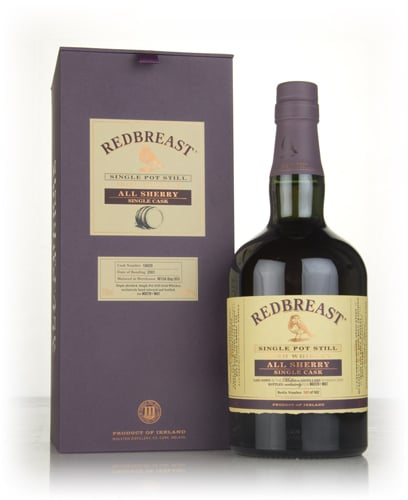 Redbreast 16 Year Old 2001 Single Cask
Tasting notes for Redbreast 16 Year Old 2001 Single Cask
Nose: A bundle of dried dark fruits, sultanas, figs and blackberries packed into an old-school tobacco box. Dark chocolate, black cherries, and toasted wood. With water a rich ginger and cinnamon spice comes through.
Palate: All about the caramel and fudge, with hazelnut, cashew and walnut notes and dried fruits in abundance. Water brings out the chocolate, bread-and-butter pudding quality and a real rich creaminess.
Finish: Long and decadent, with oak spiciness and blackberry, apricot and cherry notes lingering on.