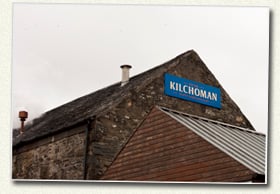 Following our intrepid journey to Islay in May, we were invited back to brave the gale force winds and torrential rain to attend a very special event at the island's youngest distillery.
We left early, and headed to Kilchoman for the launch of their new bottle, as well as a new limited edition, cask strength distillery-only number.
After a death-defying charter flight and a very bleary-eyed bus journey, we arrived at Kilchoman where we were welcomed with a glass of champagne, before being led to the maltings.
The distillery's founder and director, Anthony Wills, had long dreamed of starting a distillery on Islay. His plan was to grow and malt all the barley onsite and distil a classic smoky Islay malt which would be aged on the island. It took Anthony just over four years to raise the capital to get things going, before finding a location and team in 2005. With a slight tear in his eye, he described the process as a monumental journey, stating: "I set this project up because I wanted to do things differently, and show the world we could create a single malt where all the ingredients were produced 100% locally."
Things have moved along massively since then, with last week seeing the completion of the new bottling room, marking the retirement of the old tea pot they'd previously been using to fill the bottles! To mark the occasion, Kilchoman had brought in the acclaimed whisky writer Charles MacLean from the set of Ken Loach's latest film "The Angels' Share". Charles led us through the tasting which started with the new release made entirely on Islay from nothing but local ingredients.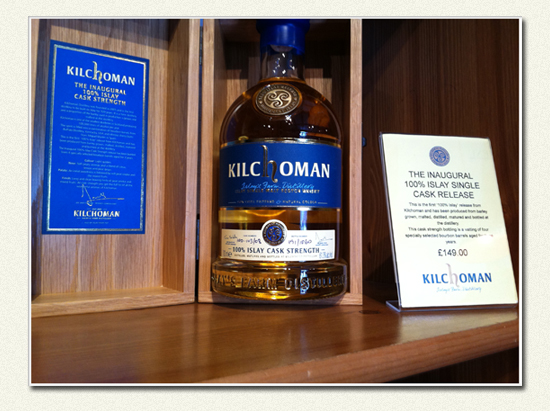 Kilchoman Inaugural 100% Islay
Bottled at 50%abv, aged for 3 years in Buffalo Trace bourbon barrels.
Nose: Offers smouldering seaweed, lemons and coconut husks (an indication of very active casks). This develops quickly into hard-boiled rhubarb and custard sweets, linseed oil, window putty, fennel, coriander, hobnobs and huge vanilla.
Palate: Slight greenness to the front, which is masked by the peat smoke, vanilla, and biscuit notes. On the back of the tongue it peaks with notes of butterscotch.
Finish: Sweet smoke and oily spices, tapering off nicely into sweet oak and vanilla.
Overall: Very rounded, and far more complex than you'd expect from a whisky of this age…
Next up was the distillery-only, of which they've made 1,060 bottles, bottled at a cask strength of 61.3% and packaged in a handsome, hand-crafted American white oak case. This is priced at £149, and distillery manager John MacLellan explained that the release comes from the first three casks of whisky from the same batch as was used for the new 100% Islay bottling. We found it to offer more smoke than the 100% Islay release, with a very similar flavour profile. It's like an intensified Kilchoman…
Over the next couple of months we may even see a standard release of 5 year old Kilchoman… Watch this space.
– The Chaps at Master of Malt –