In amazingly alliterative news, bourbon Jim Beam and beer behemoth Budweiser have buddied up for a brand-new brew. Phew!
Yes, that's right: in a first-of-its kind collab, the pair of American icons are palling up, with a brand new product to follow this autumn. We are excited.
How will it all work? Well, in an immaculately-timed move to hit the baseball season (which kicked off last Thursday), Jim Beam and Budweiser will first share promo space and campaigns across America's bars, billed as the perfect pairing.
And then – with even better timing – the aforementioned brew, Budweiser Reserve Copper Lager, will launch later this year, coinciding with the 85th anniversary of the Repeal of Prohibition.

Both brands bounced back from the Prohibition era with remarkable aplomb. Jim Beam's fourth-generation distiller James B. Beam miraculously rebuilt the distillery in just 120 days, while Budweiser managed to keep going for the entire 13 years by diversifying into non-alcoholic products. Clever.
'But how is this new product collaborative?' we hear you cry. It's actually pretty smart. The Copper Lager will be crafted using two-row barley and aged on Jim Beam bourbon barrel staves, The result? The addition of caramel, rye and vanilla notes to the brew, and an all-round nutty taste. Apparently – we've not tasted it yet, but we can't wait to.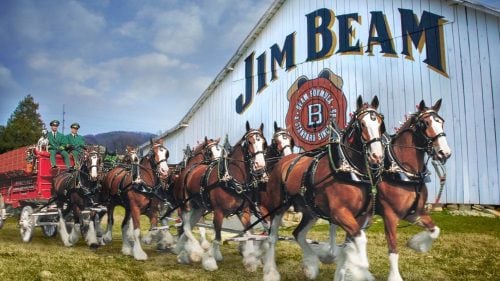 Jim Beam-Budweiser beer is coming
Ricardo Marques, marketing vice president for Budweiser, reckons: "This is a truly unique partnership and innovation that will surely drive excitement with our drinkers." Rob Mason, Jim Beam's marketing VP added: "This partnership feels especially natural given our brands' common values and the pivotal roles they've both played in American history."
From what we understand, the partnership isn't a one-off, either. In a joint statement both brands say they will "lean on their incredible American heritage to deliver a modern drinking experience this year and beyond". We say roll on autumn so we can check out that all-important first fruit…