October is drawing to an end, which can only mean one thing where single malt lovers are concerned… The latest edition of The Balvenie's five-part DCS Compendium series! Chapter 3 has indeed arrived, and it contains the oldest whisky the distillery has ever released.
We knew that the 25-bottle Compendium was going to be something special when it first launched in 2015, and so far it has certainly delivered. Spanning five themes over five years, the series set out to celebrate the work of legendary malt master David Stewart MBE, who this year is celebrating his 55th year with the distillery (did he start on the 5th day of the 5th month? Let's pretend he did).
Following on from 'Distillery Style' in Chapter 1 and 'The Influence of Oak' in Chapter 2; each bottling in 'Secrets of the Stock Model' demonstrates Stewart's skill in controlling the numerous factors that influence maturing Scotch whisky – a tough gig, we can all agree. Additionally, each single cask expression that makes up Chapter 3 "represents a year relevant to the evolution of The Balvenie". So like a history lesson, but better.
Study begins with a 55 year old European oak Oloroso sherry hogshead filled in 1961 – the distillery's oldest release to date, as mentioned earlier. Stewart has described it as "a perfect depiction of the style of whisky The Balvenie distilled around this time", and we will be taking his word for it.
Super-old whisky aside, the set includes a 43 year old European oak Oloroso sherry butt as a nod to the 1970s whisky boom, and a 35 year old refill American oak hogshead that represents the vintage used by the distillery to produce its first DoubleWood (double cask-matured) whisky back in 1993.
A 23 year old variant from 1993 marks the year The Balvenie launched its current bottle (and coined the term 'DoubleWood'), while a 2004 vintage signifies both Stewart's 30th year as malt master and the year The Balvenie Thirty was released. Phew.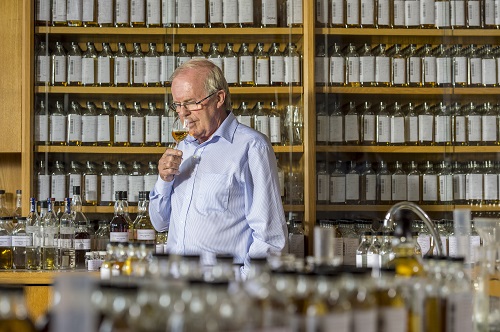 Stewart doing what he does best
"This chapter is a tribute to the strategic decisions we've made over the years, as we look to control stock management variables such as industry demand, new innovations and of course the angels' share," Stewart explained in a statement.
"Understanding these decisions and how they will affect the company in years to come has allowed me to experiment with different techniques and finishes, while still holding on to a significant amount of high quality mature whisky stock for future bottlings."
Now for the nerdy bit – The Balvenie DCS Compendium Chapter 3, cask by cask:
1961: 55 years old, Cask 4193, European oak Oloroso sherry hogshead, filled 14 June 1961, 41.7% abv
1973: 43 years old, Cask 8556, European oak Oloroso sherry butt, filled 7 June 1973, 46.6% abv
1981: 35 years old, Cask 7824, Refill American oak hogshead, filled 29 October 1981, 43.8% abv
1993: 23 years old, Cask 11621, Refill American oak hogshead, filled 6 December 1993, 51.9% abv
2004: 13 years old, Cask 741, European oak Oloroso sherry butt, filled 19 January 2004, 58.2% abv
The Compendium never promised to be cheap; Chapter 3 in its entirety has an RRP of £57,000. Just 50 sets are up for grabs, presented in a cherry wood and brass frame crafted by Scottish designer Sam Chinnery, and accompanied by a book written by global ambassador Dr. Samuel J Simmons. As with previous chapters, individual bottles will also be available. Chapter 3 will be winging its way to us before long, so keep your eyes peeled.